It's still very early days in the smartphone and tablet system-on-chip business. Today's winner could become tomorrow's loser, as we saw with Texas Instruments (NYSE:TXN). Just a year or two ago, many Android tablets and smartphones shipped with TI modems as well as its OMAP applications processors. However, TI wasn't really aggressive enough here and eventually started defocusing on this business. The R&D needed to keep up with the fast product cycles in this business, coupled with the fairly heated competition from more compute-oriented companies, eventually made the ROI proposition not worth it, and as a result, the company dropped out of the race.
Interesting enough, shares of TI have been on a roll ever since it stopped trying to play in this space: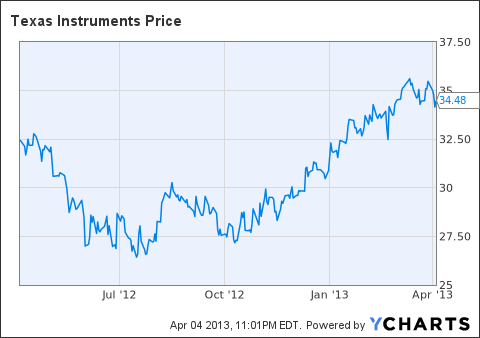 Now, as basic economics would dictate, with a major supplier essentially out of the ring (TI is currently among the top 5 in tablet apps processor market share and is probably dumping its inventory at fire-sale prices), a few things are likely to happen:
ASPs for these chips may see a slight uptick/gross margin pressure is relieved
There is room for the remaining players to gain materially more market share, which creates longer-term investment opportunities
Now, as Amazon.com (NASDAQ:AMZN) is likely to refresh its "Kindle Fire" lineup in the September/October time-frame to try to catch the holiday shopping season, it is the right time to start making some educated guesses on which chip company will win the applications processor socket for this device. This is the second most popular line of tablets behind Apple's (NASDAQ:AAPL) iPad, so a win here would be fairly significant - at least from a PR perspective - and could drive shares of the winner materially higher, with much more upside potential for a smaller vendor. The first question, then, is who are the potential players?
Premium Chip Vendors
Assuming that Amazon tries to go higher end with the "Kindle Fire HD," it stands to reason that the company will choose from among the premium players. This would mean that Chinese firms such as Allwinner and MediaTek are probably out of the running (and if Amazon goes cheap, my bet is on Allwinner). Who are the merchant vendors in the high end tablet chip space?
Nvidia (NASDAQ:NVDA) - known for its "Tegra" line of products. While in the last design cycle Nvidia managed to nab some key wins (particularly the Nexus 7 from Google (NASDAQ:GOOG)), it is unclear where the design wins are for its next generation "Tegra 4". Nvidia has noted, however, that the designs for "Tegra 4" outnumber those of "Tegra 3".
Qualcomm (NASDAQ:QCOM) - while known for its modem prowess, the company cleanly swept the LTE-enabled smartphone market during 2012 whilst taking a back seat in the tablet space. With rumors swirling that it won the next generation "Nexus 7" design, it seems that the Street is optimistic about this chip vendor's chances of scoring more big wins.
Intel (NASDAQ:INTC) - the wildcard in this race. While the firm has managed to roll out a suite of very competent chips for the mobile space during 2012/early 2013, Intel has claimed that its next generation "Bay Trail" 22nm system-on-chip will be available in devices during the holiday season. Recent leaked roadmaps suggest devices should launch in the August - October time-frame.
Interestingly, Nvidia is currently the market share leader in non-Apple tablet processors, which gives it quite a bit of credibility with device vendors. That being said, all three of these vendors - Nvidia, Qualcomm, and Intel - are perfectly capable of supplying a good chip for this device. So what will this come down to?
Performance per watt: The key metric in mobile computing today is performance per watt. Clearly, the vendor that can offer the best performance per watt (which implies the best battery life) at the right performance level will have an upper hand in trying to win this deal.
Cost: I highly suspect that Amazon went with TI over the last few iterations of the tablet because TI is trying to dump its inventory of OMAP chips for mobile devices. If TI still needs to unload, then I could see them winning this socket by default, but if it doesn't, then the company that can offer the best performance per watt per dollar will probably have the best shot here.
Features: Nvidia's heritage as a gaming/graphics company helps it fuel its biggest advantage; gaming. Nvidia seems to be doing a lot of work in the mobile gaming ecosystem, especially as it readies its "Project Shield" handheld gaming device. I suspect that from the leaked specifications, Intel's "Bay Trail" may be at a graphical disadvantage to the Nvidia and Qualcomm parts (although nothing is confirmed yet), which could hinder its ability to win this socket if Amazon wants to promote its device as a gaming-ready platform.
Time-To-Market: I am convinced that both Qualcomm and Nvidia will be ready to supply Amazon with chips in the right time-frame, but I remain skeptical that "Bay Trail" from Intel will be ready and shipping in volume before then.
Conclusion
At this point, I would say that the odds are good that if TI doesn't win the contract that it will be a showdown between Qualcomm and Nvidia, with Intel as more of a "long shot" this round. While Qualcomm's ubiquity across high profile smartphone designs means that such a tablet win would be negligible to the top and bottom lines, this could be much more important to Nvidia, which still garners a fair amount of skepticism from investors about its ability to win designs. As always, we will probably start seeing rumors leak out over the next few months regarding this next generation device, so keep your eyes peeled.
Disclosure: I am long NVDA, INTC. I wrote this article myself, and it expresses my own opinions. I am not receiving compensation for it (other than from Seeking Alpha). I have no business relationship with any company whose stock is mentioned in this article.