Express Scripts (NASDAQ:ESRX) merged with MedCo Health Solutions in April 2012, thereby making the combined entity the largest PBM (pharmacy benefit management) corporation in the United States. As an administrative intermediary between health care providers and end users, PBMs attempt to reduce the delivered cost of medications to their clientele via efficiency, scope, and scale.
As measured by scope and scale, Express Scripts is now the undisputed industry king of the hill.
In this article, we will walk through selected ESRX fundamentals to provide rationale to see if the stock may be a suitable equity investment.
Express Scripts' business is highlighted by several clear post merger strengths flanked by a few key question marks.
Express Scripts --One Year Price and Volume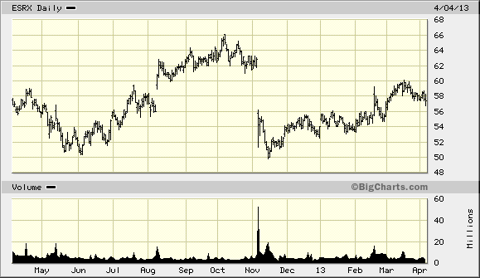 Courtesy of bigcharts.com
Let's summarize some strengths and concerns below, then perform a brief analysis:
Strengths
Revenue Growth
EPS Growth
Strong and Growing Cash Flows
Aggressive 2013 Stock Buyback Plan
Concerns
High Goodwill and Intangible Assets
Deferred Tax Liabilities
Low Margins
Low RoE and RoA
Express Scripts has a Demonstrated History of Growth
ESRX has sound growth fundamentals: the company offers investors the triumvirate of top-line revenue improvement, bottom line increasing diluted earnings per share, and sustained free cash flows. A picture tells a thousand words. Here are five-year charts highlighting the preceding:
Express Scripts Revenues (5 year)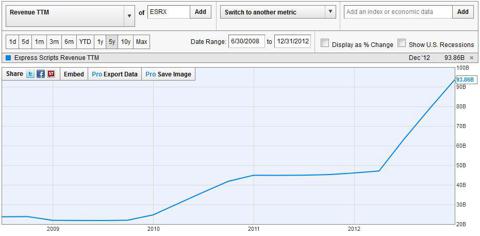 Courtesy of ycharts.com
Revenues have improved 34 percent per annum over the past five years. Last year, the Medco deal caused the top line to explode. In 2013, Express Scripts expects to capture over $100 million in sales.
Express Scripts Diluted EPS (5 year)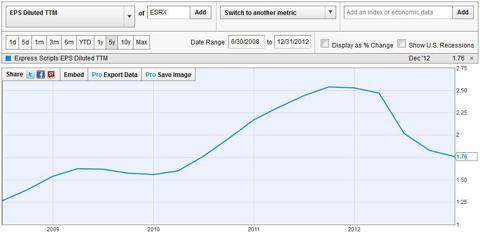 Courtesy of ycharts.com
Diluted EPS had trended up until FY 2012. The Medco acquisition bumped EPS down. It is expected to bounce back strongly. ESRX management has forecast a midpoint $4.25 diluted EPS for this year.
Express Scripts Free-Cash-Flow (5 year)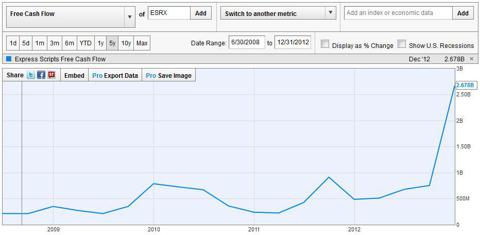 Courtesy of ycharts.com
Express Scripts has generated very strong Free Cash Flow (operating earnings less maintenance capital). Last year the figure jumped markedly. Low capital requirements and high business volumes combine to offer investors consistent cash.
Over the past three years, FCF per share has been $3.79, $4.23 and $5.60, respectively. Very strong.
The 2013 Share Buyback Plan
In addition, the corporate directors announced an aggressive 2013 stock buyback program via a March 8-K filing. The expectation is that the company will buy back up to 75 million shares, or nine percent of the diluted shares outstanding at YE 2012. The cost of the program will be up to some $4 billion. I suspect Street analysts may not have fully valued the magnitude of this share program yet.
Contingent upon the buyback stock price, each $1 billion in repurchases could add some eight to ten cents a share to the bottom line this year.
What About the Warts?
Indeed, Express Scripts has a few areas of concern starting with the balance sheet. Some of these issues were recently put forth in an April 2 Seeking Alpha article by fellow contributor David Trainer.
Goodwill and Intangible Assets
First, the Medco deal has accrued a huge amount of Goodwill and Net Intangible Assets onto the balance sheet. These two components account for 78 percent of the corporate assets. Goodwill and Intangibles are legitimate assets, but their valuation leaves a level of interpretation up to management. Indeed, in the most recent 10-K filing, company leadership acknowledges these items and discusses their accounting.
When the level of these line items exceeds 20 percent, my yellow flag is out. Goodwill and net intangibles were 46 percent of total assets at YE 2011; prior to the Medco acquisition. The current figure is quite high, even for a service company.
Deferred Tax Liabilities
In conjunction with the Medco merger, Express Scripts took on significant deferred tax liabilities. Deferred tax liabilities are an account on a company's balance sheet that is a result of temporary differences between the company's accounting and tax carrying values, the anticipated and enacted income tax rate, and estimated taxes payable for the current year. This liability may or may not be realized during any given year, which makes the deferred status appropriate.
ESRX now shows such liabilities to be nearly $6 billion. While there is nothing alarming about this figure, it does mean that the company will eventually have to pay this cash out to the tax man.
Low Margins
While Express Scripts enjoys excellent cash flows, the company grinds them out via notably low margins. Here's a three-year ESRX margin summary.

Two comments on the above:
First, the FY2012 margin figures were impacted by the Medco transaction. Investors should watch for (and expect) a return to the norm going forward.
Second, while these margins are low, they are not abnormally low for the PBM industry. The business is predicated upon high-volume, low-margin business transactions. Nonetheless, as a general rule I would prefer to see a bit more breathing room.
Low RoE and RoA
ESRX has demonstrably low return-on-equity and return-on-assets, sporting ttm 2012 figures of 6 and 3 percent, respectively. Mitigating these numbers is the fact that the equity and asset denominators are somewhat skewed due to the balance sheet reasons cited earlier. Furthermore, the returns rank about the middle quintile of Health Care Provider and Service industry peers.
One More Key Fundamental
One other important financial metric for Express Scripts is SG&A costs as a function of revenues. The ratio was slightly below 2 percent in 2010 and 2011. Last year, the SG&A ratio blew out to 2.5 percent (on an adjusted basis). Company management indicated the expectation that the figure will drop to approximately 2.1 percent this year. I believe this warrants investor vigilance to see if the expectation is executed.
Evaluation, Summary and Thesis
Express Scripts resides in a high-volume, low-margin world. As the biggest PBM in the United States, the company should enjoy economy of scale.
Going forward, ESRX should see continued strong revenues, earnings and cash flows. These strengths may be somewhat offset by a balance sheet carrying particularly large figures for Goodwill and Net Intangible assets. In addition, nearly $6 billion in deferred taxes will eventually come due.
An aggressive 2013 share buyback plan is an underlying positive development for the company.
The passing of ObamaCare is a question mark. On one hand, the landmark legislation will offer millions of newly-insured Americans access to the prescription drug service. Then again, the cost structure for dispensing and delivery for such new patients isn't clear. Despite what may be a near-term decline in drugs dispensed, I believe the longer-term trend will continue to be up as America ages.
Net result, I premise that ObamaCare will be positive for the PBM industry, and in turn, for Express Scripts. Their underlying business model is aligned with the government: contain end-user costs. As the largest PBM, I believe ESRX will profit from ObamaCare.
It appears the stock has upside. Management's current 2013 EPS forecast is $4.25. Future diluted earnings are expected to grow at a rate north of 16 percent for the next several years. The ten-year normalized P/E ratio has been 24x. Placing a conservative 16x multiple on the 2013 forecast suggests a $68 stock. That represents a 17 percent uplift from the current share price.
Over this same ten-year span, the lowest P/E multiple by which the stock has traded has been 14x. Therefore, a 16x P/E is a reasonable assumption.
Excellent cash flows buttress the P/E multiple as earnings are backed up with underlying cash generation.
Risks to the thesis include poor Medco integration resulting in unrealized synergies and / or little reduction in the SG&A cost ratio, further margin compression, weak balance sheet / debt management, and the unknowns associated with changing industry business models as ObamaCare is implemented.
I encourage all readers to undertake their own due diligence before investing. Good luck on all your 2013 investments.
Disclosure: I am long ESRX. I wrote this article myself, and it expresses my own opinions. I am not receiving compensation for it (other than from Seeking Alpha). I have no business relationship with any company whose stock is mentioned in this article.