Quality food service providers (restaurants) with established national and international brand names have a good record for delivering piping hot results for income investors. Today, I'll review 3 tasty offerings from Canada in the Food Service Royalty Income family. Restaurant royalty trusts, historically, have tended to have higher payout ratios than oil and gas trusts and MLPs since restaurant royalty trusts are not exposed to operating and capital expenditure requirements.
A&W Revenue Royalties Income Fund (OTC:AWRRF), through its ownship in affilitated entities owns the trademark rights to the A&W brand name and its use on products and services in Canada. It receives a royalty of 3% of sales reported by the restaurants in the Royalty Pool. The Royalty Pool is adjusted annually to include sales from net new A&W restaurants opened by A&W Food Services over the previous year.
A&W Food Services of Canada, Inc. in turn licenses the trade-marks to franchisee and operated A&W hamburger quick service restaurants in Canada. It also sells root beer in cans and bottles to the retail grocery trade. As of February 14, 2013, A&W Food Services operated 770 restaurants in Canada.
This international brand has been operating in Canada since 2001 under the affiliated ownership of the income fund. The shares began trading in February 2002 at a price of $C 10.75 with a monthly dividend of $C 0.09 (10.0% yield). Note that current exchange rates with the US Dollar are almost at parity, $C 1.00 = $0.9856 USD and conversely, $1.00 USD = $C 1.0147. Share price bottomed on May 20, 2003 with a close of $C 9.25 and have not seen those lows again since. The company was very quick to recover from the 2008 market crisis, with shares returning to pre-September 2008 levels by early April of 2009.

From its opening dividend of 9 cents/month in 2002, distributions have been raised periodically and have never been decreased. For the years 2007 through 2010, special distributions further augmented the dividend yields as indicated in the bar chart below.
A&W Revenue Royalties Income Fund - Monthly Dividend History
| | |
| --- | --- |
| Period | Monthly Distribution (In $Canadian) |
| Feb 2002 | $0.038287 |
| Mar 2002 - Jan 2006 | $0.090 |
| Feb 2006 - Mar 2006 | $0.093 |
| April 2006 - Jun 2006 | $0.095 |
| Jul 2006 - Sep 2006 | $0.097 |
| Oct 2006 - Jun 2007 | $0.100 |
| July 2007 - Aug 2007 | $0.103 |
| Sep 2007 - Jan 2011 | $0.106 |
| Feb 2011 - present | $0.117 |
Effective yield on distribution has averaged in the 6% to 7% range since the 2008 market crisis and remains solidly in that range today at 6.37%.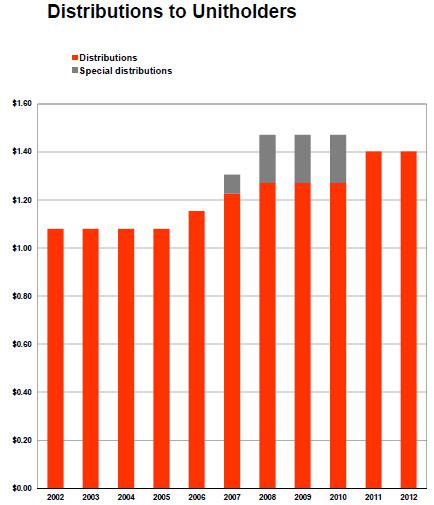 (source: 2012 annual report)
Royalty pool sales revenues have grown steadily each year.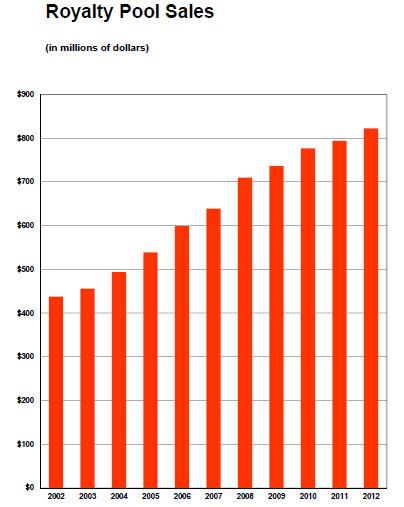 (source: 2012 annual report)
The number of net stores in the royalty pool, together with their royalty revenue contributions, continues to grow at a healthy rate.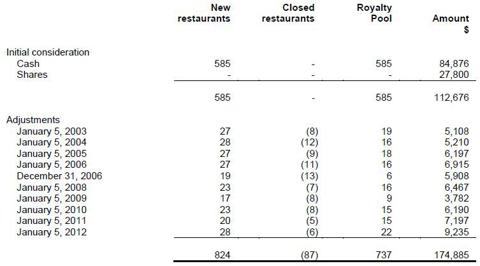 (source: 2012 annual report)
Total return to investors has been in excess of 2.5 times that of the S&P/TSX total return index since 2002. Most of that outperformance has come in the most recent 5 years, post 2007. This trend of outperformance continues to accelerate and widen in the most recent years.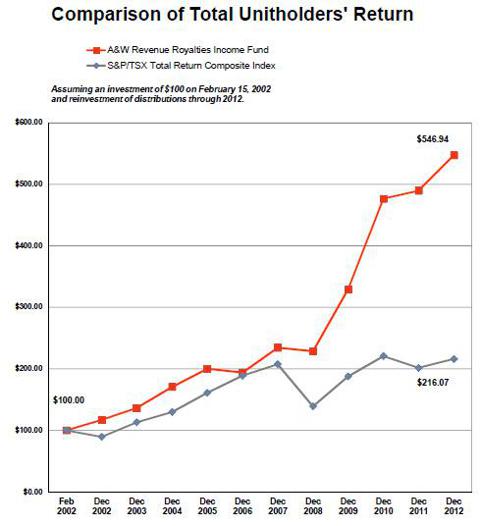 (source: 2012 annual report)
The strengths of AWRRF.PK can be summarized as follows:
A lifetime history over 11 years of reliable and increasing dividends.
Total returns to investors of over 2.5 times that of the S&P/TSX total return index.
Never a decrease in dividend.
Generally low volatility of share price.
National brand recognition. A&W is the 2nd largest national hamburger chain in Canada.
Royalty on franchisee sales only depends on gross sales, not fluctuating net profit margins of operating stores.
Steadily increasing number of stores in the royalty pool.
Tax efficiency of Royalty Trusts.
Strength of the Canadian currency.
A&W honored as one of the top 50 Canadian Corportaions for 10th year in a row
Investors need to be aware of some warning signs seen from present trends and forward looking projections.
Same store sales growth has slowed to near zero, turning in a negative 0.69% for 2012. The 4th quarter 2012 returned to a minor positive 0.50% growth rate. While this trend needs to be watched closely, the addition of new stores and the introduction and promotion of new products during 2012 provide reasons to believe future continued growth can be expected.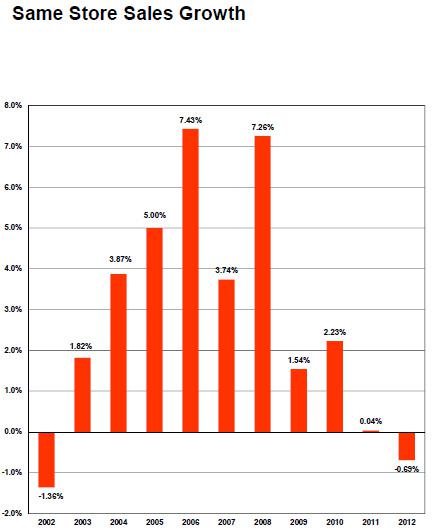 Distributable cash, a measure of payout ratio, has been over 100% for the past 2 years and is eating into cash reserves. This trend needs to be reversed for the dividend to remain sustainable beyond then next 2 years.
This trend bears very close watching since it directly effects the sustainability of dividends in the future. However, there are reasons to be optimistic when we consider the following factors influencing distribution sustainability:
The approximate 2 year cash reserve to help fund the current rate of dividends.
Continuing expansion of net stores in the royalty pool.
Renegotiation of debt agreements to more favorable interest rate terms in late 2012 which lower expenses to the Royalty Pool management.
Introduction and promotion of the new products in 2012.
The proven track record of A&W management based on historic performance and rating as among the top 50 managed Canadian companies for each of the past 10 years.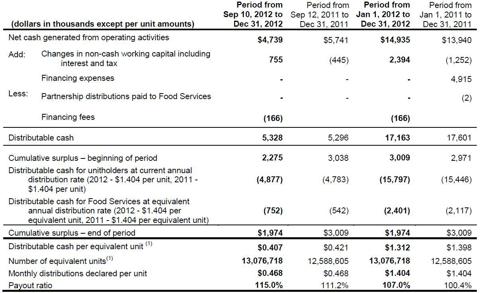 Additionally, investors should be aware that the shares are very thinly traded. Average daily volume of the AWRRF.PK shares on the OTC markets is only 1,300. The Canadian shares, symbol AW.UN on the Toronto exchange, are my preferred choice since they trade at a slightly more robust 5,000 daily shares and provide the Canadian currency hedge. This hedge is seen as a long term plus in the relative safety of the Canadian dollar and its long term outlook to outperform the US Dollar on exchange rates.
Conclusions & Recommendations for AWRRF.PK (and AW.UN):
Like most royalty trusts, A&W should be viewed as a pure dividend income investment. This class of investments if best valued by its effective yield on distribution, with share price being the variable that mediates the balance between effective yield and distribution rate (the classic Y=D/P, with Y:yield, D:distribution, and P:price). Historically, the market has placed a risk adjusted value on A&W's income distribution stream in the 6% to 7% yield range. The current 6.37% yield at $22.65 share price is well within this range and indicates the stock is a reasonable buy at current price for investors seeking income. Patient traders may wish to await a pullback to raise effective yields closer to the 7% rate before taking the plunge.
Keg Royalties Income Fund (OTC:KRIUF) is a limited purpose, open-ended trust established under the laws of the Province of Ontario that owns the trademark rights and related property for The Keg. In exchange for use of those trademarks, Keg Restaurants Ltd pays the Fund a royalty of 4% of gross sales of Keg restaurants included in the royalty pool. The details of the ownership and licensing arrangements are described more completely on the company's website.
As of the close of 2012, there are 102 restaurants, consisting of 86 in Canada and 16 in the United States, included in the royalty pool. 4 new restaurants were added in the 4th quarter of 2012 (4 net) and should be added to the royalty pool effective Jan 1, 2013.
The Keg restaurant model was established in 1971 as a privately held venture by George Tidball and later became publicly traded on the Vancouver and Toronto exchanges. Whitbread PLC, a large British Brewing and Hospitality conglomerate acquired The Keg in 1987 and operated it as a subsidiary. In 1997, Vancouver businessman David Aisenstat, a Whitbread stockholder and director, purchased The Keg. He continues to lead the company today. Keg Royalties Income Fund (KEG.UN) was formed in 2002 and is based in Richmond, Canada.
Keg's dividend history begins with its establishment in 2002 at $C 0.09 distribution monthly, rising to 0.0918 in September 2005, rising again to 0.0937 in April 2006, rising again to 0.0956 in September 2006, rising again to 0.098 in March 2007, rising again to 0.1009 in June 2007, rising again to 0.1035 in December 2007, rising again to 0.1065 in March 2008 and continuing at that level until February 2011 when the distribution was cut to 0.080 due to changes in Canadian tax law for Royalty trusts. The after-tax effect to holders is generally taken to be no net change for most holders. The monthly 0.080 distribution has remained constant through to the present time.
Key income and cash flow for recent years is summarized in the chart below:
Key Statistics for Keg Royalties Income Fund
| | | | |
| --- | --- | --- | --- |
| Key Metric ($000's except per unit amounts) | 2010 | 2011 | 2012 |
| Gross Sales subject to Royalty Pool | $452,786 | $472,280 | $484,586 |
| Royalty Income | $ 18,422 | $ 19,230 | $ 19,401 |
| Interest Income | $ 4,278 | $ 4,281 | $ 4,282 |
| Distributable Cash | $ 12,864 | $ 10,584 | $ 11,168 |
| Actual Distributions Paid to Unit Holders | $ 13,264 | $ 11,120 | $ 10,899 |
| Payout Ratio | 103.1% | 105.1% | 97.6% |
| Net Restaurants added to Pool | (1) | (1) | -- |
The dip in distributable cash in 2011 represents the change in Canadian tax law and related decrease in after-tax cash available arising from those changes. 2012 results show 5.5% increase year over year for distributable cash since the tax law changes. The payout ratio has returned to a rate below 100% concordantly.
Share prices have demonstrated strong growth with moderate volatility over the years with the exception of a brief few months commencing with the 2008 global financial crisis. Even though distributions remained constant throughout the crisis period, share prices fell from $C 9.79 to 6.15 in a 3 month period beginning in September 2008. Savvy and lucky investors that acted quickly locked in effective yield rates as high as 20.8% for the prevailing distribution of $C 1.278 of that time. Share prices have advanced since that time to the current $C 15.20 (current yield of 6.29%).

(source: quotemedia.com)
The current yield of 6.29% is solidly within the 6% to 7% range of competitive dividend income investment equities. Investors interested in a reliable income yield should consider Keg Royalties. Some cautions are advisable however.
The shares are near the all time high of $15.48 reached a few days ago.
The current monthly distribution of $0.080 per share is probably sustainable with the addition of 4 new restaurants to the pool for 2013 and further backed up with cash reserves. However, distribution growth is not likely in the next year. Share prices are likely to stabilize or retreat slightly in the near term.
The OTC shares of KRIUF virtually have ceased to trade, with an average daily volume of only 10 shares. The Canadian shares traded on the Toronto Exchange (KEG.UN) trade a bit more robustly at 5,000 average daily volume but are still extremely thin and must be considered illiquid for fast accumulation or sale.
Conclusions & Recommendations for KRIUF.PK (and KEG.UN):
Dividend income equity investors should look favorably on KEG Royalties to provide a above average yield with good security and the prospect for long term growth in both distribution and share price. The Toronto shares (KEG.UN) are preferable because they have somewhat better liquidity and provide the currency hedge of exposure to the Canadian dollar for both safety and long term outperformance against the US Dollar. Current prices offer a competitive yield but it would be prudent for most investors to wait for a pull back into the $14.25 range before taking a position unless the investment outlook is very long term and regular periodic accumulations are planned.
Pizza Pizza Royalty Corp. (OTC:PZRIF) through its subsidiary, Pizza Pizza Royalty Limited Partnership, owns trademark and related rights for Pizza Pizza Restaruants and Pizza 73 restaurants. The company's affiliate operates its Pizza Pizza Restaurants as franchise oriented restaurants, and Pizza 73 Restaurants as independent businesses. Pizza Pizza Royalty Corp. was founded in 1967 and is headquartered in Toronto, Canada. On December 31, 2012, the Company completed the conversion from a Royalty Trust to a Corporation as part of the adjustment to Canadian tax law changes.
In 2012 the company operated 690 locations, including 612 franchised or licensed restaurants, 71 jointly-controlled restaurants, and 7 owned and operated as corporate restaurants. On January 1, 2013, Pizza Pizza added four net new restaurants to the Royalty Pool, thereby increasing the number to 694 restaurants in the Royalty Pool for 2013. Of the 694 restaurants 605 are Pizza Pizza and 89 are Pizza 73 restaurants. Pizza Pizza Royalty Corp. was founded in 1967 and is headquartered in Toronto, Canada. The number of restaurants in the Royalty Pool is adjusted once a year on January 1 to include the royalties from restaurants which opened in the prior year less closed restaurants.
Current share price is $C 11.73 with a yield of 6.73%. Pizza Pizza Royalty Income Fund began trading on the Toronto Stock Exchange ((PZA:TX)) (OTC:PZRIF) in July 2005. The Income Fund receives a 6% royalty on system sales of Pizza Pizza restaurants and a 9% royalty on system sales of Pizza 73 restaurants. Management emphasizes that distribution growth is driven by same store sales growth.

At the initial public offering units traded at $0.80 per year per unit. Distributions were increased six times from July 5, 2005 to 12/31/10 at which time the annualized distribution equaled $0.93. Effective January 1, 2011, the Fund's trustees adopted a new distribution policy that reflected the Fund's obligation under new Canadian tax law to pay SIFT tax. The 2011 distribution was reset at $0.70 per unit. Effective May 2012, the Fund announced a 2.7% increase in its monthly cash distribution to $0.06 per unit or $0.72 annually. In January 2013, PPRC increased the monthly dividend to $0.0625 per share or $0.75 annually.
Below are some of the highlights from PZA's management discussion and analysis of 2012 results.

Same store sales growth (SSSG) for 2012 increased 2.7% (2.6% for 2011). Pizza Pizza SSSG growth was 2.5% (2.4% for 2011) and 3.4% for Pizza 73 (3.9% for 2011). The greater growth in the higher royalty Pizza 73 continues to accelerate faster overall royalty pool revenue growth. SSSG is attributable to both increased customer traffic and larger order ticket per customer. For 2013, in addition to continuing SSSG in the range of 2.7%, management projects an increase of 3% in new stores.
Key income data for 2012 quarterly results are shown below.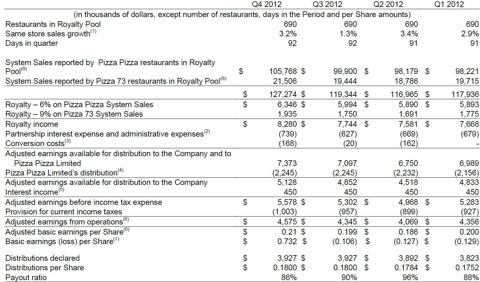 Conclusions & Recommendations for PZRIF (and PZA):
Pizza Pizza Royalty Corporation has delivered growing distributions throughout its 7.5 year history, allowing for a resetting of distributions in 2011 in conformance with changes to Canadian tax law. Share price performance was mediocre from the period of inception through the 2008 global financial crisis. The stock was slow to recover from the 2008 crisis and did not actually bottom until mid 2009 even while maintaining the pre-crisis distribution levels throughout the period. Since that time, performance has been impressive. Shares have risen from a low of $C 5.35 in September 2009 to current a March 2013 high of 11.40 (current price 11.17).
With good numbers for yield, payout ratio, and growth of same store sales and new stores, all the metrics are favorable for a continuing positive outlook. The current minor pullback from the March highs marks a buying opportunity. It is unlikely that significant further pull backs in the absence of significant adverse results contrary to the current trends and operating environment.
Investors attracted to a 6.71% yield from a strong company with prospects for distribution and share price growth are advised to begin accumulating shares of PZA (traded on the Toronto exchange). The OTC units (OTC:PZRIF) should be avoided as a frozen market with no daily trading activity even seen since March 8th.
An important word of caution with regard to liquidity is also advisable on the Toronto PZA shares, where volume is in the 20,000 plus average daily shares traded but still can exhibit limited liquidity at times.
Disclaimer: I am not a licensed securities dealer or advisor. The views here are solely my own and should not be considered or used for investment advice. As always, individuals should determine the suitability for their own situation and perform their own due diligence before making any investment.
Disclosure: I am long OTC:PZRIF, OTC:KRIUF. I wrote this article myself, and it expresses my own opinions. I am not receiving compensation for it (other than from Seeking Alpha). I have no business relationship with any company whose stock is mentioned in this article.
Additional disclosure: My actual holdings are not the OTC shares but rather the Toronto exchange shares of PZA and KEG.UN.