Reckless overspending and over-expansion in the past few years has become virtually synonymous with the world's largest gold mining companies. Newly installed CEOs like Barrick's Jamie Sokalsky have insisted that boondoggle projects are a thing of the past. Glencore's CEO publically ripped fellow majors for such behavior.
In this climate, many investors are looking for companies that focus on a small number of high-quality projects. Such investors would be well-served to take a look at Kirkland Lake Gold (OTCPK:KGILF), which was conceived precisely to serve these mandates.
"When we started out, we were looking for assets with big exploration potential", said CEO Brian Hinchcliffe in a phone interview, "so we looked particularly in Canada for mines with production history." The Kirkland Lake area has a century of gold production history, and when geologists saw a new ore body in the area, it seemed to fit the bill.
Already operating in Ontario, one of the best mining jurisdictions in the world given Canada's stability and the local mining culture, operating in a region with an established mining presence considerably eased the permitting process, a key sticking point in developed markets mining. However, operating in such favorable jurisdictions brings high operational costs.
To offset that cost, the company sought a high grade project to justify the cash costs. Kirkland Lake has yielded just around half an ounce per ton from underground production and an overall resource of 24 million ounces, making the mine worthy of operating in Canada and worthy of comprising the sole focus of the company. As of yet, there is no exploration at other properties and no plans to engage in any such activity.
Additionally, the existing infrastructure from previous mining operations, as Hinchcliffe put it "brings not only capex down, but the timeline of getting things back into production is a different situation." This timeline can be quite long indeed, as anyone who's invested in a pre-production miner can attest. Kirkland had a remarkable turnaround time, acquiring the property in 2002 and starting production in 2006. From there, the company has shown excellent progress in scaling up its operations and improving efficiency: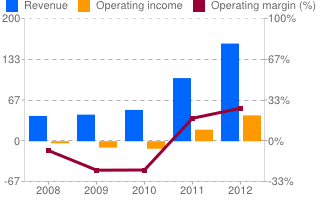 Source: Google Finance
Of course, the overriding concern in the investment process is the price of gold, which has taken a beating as of late. Hinchcliffe, a one-time gold trader at Goldman Sachs, naturally has some thoughts in that area.
"Gold markets are reflecting what central banks are printing," he explained, while noting that "It will have taken two years to digest what happened in August of 2011, where you had two years' worth of price increases." Yes, gold became a fad and therefore subject to the madness of crowds. But what next? "More gradual movements in gold prices in the second half of this year," Hinchcliffe predicted, hinting at a modest medium-term increase.
Of course, all of the readers here will have their own opinions on the price of gold. That said, only those who believe in gold's forward value would consider investing in this stock, and Kirkland Lake Gold has shown the ability to run a highly effective operation. If the commodity market cooperates, their shareholders should see a good return on investment.
Disclosure: I have no positions in any stocks mentioned, and no plans to initiate any positions within the next 72 hours. I wrote this article myself, and it expresses my own opinions. I am not receiving compensation for it. I have no business relationship with any company whose stock is mentioned in this article.