In my recent article, I mentioned ConocoPhillips (NYSE:COP) as a company whose stock is currently trading below its Graham Number with a comfortable margin of safety of 30.96% thereto (based on Thursday, April 4, 2013's closing price of $58.88). Conoco is making a sincere effort to reposition itself in order to become more profitable. On April 30, 2012, the company completed separating its downstream refining and marketing operations (R&M) into another publicly traded company, Phillips 66 (NYSE:PSX), from its upstream operations of exploration and production (E&P). Shareholders of Conoco received one share of Phillips 66 for every two shares of Conoco owned prior to the spinoff. Since the separation, the company has focused its efforts and changed its strategy. The separation has enabled the company to focus on investing in the exploration of oil rich areas that are in politically stable regions of the world, such as Alaska, the United Kingdom and the Gulf of Mexico.
At the end of 2011, the company had approximately 1.2M acres of undeveloped reserves in Alaska and 1.1M acres in the Permian Basin of West Texas. The basin is believed to contain 1B BOE (barrels of oil equivalents). In addition to its oil reserves, Conoco also controls 1.7B BOE of discovered natural gas fields in the San Juan Basin near the four corners. Using these and its other reserves, Conoco is expecting to produce between 1,580 to 1,600 MBOED (thousands of barrels of oil equivalents per day) in 2013. That is in line with the production of 1,527 MBOED for 2012. By mid-2013, the company is expecting to sell assets worth $9.6B, and hoping to use the proceeds to acquire new fields to increase production. The company is planning on increasing its acreage in the deep-water Gulf of Mexico by 375,000 acres to a total of 1.9M acres (1/30/2013 news release).
Conoco continues to be an investor-friendly company. It has increased its dividend at a CAGR (compound annual growth rate) of 11.00% since 2000, well ahead of the inflation average of between 2% and 4%; a sign that the company is doing well and has tangible profit that can be returned to shareholders on a quarterly basis. Past performance is never a guarantee of the future, but it allows for a relatively accurate analysis of a company's health and strength.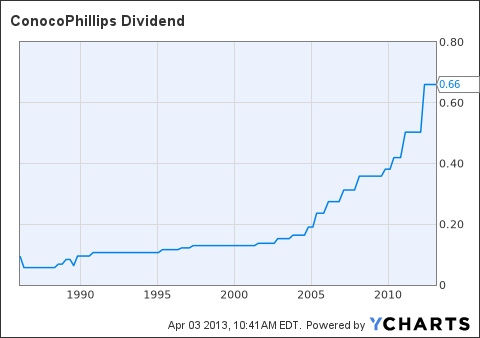 COP Dividend data by YCharts
The dividend is currently an annualized $2.64, a yield of 4.40%, higher than that of Exxon Mobil (NYSE:XOM) and Chevron (NYSE:CVX) (Source: Yahoo! Finance). Conoco is trading at a higher earnings and book value multiple than in recent years, but that is largely in part to the market as a whole rising since the 2008-09 recession and consumer and investor confidence returning. Its P/E ratio is currently 8.934, about equal to its major competitors. Petroleum companies typically trade at lower P/E multiples than other industries due to the fact that they must continuously invest more capital into depleting fields (or explore for new ones) in order to maintain revenues and margins.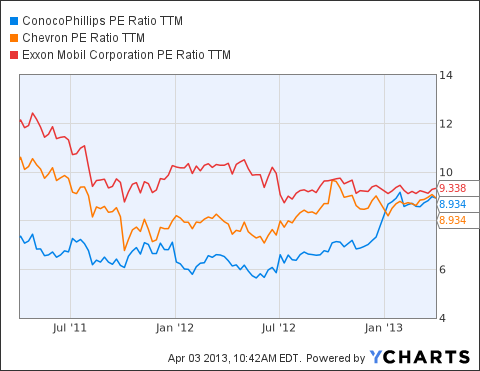 COP PE Ratio TTM data by YCharts
In addition to paying out 39% of its profits as dividends, the company has used much of its profits to buy back shares, decreasing the number of shares outstanding by approximately 17.41% since 2011, an annualized rate of 9.12%.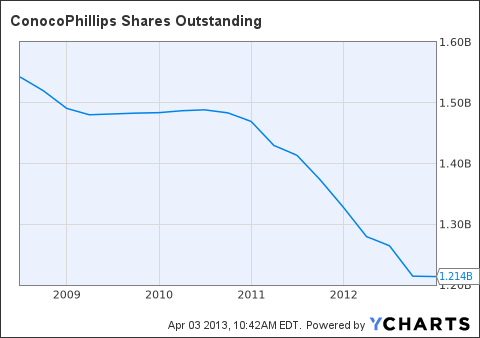 COP Shares Outstanding data by YCharts
Based on these metrics, I believe that ConocoPhillips is a buy at this price point for long-term investors, especially after this recent pullback (from $60.94 on March 22) of 3.38%. It is a profitable, large-cap corporation with stable revenue, profits and dividends.
Disclosure: I have no positions in any stocks mentioned, and no plans to initiate any positions within the next 72 hours. I wrote this article myself, and it expresses my own opinions. I am not receiving compensation for it (other than from Seeking Alpha). I have no business relationship with any company whose stock is mentioned in this article.
Additional disclosure: Although I will not purchase COP within 72 hours, I will quite possibly initiate a long position within the next 6-8 weeks.