Fellow contributor George Kesarios believes Toll Brothers (NYSE:TOL), D.R. Horton (NYSE:DHI), Standard Pacific (SPF), and Lennar (NYSE:LEN) to be overpriced because their trailing PEs are much lower than their forward PEs. He reasons: Why buy a stock with a low PE today, when that stock will have a much higher PE next year? For instance, Toll has a trailing PE of 11 while its forward PE is a much more expensive 41.
At first glance, the argument makes sense. Toll Brothers earned $2.86 in 2012, but analysts figure the company will only bring in $0.73 for 2013. That doesn't look good. Why pay up for cratering earnings?
The problem: Earnings for 2012 included a $374 million income tax refund related to the reversal of deferred tax asset valuation allowances. Strip out these one-time events and next year's estimates actually look sensational. Without the $374 million tax benefit, the trailing PE is higher than the forward PE.
I'll look at Toll Brothers because I own it. Horton, Standard Pacific, and Lennar all had massive income tax benefits as well.
Here are Toll's EPS. The income tax benefit is included. It sure looks like Toll's prospects are bleak.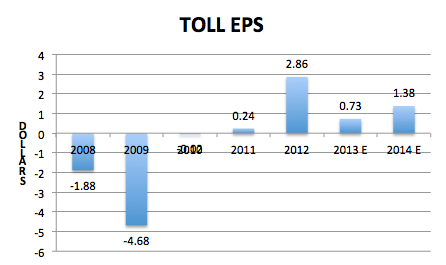 Let's take out those one-time tax benefits. Here are Toll's net income before taxes.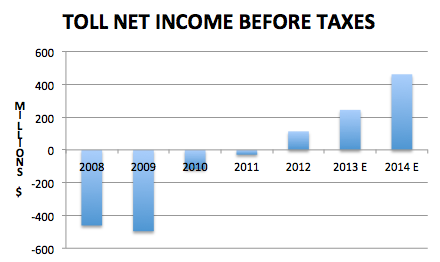 (Sourced from 10Ks and consensus estimate.)
Here are Toll's EPS, had no income tax benefit been applied.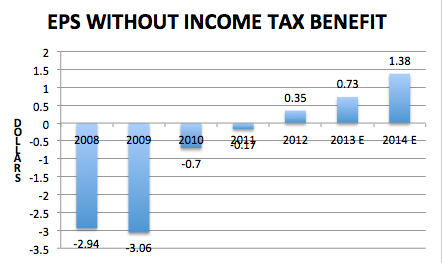 (Sourced from 10Ks and consensus estimate.)
Factoring out the income tax benefit, Toll Brothers' earnings are expected to do a double in 2013 and do almost another double in 2014. Toll is worth buying. Very few companies are likely to increase earnings at this rate.
Disclosure: I am long TOL. I wrote this article myself, and it expresses my own opinions. I am not receiving compensation for it (other than from Seeking Alpha). I have no business relationship with any company whose stock is mentioned in this article.
Additional disclosure: The opinions in this document are for informational and educational purposes only and should not be construed as a recommendation to buy or sell the stocks mentioned. Past performance of the companies discussed may not continue and the companies may not achieve the earnings growth as predicted. The information in this document is believed to be accurate, but under no circumstances should a person act upon the information contained within. We do not recommend that anyone act upon any investment information without first consulting an investment advisor as to the suitability of such investments for his specific situation.