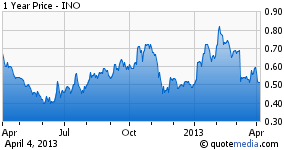 The cards are down for Inovio (NYSEMKT:INO) investors after the company announced negative data from its collaborative clinical trial with ChronTech AB of Sweden on a Hepatitis C vaccine. Namely, the company reported that the initial results did not show a statistically significant difference between treatment outcomes of the vaccinated and non-vaccinated groups. The vaccinated group (n = 17) received two treatments of ChronVac-C (500 ug) followed by interferon and ribavirin, whereas the non-vaccinated control group (n = 12) only received interferon and ribavirin. Based on the negative data release, shares of INO fell over 10% in a single session.
Despite having previously predicted a Phase II failure for INO's synthetic vaccine platform here and here, I found this press release to be particularly ambiguous, furthering my apprehension about this company. To explain why, I think investors should consider the following issues:
The study only contained data for 29 patients at 12 weeks.
The vaccinated group was reported to perform approximately as well as patients treated with the current standard medications for Hepatitis C (interferon and ribavirin).
The safety profile for the vaccine was reported to be excellent.
The company reports P-values in the press release without an accompanying explanation of the tests used to generate said P-values.
With these facts in mind, I would first like to address the sample size (n = 29) used in this Phase II study. Such a sample size does not permit one to perform any type of rigorous parametric analysis, as it falls below the assumptions for these type of tests (e.g., ANOVA). As such, the researchers would have to rely on less powerful non-parametric tests, which are quite frankly, never used in vaccine studies indicated to advance a clinical trial program. In fact, vaccine studies generally have huge sample sizes of several hundred, even in Phase II. Typically, the sample size is based on a pre-clinical power analysis combined with the frequency of the disease (i.e., rare vs. common). For example, Novavax (NASDAQ:NVAX) recently reported initial Phase II trial results for its RSV-F nanoparticle vaccine, and this trial included 330 patients for a condition that is prevalent in the general population. Even so, another Phase II DNA vaccine trial for HIV patients contained 480 patients for a relatively rare disease in the general population. Given that Hepatitis C is not exactly a rare disease and the vaccine platform does not place a significant logistical burden on patient enrollment, the sample size of 29 is scientifically unacceptable. Simply put, the results are meaningless from the standpoint of a rigorous statistical analysis, and this press release left me scratching my head.
The second bewildering part of the press release was that the company reported that the vaccinated group performed approximately as well as patients treated with interferon and ribavirin alone. Moreover, the safety profile of the vaccine was excellent. Suspending disbelief in the reported statistics for a moment, there are two glaring problems with these statements. Firstly, if the vaccinated group did perform as well as patients only receiving the standard treatments, but they did not experience the severe side effects known to accompany interferon and ribavirin treatment, shouldn't this be a major breakthrough? Specifically, Hepatitis C treatment with interferon and ribavirin is known to be effective in about half of the patients receiving the regimen, but patients frequently experience side effects so severe that treatment must be suspended. So an effective treatment with less severe adverse effects should have been a rather positive result to my mind. This is where the second problem with the press releases comes in. The second problem with this statement essentially undercuts the safety profile data statement. For the astute observer, one would notice that the vaccinated patients also received interferon and ribavirin. This begs the question of how in the world the researchers could parcel out adverse effects due to the vaccine versus those associated with interferon and ribavirin treatment. The answer is quite simple: they cannot. The trial design and the sample size would not allow them to attribute adverse effects to one versus the other. Hence, the safety profile statement is not reliable.
I am not particularly fond of writing scathing reviews of biotech companies, especially those developing novel vaccines for unmet medical needs. In fact, I try to error on the side of caution and tend to write more positive articles than negative ones. Inovio Pharmaceuticals, however, caught my eye a while back when it started making overly positive statements about a platform (DNA vaccines) that has failed repeatedly in Phase II human trials. As a reviewer for dozens of scientific journals, it is my opinion that Inovio's scientific team is not up to the task of designing an appropriate clinical trial to meet its stated outcomes. Furthermore, I fail to understand why the company repeatedly uses such low sample sizes that are statistically questionable, especially when the diseases in question are not rare. In conclusion, I think this recent press release should raise significant questions for investors holding out hope that Inovio will right the ship. I humbly suggest that investors steer clear of this company, as its press releases beg more questions than they answer.
Disclosure: I have no positions in any stocks mentioned, and no plans to initiate any positions within the next 72 hours. I wrote this article myself, and it expresses my own opinions. I am not receiving compensation for it (other than from Seeking Alpha). I have no business relationship with any company whose stock is mentioned in this article.