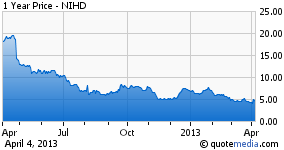 After the market close last night, NII Holdings (NASDAQ:NIHD) announced a deal to sell shares of its Nextel Peru indirect subsidiary for approximately $400 million. We previously quoted a rumored price of $500 million which may have included certain reimbursements of capital commitments and inventory on top of the share purchase. The deal importantly comes in at the top end of its range and shows the company's regained position of strength in negotiations to sell its non core operating territories and other assets. Perhaps more significant is the additional liquidity on NIHD'S balance sheet from this sale should enhance the value of the tower division which is in the process of being spun off presumably to a pure play tower operator such as American Tower (NYSE:AMT) who late last year purchased a German tower package:
Announced 11/15/12

393.00M for E-Plus Mobilfunk GmbH & Co. KG, Over 2000 Tower Sites in Germany

Merger/Acquisition

American Tower Corporation signed a definitive agreement to acquire over 2000 tower sites in Germany from E-Plus Mobilfunk GmbH & Co. KG for approximately €390 million on November 15, 2012. The transaction does not include transmitting stations installed on the towers.
Quoting from the NIHD press release:
"The transaction, which is structured as a purchase of the shares of NII's indirect subsidiary, Nextel del Peru S.A. ("Nextel Peru"), is being entered into as part of NII's announced strategy to focus its capital and other resources in Mexico and Brazil, its two largest markets. The proceeds received from this sale will provide additional liquidity as the Company continues to invest in the deployment of its next generation networks in Mexico and Brazil. NII's next generation networks will enable the Company to provide the highest quality wireless experience to high value customers in those markets."
To the best of our knowledge, this is the first time the company has formally announced that it intends to focus only on Mexico and Brazil. We had assumed a $300 million sale for Peru in our bare bones valuation of the company and also believe that Mexico can be sold for a further premium as other operators need the bandwidth from the licensed frequencies NIHD's Nextel Mexico holds.
NIHD CEO Steven Schindler, who some employees call the "iron fist", is making good on his vision to streamline the company and focus on building value through subscriber growth and network upgrades. We now believe Schindler has strengthened his company's finances to the point where he can extract more value from his planned sale of assets. The acceleration of the Peru deal shows us he means business. We estimated that Nextel Mexico would yield $2.15 billion in a sale. This was conservative as it was 50% of the price to be paid on a deal that never was completed. With increased strength from the Peru sale, we think Schindler can command a higher price than $2.15 billion. A mere 10% increase would add another $215 million to the company's value, or $1.25 per share. We think this is achievable and therefore update our bare bones value for NIHD to $12.11. We look forward to seeing what next on Shindler's asset sale list.
Disclosure: I am long NIHD. I wrote this article myself, and it expresses my own opinions. I am not receiving compensation for it. I have no business relationship with any company whose stock is mentioned in this article.