Nonfarm Payrolls will be released today, which will influence the near term direction of risk sentiment. Economic data released earlier in the week points towards softer employment numbers. Both ADP private payroll and unemployment numbers showed a slowing labor market and signaled a possible pullback in risk. Fed officials littered the headlines exclaiming that we need to see considerable improvement in the employment situation before the Fed deems it necessary to rein in stimulus. Just as central banks across the world continue to ramp up their recovery efforts, the U.S. economy remains cautiously optimistic, with an emphasis on consistent growth over blowout one month releases to return us to stability and autonomy.

Click to enlarge
(Click to enlarge)
The first market indicator that risk is preparing for a pullback is seen in the yield curve ratio. Long term Treasuries over short term Treasuries indicate that the curve is flattening and that the markets see potential for pullbacks. The ratio could dive with a solid employment number, but it seems unlikely that the market is going to see a number that it loves, based on increased expectation over the past few weeks.

Click to enlarge
(Click to enlarge)
Gold looks to be preparing as well for a breakout somewhere. The price action of gold versus the broader commodities basket has traded in a pattern of uncertainty. The economic release on Friday should give this indicator some direction over the intermediate term.
Equity pullback and a weak dollar combine to boost gold. Falling world currencies and equity markets could be a major catalyst to a gold leg higher.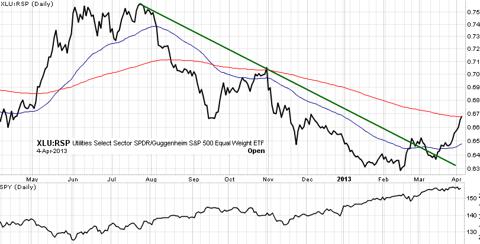 Click to enlarge
(Click to enlarge)
The last indicator shows a defensive rotation of funds in the U.S. equity arena leading up to the economic report. Utility stocks over an equal weight equity index indicate that there was a breakout in relative risk off equities earlier in the week. This does not mean that there will be an outright fall in the markets, but it does highlight potential near term weakness, especially after the recent rise we have seen in risk indicators. Internal models used to project the ADP report show that a move above 170k jobs this week would be unlikely.
Disclosure: I have no positions in any stocks mentioned, and no plans to initiate any positions within the next 72 hours. I wrote this article myself, and it expresses my own opinions. I am not receiving compensation for it (other than from Seeking Alpha). I have no business relationship with any company whose stock is mentioned in this article.