Looking around at the markets today it appears that we are going to be red unless there is a surprise in the jobs market. Which we doubt at this time because there are so many market experts already discussing the need for excuses of why the March numbers will be so disappointing. We do need the economy worldwide to pick up as it will create demand for commodities and also work to weaken the US$ as other currencies see demand pick up and central bankers worldwide decide to begin to reign in the loose money policies of the last decade.
Commodity prices this morning are as follows:
Gold: $1544.10/ounce, up by $1.70/ounce
Silver: $26.89/ounce, up by $0.123/ounce
Oil: $92.86/barrel, down by $0.40/barrel
RBOB Gas: $2.8973/gallon, down by $0.0014/gallon
Natural Gas: $3.949/MMbtu, up by $0.002/MMbtu
Chart of the Day:
It is most certainly still a bull market in gold for those playing via the Japanese Yen...but it is really just a currency play and a bear market in the Japanese Yen to be sure. However, as we have previously stated, for those who have to be invested in gold you have to make money however you can make it and this is a 'cute' trade which does allow that.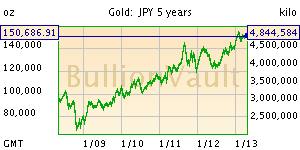 Chart courtesy of bullionvault.com
Oil & Natural Gas
Today we want to update readers on our buy list and where we stand on that after yesterday's purchase. As we discussed, if yesterday's target opened up below $25 we would be buyers and it did. We were actually lucky enough to get it near the lows of the day just as it was beginning to perk up and yes we did have to chase it up a bit, but making over 3% on the day you buy a long-term investment is never a bad deal.
Our new number one is PDC Energy (NASDAQ:PDCE) which has retreated from the $50/share area over the past few sessions as markets have become choppy and decided to take a bit of a breather. Readers will remember that we sold around $42.50/share a month or two back looking for a pullback and missing it when it did happen (an intraday 10% pullback from our sell). The rest is history as the initial Utica results were just as we figured they would be - that is strong. Based on the timeline we have for the company and the news events as we see them being released, we think that over the summer months we see $40/share again and at that time we want to buy. We will be opportunists here.
Our second desired buy is Halcon Resources (NYSE:HK) which is actually getting very near the upper range of our desired "box" for acquiring shares. We will be a bit more patient with this one than PDC Energy simply because they are a little bit further behind on the growth curve and as it pertains to the Utica not in the prime acreage as we see it. It looks good, but not prime. Their other plays look good, and we think it will be a winner, but as far as moving this above PDC on our buy list we cannot unless it is simply pulling the trigger on a trade.
Trades
SandRidge (NYSE:SD) continues to reward the bears who bet correctly at the $5/share battleground area and we have noticed that as it continues to get weaker it is showing weakness-on-weakness. What we mean by that is that it is finishing lower and at or near the lows for the day. That is never a promising proposition and it indicates to us that there may be some sellers out there who were weak hands and were looking for a quick buck on the hopes that a new CEO would be announced. The drilling in the Mississippi Lime will be key moving forward and those results hold more weight than ever due to the added exposure to the play after the divesting of the Permian assets.
This morning Rosetta Resources (NASDAQ:ROSE) is also pretty close to that medium term buy range and we would recommend buying a half position now and saving firepower to use the other half on further weakness. Ideally you would beginning your buying program sub-$45/share and restart it sub-$42-43/share. The trade has been used by us many times and was a smashing success last time even though we did not ride it all the way to $50 or the recent highs above that. Readers should watch this one closely this morning. We do want to be buyers on strong weakness and may make our move in the options market.
We were always taught to do more of that which is working and less of that which is not. Build upon your successes and learn from the failures. Well this has worked many times, and until it does not we shall continue to operate within it. The recent downtrend is a bit troubling, but this is why we want to operate with a half-and-half buying program.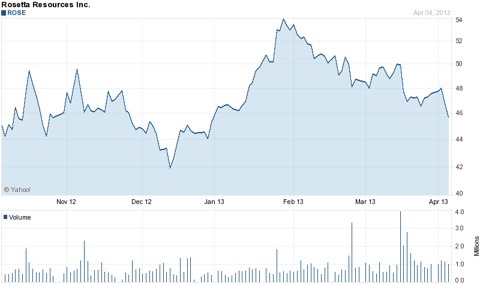 Click to enlarge
Chart courtesy of Yahoo Finance.
Still Researching...
We do not like to make irrational decisions and simply buy something to buy it. We want to know what we own and own what we know. When one does not, that is when serious mistakes are made and serious losses can occur. Our recent research undertakings have us looking into Bonanza Creek Energy (NYSE:BCEI) which we think has some promising properties and could be the second coming (granted it has already been discovered and risen dramatically) of PDC Energy for us. We like what we have seen thus far, but are still crunching the numbers to try to see what the upside is and how that compares to the risk/reward ratio for other interests that we have right now.
Disclosure: I have no positions in any stocks mentioned, but may initiate a long position in ROSE over the next 72 hours. I wrote this article myself, and it expresses my own opinions. I am not receiving compensation for it (other than from Seeking Alpha). I have no business relationship with any company whose stock is mentioned in this article.