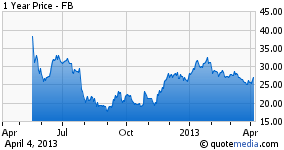 Facebook (NASDAQ:FB) revealed on Thursday that it would not come up with its own smartphone or OS, quashing speculation that the social media giant was bound to join the bandwagon of companies daring to battle on in the smartphone war zone. Since last year, there has been speculation indicating that Facebook was highly expected to launch its own smartphone early this year, with others also predicting a Facebook OS.
Let's talk about that Facebook phone
In an event at the company campus in California, Facebook CEO and Founder Mark Zuckerberg began by saying, "today we're finally going to talk about that Facebook phone," only to say that the company was not interested in making a Facebook smartphone, or an OS. Zuckerberg said that the social networking giant would not be able to address its massive user base by coming up with its own phone in an attempt to connect directly with people. According to Zuckerberg, the answer to this question is found in what he referred to as Facebook Home.
What is Facebook Home?
Facebook Home is a software integrated to Android OS devices, which replaces the home screen of every Android phone upon installation. It is like a partial operating system that integrates with Android OS without changing a greater deal of the main OS functionality. One would feel it is like a layer placed on top of another OS.
Facebook Home overhauls the app-filled smartphone and tablet home screen with a new look. In place of the Apps, we will now have faces. It brings the main Facebook services right on the screen of your Android phone, including notifications, and messaging.
The software will be available for download from Google (NASDAQ:GOOG) play, from April 12, and will also replace the lockscreen feature on Android phones, as chat updates will be automatic regardless of whether your phone or tablet is locked.
However, the device currently works on a select android devices from different companies including HTC (OTC:HTCCY) One X, HTC One X+ and HTC one, as well as Samsung (OTC:SSNLF) Galaxy S3, Samsung Galaxy Note 2, and the highly anticipated Samsung Galaxy S4.
Zuckerberg asked, "What if we didn't design phones so that they're apps first," but instead were "people first?" He believes that smartphones are built around apps and not people, a fact that he intends to change with the new Facebook home.
How does it work?
Facebook Home will be the home screen for every compatible Android phone, which means it is the first thing you come across once you switch on your phone. Your face at the bottom of the screen will perform most the functions by tap, including displaying the most recently used apps, or messenger. You swipe up to get all the apps, including Gtalk, Gmail, and Instagram, among others.
Notifications are automatic, and can only be cleared by throwing them away or gathering them and archiving. When a person posts something, their profile picture will appear at the top of the screen in the form of a "chat head". You can then tap it to join the conversation or read the post on Facebook.
If you want to express that you like a post, for instant a photo, you only need to double tap on the update.
What is in it for the investor?
The big question though is, whether this was the best decision with regard to investors. They are more interested in the monetary value of the so called Facebook Home. Some would think that perhaps a Facebook phone would have resulted into a better upside, as compared to what is expected of Facebook Home.
However, it is important to note that Facebook, which is the most used third party app in smart devices, need not come up with its own phone to command a huge share of mobile app engagement.
The decision taken by Facebook maps to the one the company took when it launched Facebook Ad Exchange (FBX). Just like FBX, Facebook home will have a higher potential in terms of customer reach, as compared to a situation of launching its own phone.
Indeed, Facebook will now have the potential of having nearly 70% of smartphone owners using Facebook Home as their home screen, based on Android OS market share. You do not have to own a Facebook phone to experience Facebook Home, and that is the advantage. You only need a compatible Android phone, and I believe as time passes, there would be even more compatible devices in future. So, bright move Facebook.
The Bottom Line
Zuckerberg is looking to increase the level of engagement, and managing to pull that trick on nearly 70% of the smartphone users is an enticing aspect for advertisers. This is what the investors are betting on; ad revenue. While Facebook makes people's smartphone experiences improve, on the other hand, the investors will be reaping the monetary benefits.
While other social media companies are grappling to monetize their current traffic, Facebook is concentrating on strengthening the foundation to traffic monetization, which is user engagement. When this is done, the rest would be almost automatic. There will be fewer struggles in attracting advertisers, which will results in continuous revenue growth.
Disclosure: I have no positions in any stocks mentioned, and no plans to initiate any positions within the next 72 hours. I wrote this article myself, and it expresses my own opinions. I am not receiving compensation for it (other than from Seeking Alpha). I have no business relationship with any company whose stock is mentioned in this article.