By Jaime Macrae
When it comes to the relationship between the Canadian dollar and commodity prices, the headline benchmark prices can be misleading. Chart 1 displays the relationship between the Canadian dollar and the price of Western Canada Select (WCS) crude oil. As Canada's most high profile export, it is a key driver of US-Canada terms of trade. The Bank of Canada pays close attention to the value of domestic crude prices. In its most recent Monetary Policy Report the BoC singled out the record discount of WSC to global benchmarks like WTI in Cushing (a result of persistent transportation bottlenecks) as putting pressure on "Canada's terms of trade and real gross domestic income" (Chart 2).
Chart 1 - Western Canada Select crude oil (left-axis) and
Canadian-US dollar exchange rate (right-axis)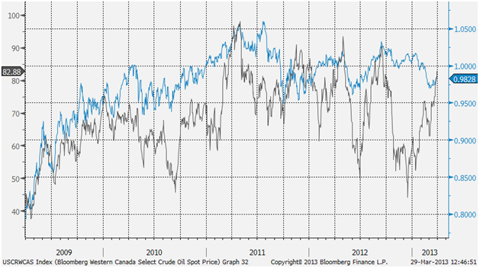 Chart 2 - Western Canada Select crude oil (left-axis) and
US trade balance with Canada (inverted, right-axis)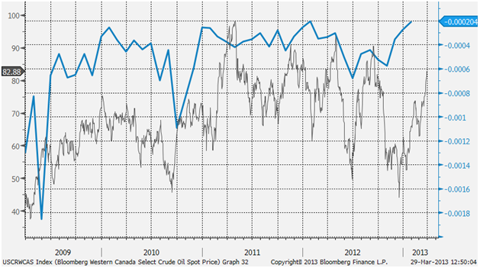 Back in mid-September of 2012, the price of WCS crude oil experienced a severe downturn that saw the value of Canada's largest export fall over 51%, bottoming out in mid-December at a mere $44.23 per barrel. This bear market, largely the result of the aforementioned transportation bottlenecks that restricted exports, coincided with the speculative community shifting en masse from a record net-long position to holding one of the largest net-short positions of all time (Chart 3). Since marking its low in December, WCS crude has risen over 85%, while speculators have continued to short the Canadian dollar. This has resulted in a divergence from the historically positive correlation between the price of crude oil and the loonie, with WCS rising while the Canadian dollar fell.
Chart 3 - Canadian-US dollar exchange rate (left-axis) and
CFTC large non-commercial net position (right-axis)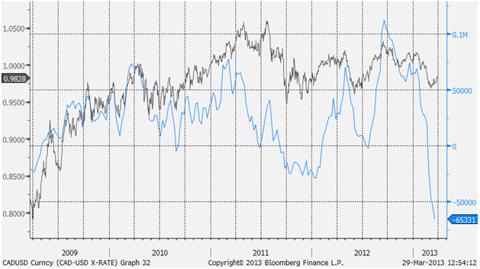 So far, the shorts have been on the right side of the trade. However, with the oil picture shifting substantially in Canada's favour, a significant short covering could be in the offing. It is worth noting, though, that unlike most commodity futures, where the exchange-traded markets set the global benchmarks, currencies trade primarily outside the purview of the CFTC, and therefore the Commitment of Traders report does not provide a complete picture of how the market is positioned. However, FX dealers are reporting similar trends among their own speculative clients, so the COT data would seem to serve as a reasonable proxy for the underlying market.
The Canadian dollar is now near the low end of the range in which it has traded over the past 18 months, and April is seasonally the Canadian dollar's strongest month, with the most frequent positive returns and highest average returns. Given the heavily short position of the speculative community, and early reports of those positions being unwound, now would seem an opportune time to enter a new long position in the currency. Buy June Canadian dollar futures, placing initial stops at 95.50, close only.
Disclosure: I have no positions in any stocks mentioned, and no plans to initiate any positions within the next 72 hours. I wrote this article myself, and it expresses my own opinions. I am not receiving compensation for it. I have no business relationship with any company whose stock is mentioned in this article.
Additional disclosure: Friedberg Mercantile Group is a broker/dealer specializing futures and options, as well as hedge fund manager employing a global macro strategy. This article was written by Jaime Macrae, one of our strategists. We did not receive compensation for this article (other than from Seeking Alpha), and we have no business relationship with any company whose stock is mentioned in this article.