Elevator Pitch
TASER International Inc. (NASDAQ:TASR) stock is up 80% over the last year as the company may be the next great turnaround story.
Company Description
TASER International Inc. makes less than lethal weapons used by military, law enforcement, federal, corrections, and private security. Its best-selling products are based on technology that transmits electricity along wires that temporarily disrupt the peripheral nervous system.
TASER International Inc. also sells wearable body cameras for officers, also called eye cams.
Thesis & Catalyst For TASER International, Inc.
Many of us have been tased by TASER stock. In 2005, the stock was trading over $30. Today, it trades at just $7.51 per share.
Putting negative biases aside, demand for TASER's less than lethal line of weapons is up. Insurance companies are now asking police departments to purchase less than lethal weapons in order to keep insurance costs down.
The NIJ, National Institute of Justice funded a report by the police executive research firm, which found that police agencies that use Taser had 76% fewer officer injuries. When you have lower officer injuries, you have less time off work for officers, which significantly lowers workers comp costs.
Taser technology makes good sense for police departments on tight budgets. When you have fewer injuries and death, you have fewer complaints and excessive use of force claims. It is estimated that law enforcement agencies spend about $2.5 billion a year on settlements. This is why insurance companies have now started asking police departments to use Taser technology if they want to keep their insurance rates lower.
Sales Rolling In
On March 26, 2013, Taser announced that the U.S. Army ordered another 500 of Taser's X26 "Conducted Electrical Weapons," the New Orleans Police Department ordered 400 Taser X26P Weapons, and 400 TASER CAM HD recorders, and the New York State Police ordered 334 X26Ps.
On April 3, 2013, Taser shocked Wall Street when it announced that its newly formed Telesales Group booked $3.3 million orders in Q1 2013. Telesales Group was formed to focus directly on small law enforcement agencies.
Valuation
Taser trades at a forward P/E ratio of 23. Investors are expecting big things out of Taser, which is why the stock is not cheap. Taser has the potential for massive growth as police departments look to lower insurance, legal settlements, and workers comp costs.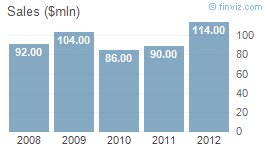 The upward sales trend for Taser is a thing of beauty with 2012 being a breakout year for the company.
I like companies with a lot of cash and little or no debt. Taser fits the bill with $37.8 million in cash and a total debt of only $137,230.
I like how management has been putting some of that cash to work. It continues to develop body cameras for law enforcement officers as well as tap into a new $5 to $10 billion market for helping law enforcement improve how it stores and accesses video. Most law enforcement agencies that use video use VHS tapes. Using a cloud-based solution, Taser can improve efficiency by deploying on-officer video and helping solve the back end with a cloud-base service called EVIDENCE.COM.
On-officer video is going to require huge storage and access capabilities beyond a law enforcement agency's existing infrastructure and systems. No problem. Taser has the solution with EVIDENCE.COM.
Taser has been investing heavily in EVIDENCE.COM for years and has first mover advantage in this cloud computing space. Taser has a several year head start on the competition and it has over 1,000 agencies using EVIDENCE.COM today.
Trend Channel Support
The chart of Taser shows that shares have pulled back to lower trend channel support making for a compelling entry.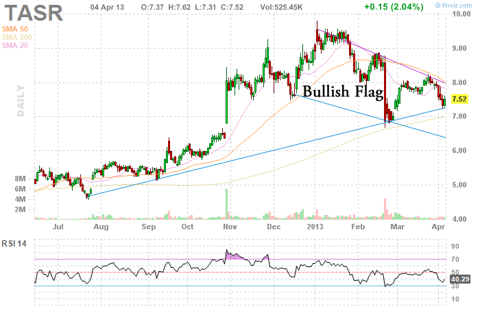 The longer-term pattern is a Bullish Flag.
Swing traders have a play off the $7.51 trend channel wall to $7.95 resistance: a 5.8% swing up.
I prefer a less aggressive strategy of waiting for a Bullish Flag breakout above previous resistance at $8.20 before taking a long position. The reason I favor a less aggressive strategy is that this stock is known for being difficult to trade with its seemingly random swings.
Variant View
Taser has been a horrible long-term investment for years now. It has tased a lot of traders both amateur and professional alike. There is not a lot of love out there for this stock and this has resulted in a lower beta score for the last few years. It will take some amazing growth numbers for several years to attract institutional investors back to this stock.
Taser had its brand dragged through the mud back in 2007 with the video that circulated over the Internet called "Don't Tase Me Bro." Taser operates within a very litigious space and as such could be susceptible to unpredictable price swings.
Law Enforcement agencies are being pressured to scale back costs. While Taser does reduce some costs, it is unclear how quickly agencies will purchase extra "add-ons" like body camera technology, especially if such technology sometimes ends up costing more because it proves guilt of excessive force rather than proving no excessive force took place. Body camera technology is a two-edged sword that law enforcement agencies may be unwilling to adopt at this time.
Disclosure: I have no positions in any stocks mentioned, but may initiate a long position in TASR over the next 72 hours. I wrote this article myself, and it expresses my own opinions. I am not receiving compensation for it (other than from Seeking Alpha). I have no business relationship with any company whose stock is mentioned in this article.