Most of the U.S. economic indicators for February are finally in, so let's take a look at how the U.S. economy performed.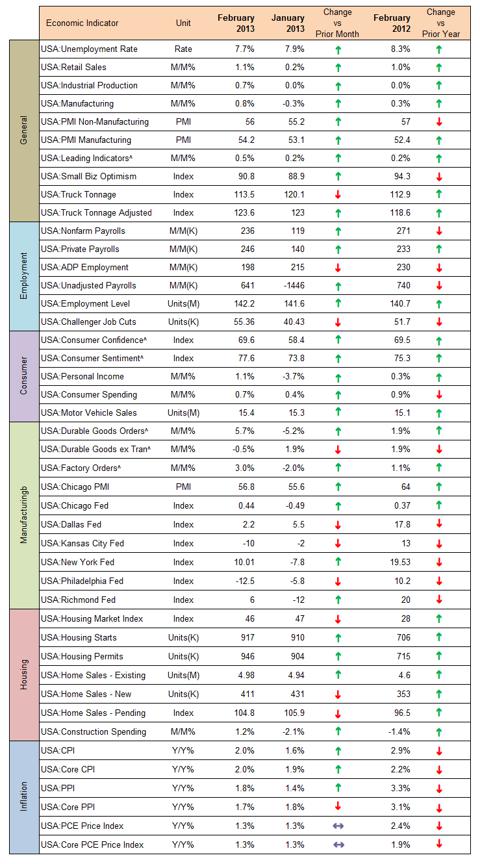 Click to enlarge
The important general indicators registered improvement over January and over the prior year. The unemployment rate is significantly down, retail sales have remained strong in the face of the payroll tax cut, industrial production and manufacturing have remained strong, the leading indicators are improving and truck tonnage on a seasonal basis has remained strong.
The only concerns are services PMI and small business optimism, which registered a weaker reading than last year. On the employment front, the picture is more mixed. Non-farm payrolls, ADP employment and unadjusted payrolls are off from the prior year and companies seem to have accelerated job cuts. However, the employment level is better at more than 1.5 million jobs from the prior year and private payrolls are at a very good level. There seems to be a slight disconnect between the ADP survey and BLS private payroll stats, but overall private sector employment is roughly generating about 200K jobs per month. Clearly the sequester is not helping the overall employment and the employment picture is still not where it should be.
On the consumer front, most indicators are remarkably strong and since that is 70% of the economy, it probably explains the elevated levels in the stock market (NYSEARCA:SPY). In the manufacturing arena, most of the regional Fed surveys are finally bouncing off the bad January numbers, but are still weaker on a year-over-year basis. The heralded on-shoring of manufacturing jobs doesn't seem to be reflected in the numbers. Housing is very strong compared with last year but the numbers are starting to peter out a little bit compared with January. Housing starts and permits, which are leading indicators, are very positive so that bodes well for the home building industry. The disconnect between housing sales and housing starts means that there is a lack of inventory in the market, which means that we will probably see housing prices continue to go up. On the inflation front, inflation looks subdued compared with last year when levels were generally hovering around 3% and is below the 2.5% target by the Fed. This means that the Fed will remain accommodative with its policy to fight the lack of inflation and the relative weakness of the labor market.
Portfolio Implications
For my portfolio, the relative strength in the U.S. Economy means that I will remain invested in the US dollar (NYSEARCA:UUP) and lower inflation levels means that I will continue to short commodities (NYSEARCA:DBC) as well as gold (NYSEARCA:GLD) and oil (NYSEARCA:OIL). Sector exposure to consumer staples (NYSEARCA:XLP), consumer discretionary (NYSEARCA:XLY), financials (NYSEARCA:XLF) and home builders (NYSEARCA:XHB) seems warranted based on these numbers and are good candidates to buy on a dip, however industrials (NYSEARCA:XLI) and technology (NYSEARCA:XLK) will probably underperform over the near term until we see better numbers in regional Fed manufacturing surveys and PMI non-manufacturing. At this point, I would recommend cutting exposure to the market (SPY) overall as the market seems to have already priced in the good data and some downside risks have appeared in some of the early March numbers (like the PMI manufacturing and non-manufacturing coming in short of expectations and the weekly jobless claims starting to shoot up). I wouldn't recommend an outright short position either as the economic indicators are strong enough not to indicate a recession and inflation is subdued, which should fuel corporate profits. I will take a wait and see approach and monitor the March and April data closely before I decide to jump back in.
Disclosure: I have no positions in any stocks mentioned, and no plans to initiate any positions within the next 72 hours. I wrote this article myself, and it expresses my own opinions. I am not receiving compensation for it (other than from Seeking Alpha). I have no business relationship with any company whose stock is mentioned in this article.