Like most of my articles I plan on writing for Seeking Alpha, this is going to be short, sweet and to the point.
Last week while digging through some SEC files, I wrote an article about how Zoltek (ZOLT) was probably in play. Not less than 8 hours after that article was published on Seeking Alpha, ZOLT officially hired JPMorgan to explore strategic alternatives.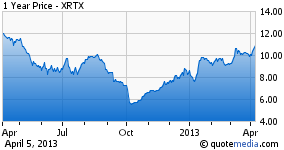 Last night, a SC-13D was filed on Xyratex (XRTX) and it casually slipped in the fact that it had formed a committee to pursue strategic alternatives. The dropping of that bit of information makes XRTX a nice long opportunity.
First a little backstory:
On Tuesday it was announced that XRTX and Baker Street Mgt., which owns 23% of XRTX, agreed to a board of directors that will include two directors who were recommended by Baker Street. Nothing too complicated here, as it's always a good sign when a 23% holder can get board members added that it approves of.
Now last night, the SC-13D was filed detailing the above moves, however this little nugget was included that was NOT in the press release:
"In addition, the Issuer agreed (1) to promptly form a Strategic Committee to explore strategic alternatives and to offer Mr. Perelman membership on such committee and (2) to offer membership to each other committee of the Board to at least one Investor Director during their initial terms on the Board. The Issuer further agreed during the Standstill Period not to increase the size of the Board above seven (7) directors or implement any antitakeover provisions other than the continuation of its shareholder rights plan in its current form."
To me, strategic alternatives means they are exploring a sale. Why this wasn't disclosed in the press release is beyond me -- unless this decision to explore a sale was decided between Tuesday and last night. It seems like XRTX is in play and should be bought.
Disclosure: I am long XRTX. I wrote this article myself, and it expresses my own opinions. I am not receiving compensation for it. I have no business relationship with any company whose stock is mentioned in this article.