I've been bullish on the price of oil for quite some time. And I've been right. Hooray for me.
Wait self, not so fast.
I've focused my equity portfolio on smaller and mid-sized Canadian light oil producers. So far, despite the fact that oil prices have been high (yes even light oil in Canada is over $90) the stock prices of those companies have not done very well.
Those small producers have come up against a Canadian small cap market (TSX Venture index) that over the past year has done this: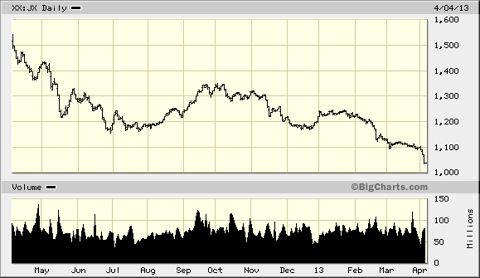 Click to enlarge
That is a 34% drop by an entire index of stocks, which is quite a depressing accomplishment.
In a market like that equity financing is not really an option for many companies. Only those that generate a healthy amount of cash flow can keep growing.
I've learned the hard way that balance sheets and the ability to self finance are crucial for the smaller producers.
With the importance of a strong balance sheet and robust cash flow generation in mind I've been looking at a company that has none of the problems that a small cap Canadian junior does. That company being Exxon Mobil (NYSE:XOM).
Yes, I have swung to the other extreme.
The amount of free cash flow that Exxon generates is truly mind-blowing. Free cash flow is cash flow above and beyond what Exxon needs to fund its business and capital spending.
Over the period of 2008 to 2012 Exxon has generated $138 billion of free cash flow.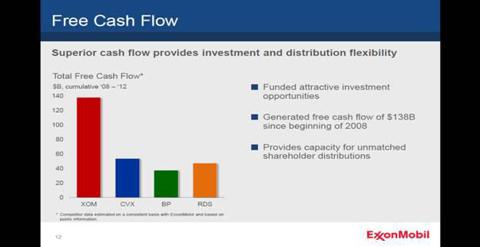 Click to enlarge
That is cash flow that can be returned to shareholders. And Exxon has been doing exactly that with $145 billion being returned to shareholders over that same period either through dividends or share repurchases.
That $145 billion of cash distributed to shareholders is more than Chevron (NYSE:CVX), BP (NYSE:BP) and Shell (NYSE:RDS.A) combined.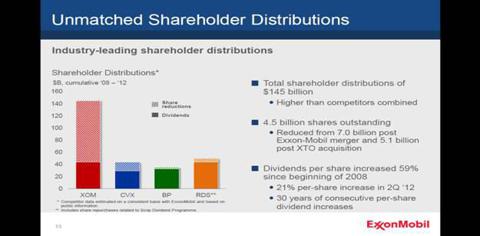 Click to enlarge
At Exxon's current share price that "distribution yield" (dividends plus share repurchases) is over 7%. That certainly beats a Government Bond in this world of easy money policy.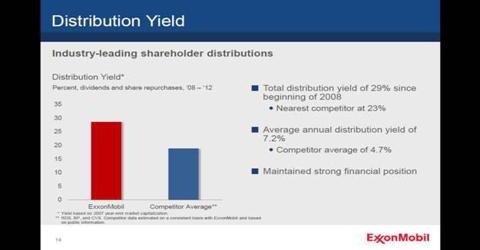 Click to enlarge
But I have a criticism of the Exxon shareholder distribution plan. That criticism is that I don't understand why the company doesn't put more consideration into the valuation of its shares when making share repurchases.
I mean after all, the oil business is quite volatile and cyclical. Wouldn't it make sense to be deploying a lot more cash into buybacks at the bottom of the business and commodity cycle rather than the top?
Why not take a page from Warren Buffett and make these buyback decisions fully based on valuation. On September 26, 2011 Berkshire Hathaway (NYSE:BRK.A) (Buffett's company) authorized its first ever share repurchase plan with the following stipulations:
"Our Board of Directors has authorized Berkshire Hathaway to repurchase Class A and Class B shares of Berkshire at prices no higher than a 10% premium over the then-current book value of the shares. In the opinion of our Board and management, the underlying businesses of Berkshire are worth considerably more than this amount, though any such estimate is necessarily imprecise. If we are correct in our opinion, repurchases will enhance the per-share intrinsic value of Berkshire shares, benefiting shareholders who retain their interest.

Berkshire plans to use cash on hand to fund repurchases, and repurchases will not be made if they would reduce Berkshire's consolidated cash equivalent holdings below $20 billion. Financial strength and redundant liquidity will always be of paramount importance at Berkshire."
The Berkshire buyback program is focused completely on the value being acquired for every dollar deployed. If Berkshire's shares aren't cheap, the company isn't buying.
Exxon's buyback program on the other hand appears to be nothing more than the default use for excess cash flow.
Check out Exxon's historical share repurchases and the stock price at the time those repurchases were completed:
2006 - $29.5 billion (stock price range $52 to $69)
2007 - $31.8 billion (stock price range $64 to $85)
2008 - $35.7 billion (stock price range $68 to $85)
2009 - $19.7 billion (stock price range $62 to $71)
2010 - $13.1 billion (stock price range $55 to $72)
2011 - $22.1 billion (stock price range $67 to $87)
2012 - $21.1 billion (stock price range $77 to $94)
This is not opportunistic share repurchasing, this is the robotic use of free cash available above the set dividend being used for repurchases. These buybacks aren't being done based on the price of Exxon's shares, they are simply what is done with excess cash flow at all times.
Don't get me wrong, I love repurchases when they are done with a focus on valuation and when done by a company with a rock solid balance sheet. Repurchases are more tax efficient and much less risky than making acquisitions. Management and the Board of Directors should know the value of its own shares much better than the shares of other companies.
But why not have a maximum valuation target above which you won't buy back shares? How about repurchasing shares only when the stock is trading below a certain multiple of cash flow?
When oil and gas prices are high and the stock market happy the repurchase can be put on hold and let cash build on the balance sheet. When we go through one of the bouts of panic in the market that seems to happen every 6 months, the share repurchase can be ramped up more aggressively and more shares retired for the same amount of cash.
Exxon doesn't buy other companies irrespective of what the valuation is. Exxon waits until it thinks it is getting a good deal and then strikes.
So why then should it treat its own stock any differently when making repurchases? I think the answer to that question is obvious, it shouldn't.
Disclosure: I have no positions in any stocks mentioned, and no plans to initiate any positions within the next 72 hours. I wrote this article myself, and it expresses my own opinions. I am not receiving compensation for it (other than from Seeking Alpha). I have no business relationship with any company whose stock is mentioned in this article.