The housing market continues to remain strong in the U.S. Companies like Lowe's (NYSE:LOW), Sherwin Williams (NYSE:SHW) and drywall maker USG Corporation (NYSE:USG) continue to deliver big numbers. A company I have been buying in my long-term conservative portfolio is Home Depot (NYSE:HD). The company remains on a huge uptrend and I expect it to continue to grow in the next few months. Definitely a leader in the industry, my conservative portfolio focuses on companies that continue to deliver outstanding results.
Fundamental analysis
The company's market capitalization currently reads $105b. HD has $2.5b in cash, which is great as this allows it to buy back shares if needed or other small companies to diversify its product range. Institutions continue to hold approximately 74% of the float. The company also gives out a dividend of 2.2% per year, which makes this stock a strong buy for those conservative investors. The dividend was also increased recently. This is better than Lowe's, which gives out a dividend of 1.7%.
In the last quarter, revenues rose 14% year-over-year. Earnings estimates were also very robust as a 36% growth was observed over 2012 share. Home Depot's comparable-store sales increased by 7% overall and 7.1% in the U.S.
Technical Analysis
Let's start by looking at the daily chart. The chart has been consolidating in the last few days and a break over the descending trendline will cause multi-year highs. I will be looking at volume to push the stock over to $72. Stochastics are also on the rise, which further supports another move higher.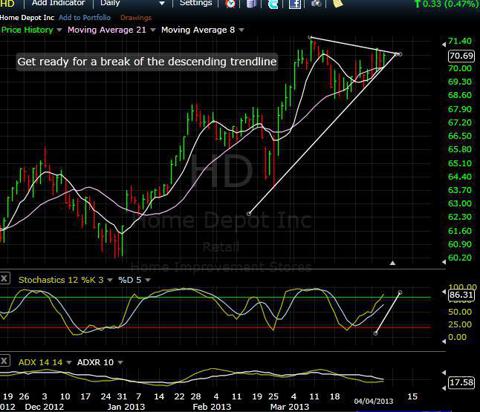 The weekly chart is also quite impressive. The price remains above the eight-day moving average and ADX remains above 25, further showing strength.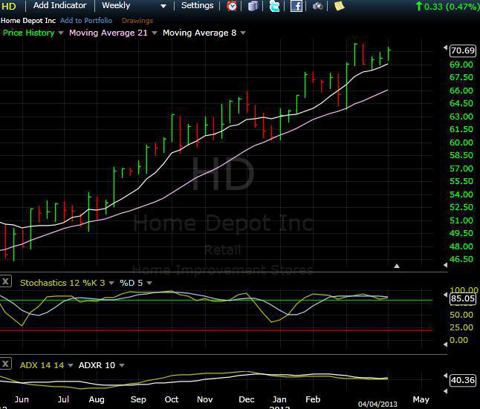 Conclusion
I like HD both from a technical and a fundamental standpoint. I will continue to add on all dips, and would increase my position over $71. The housing market remains strong and I believe HD is in a prime position to benefit from this improvement. The recent buyback program further adds impetus to this rise, making me a firm believer in the company's management.
Disclosure: I am long HD. I wrote this article myself, and it expresses my own opinions. I am not receiving compensation for it (other than from Seeking Alpha). I have no business relationship with any company whose stock is mentioned in this article.