It may or may not have been a pleasant few days for Amazon (NASDAQ:AMZN) bigwigs last week, as Google (NASDAQ:GOOG) announced the launch of a same-day delivery service, starting with its pilot program in San Francisco.
I'm guessing it wasn't pleasant. Even if Amazon saw it coming, so what? As of now, Amazon does not offer same-day shipping (save for local orders during AM hours), and might be hard pressed to explain this sudden gap in delivery options. Google's brash experiment will be called "Google Shopping Express," and will likely serve as an effective PR move to take a chomp out of Amazon's $65 billion in online shopping revenue.
Concerns
Affordable logistics. Google Shopping Express will start out as a free service while in its SF pilot stage, and is expected to hire local courier services to carry out the same-day shipping. I understand the service being free for the pilot, as a quick way to build up a customer base and likely good feedback. But beyond that, as Google enlists more stores and has more customers, the logistics might become tricky, which is likely why Amazon has never attempted same-day shipping. Then again, Yahoo (NASDAQ:YHOO) and AskJeeves didn't make much attempt to "relevantize" search while they were on top of the search world, so I'll leave it to Google to handle.
Amazon's Vulnerability
It could be that Google has no intention of making money, and with a healthy $40 billion in the bank ($7 billion in debt), compared with Amazon's $11 billion in the bank versus $4 billion in debt, the margin for error is a lot greater for Google. Amazon will be hard pressed to increase operating costs to compete with Google, and its stock might feel the pain. Currently near an all time high, Amazon might need to spend more to keep up with Google's new venture. The last time Amazon rapidly increased its operational spending was October 2011, when it missed earnings and the stock dropped 17%. Google has the luxury of spending a few extra dollars to overpower the competition (the $300 Google Nexus phone sells at a loss), and Amazon will have a tough time warding off Google, especially with other creeping competition.
For better or for worse, Amazon's lifeline comes from e-commerce, but what is more alarming has been its failure to branch out into other areas, leaving itself vulnerable to a competitor's attack, a la Google. Check out Amazon's impressive-until-now e-commerce revenues, which also highlight the stunning lack of growth in other areas: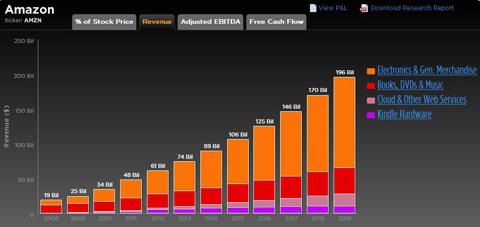 Click to enlarge
(Click to enlarge)
Amazon's growth in its cloud/web services and Kindle hardware is appallingly slow, in my opinion. Sure, its e-commerce revenue is robust with solid EBITDA, but Google is primed to take out a huge market share from e-commerce, because the Internet behemoth is essentially printing money from other areas, which require significantly less operating income: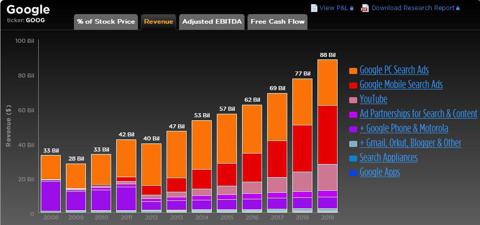 Click to enlarge
(Click to enlarge)
The obvious question is, how will Amazon react? Currently, Amazon's fast shipping service is Amazon Prime, which offers 2 day shipping on all items purchased, at a cost of $79 a year. It remains to be seen how Google's price will compare.
Could Amazon's stock crater? Amazon's contentiously debated 3000 P/E has become its forward-looking raison d'etre. Big money says that Amazon is going places, with a favorable business model and lack of true competition. But with Google placing a rather large shoe on Amazon's magic carpet, suddenly that P/E looks rather fat. Delectable, perhaps.
Google entering e-commerce in such bold fashion certainly rankles Amazon's brass. So far, Google has enlisted Target (NYSE:TGT), Toys "R" Us (TOYS), Walgreen (WAG), Staples (NASDAQ:SPLS), American Eagle (NYSE:AEO), and a few local SF shops. That's just the beginning. It's only a matter of time before more major chains enlist Google Shopping Express. And since it will be free in the interim, it will mean eager customers, excited reviewers, and faster collaborations with big stores.
Can Wal-Mart Really Compete?
Other competitors include Wal-Mart (NYSE:WMT), which also announced its own interesting plan for same-day shipping, however, the retail chain plans to crowdsource it.
Although a novel concept in the shipping arena, I find it to be a rather terrifying and possibly quixotic idea. Do I want a stranger barreling toward my house in a pickup truck with my delicate Wal-Mart items, ringing my doorbell? Not unless he's wearing a hat that says FedEx (NYSE:FDX) on it. I doubt that Amazon and co. took Wal-Mart's announcement rather seriously. In fact, I bet Bezos and friends probably got a good chuckle out of the announcement, which should have been released on April Fools- this way Wal-Mart can save face if the feedback turns out to be terrible.
On a serious note, however, if Wal-Mart ever does get its online act together, it could pose a legitimate threat to Amazon. Its new lockers idea will help put them on the right track. With e-commerce sales totaling $9 billion last year, Wal-Mart is not too far off of Amazon's $65 billion.
Google's Interest
Same-day shipping sounds like a headache, doesn't it? Maybe Google should stick to search, and work to keep its staggering 67% market share away from the creeping Bing. So why is Google taking on a potentially logistically nightmarish project? Probably because e-commerce is the natural progression from search. Though Google Shopping/Froogle has existed for years, Google has never really promoted it. With its new shipping service, Google can now track users from their initial product search all the way to their doorstep. Scary, maybe, but it will provide extraordinarily useful data.
Until now, Amazon seemed to have a rather easy hold on e-commerce, and Google had no part of it, as Amazon essentially offers its own product search portal. What?? Search without Google?! Yes- inside Amazon.com, Google does not exist, which is a fact that likely scared Google. Now, with same-day shipping, Google is offering what will likely be a legitimate service that will draw people away from Amazon.
Additionally, Google just purchased Channel Intelligence, which will help increase buying rates from consumer site visitors. Google will benefit from both its service and the data that it can help provide.
Although Amazon was likely jolted by Google's splashy e-commerce foray, it is completely possible that Amazon might be excitedly smirking in response to Google's announcement. That's because Amazon might still be smarting over its $60 million investment into a failed 1 hour delivery company just before the dot com bubble burst.
I believe that Google is continuing its path toward sheer Internet dominance, and Amazon will be the latest giant to get rolled over. Call it Yahoo 2.0, but unless Amazon swiftly launches its own same-day shipping option, it will lose a large market share. The stock might not crater, but a slow Titanic-like death similar to what Yahoo (YHOO) is experiencing could be likely.
Although I have already acknowledged that it is entirely possible that Google's same-day shipping will collapse into a web of logistical mayhem, with truck drivers scrambling to follow their Google Maps, I doubt that Google would let that happen, partly because the launch is being confined to one city with only a few stores. Give credit to Google for taking baby steps on this one. In the long run, it remains to be seen how Google fares in growing its same-day shipping e-commerce empire, but for now, on sheer excitement alone plus the likely success of the pilot program, Google will win a big PR battle. If Amazon's P/E is justified by exciting growth prospects, imagine what will happen when those prospects are dashed after a small but successful Google run in San Francisco.
On April 2nd, UBS initiated coverage on Amazon with a Neutral rating, citing operating costs as a concern, and have joined JP Morgan, Piper Jaffrey, and 8 other analysts who have issued Neutral ratings to Amazon. If operating costs are a concern, then having to speed up shipping to compete with Google will further the costs and likely take a bite out of profits. Assuming early reports out of San Francisco are positive, Google should and will receive the same forward-happy leeway that Amazon's slightly bloated stock has received. And I'm guessing that Google buyers will be Amazon sellers, and cause Amazon to dip back into the low 200's, closer to its true value.
E-commerce sales are absolutely robust, and growing at a staggering rate. 2013 is expected to bring in $40 billion more than 2012, which had $343 billion in sales. These are numbers that Jeff Bezos and the Wal-Mart clan are all too familiar with. Now that Larry Page has seen the numbers, let the shipping begin.
Disclosure: I have no positions in any stocks mentioned, and no plans to initiate any positions within the next 72 hours. I wrote this article myself, and it expresses my own opinions. I am not receiving compensation for it (other than from Seeking Alpha). I have no business relationship with any company whose stock is mentioned in this article.