David Stockman, former budget director for the Reagan administration, wrote a scathing op-ed in The New York Times last weekend, criticizing Democrats and Republicans, conservatives and liberals, and most vociferously, the Federal Reserve under Alan Greenspan and Ben Bernanke. It was no surprise that he was summarily discredited in the days that followed by pundits on both sides of the aisle. While he may have arrived at some questionable conclusions related to historical events, his article spoke of many ugly truths that challenged the status quo. Unfortunately, the parade of pundits that support the ideology directing monetary and fiscal policy today belittled Mr. Stockman, rather than addressing the valid points he raised. His op-ed should be sparking a serious intellectual debate about the efficacy and direction of current policy, but instead of gleaning knowledge from the message, the status quo chose to shoot the messenger.
Perhaps Mr. Stockman should have waited for a significant market correction prior to publishing his op-ed, as he suggests "we should be very afraid." He would have entertained a much larger audience. For when stocks markets are at their highs, just as when home prices and tech stocks were at all-time highs, there is little interest in bad news, regardless of whether it is true or not. Our egos are levitating, along with the markets, based on our heightened sense of investment acumen. No one wants the party to end. When bad news is reported, it is dismissed as an outlier or an anomaly.
Mr. Stockman raised important issues and provided a piece of sage advice that fell on deaf ears, largely because it was intertwined with sprawling indignation for just about everyone and everything. I think it will prove to be prescient in the months ahead. I'm also sure it will be soon forgotten. Three comments from his op-ed stand out in my mind, because they succinctly underlie the reasons why economic and market fundamentals are deteriorating and risks are building in financial markets.
With respect to the efficacy of current monetary and fiscal policy -
"So the Main Street economy is failing while Washington is piling a soaring debt burden on our descendants, unable to rein in either the warfare state or welfare state or raise the taxes needed to pay the nation's bills. By default, the Fed has resorted to a radical, uncharted spree of money printing. But the flood of liquidity, instead of spurring banks to lend and corporations to spend, has stayed trapped in the canyons of Wall Street, where it is inflating yet another unsustainable bubble."
With respect to the risk building in the financial markets -
"Fast-money speculators have been purchasing giant piles of Treasury debt and mortgage-backed securities, almost entirely by using short-term overnight money borrowed at essentially zero cost, thanks to the Fed. Uncle Ben has lined their pockets. If and when the Fed - which now promises to get unemployment below 6.5% as long as inflation doesn't exceed 2.5% - even hints at shrinking its balance sheet, it will elicit a tidal wave of sell orders, because even a modest drop in bond prices would destroy the arbitrageurs' profit."
Finally, some sage advice on how to reform -
"It would also require purging the corrosive financialization that has turned the economy into a giant casino since the 1970s. This would mean putting the great Wall Street banks out in the cold to compete as at-risk free enterprises, without access to cheap Fed loans or deposit insurance. Banks would be able to take deposits and make commercial loans, but be banned from trading, underwriting and money management in all its forms."
I may not agree with all of Mr. Stockman's views, but these particular points are well made and quite sensible. What concerns me is that it takes someone far removed from the circles of Washington and Wall Street to express them. Consider the pragmatism behind this excerpt from a speech on the floor of the US Senate in 2006, spoken by then freshman Senator Barack Obama, who at the time was also still far removed from the circles of Washington and Wall Street:

"The fact that we are here today to debate raising America's debt limit is a sign of leadership failure. It is a sign that the U.S. government can't pay its own bills. Increasing America's debt weakens us domestically and internationally. Leadership means that the buck stops here. Instead, Washington is shifting the burden of bad choices today onto the backs of our children and grandchildren. America has a debt problem and a failure of leadership. Americans deserve better."
Mr. Stockman also advised to "get out of the markets and hide out in cash…." While this may not prove to be sage advice, given the limited investment alternatives and difficulty in accurately timing the next correction and eventual bear market, it does make sense to be reducing exposure to risk assets. In the spring-to-summer period of each of the past three years we have seen a slowing in economic activity accompanied by corrections in the stock market. The reasons for these stalls in economic growth and decline in stock prices have varied from year to year, with the only consistent variable being a temporary end to the quantitative easing (QE) program underway at that time.
We are once again seeing the vital signs for the economy weaken, like an athlete beginning to underperform because his performance-enhancing drugs are no longer having their desired effect. Another dose of increasing strength is required to maintain his current level of performance, but this athlete is aging with each passing year. His muscles are not recovering as quickly or as strongly, and the bone structure that supports his frame is becoming brittle - one of many side effects from the abuse of this drug. The critical difference between this year and the previous three is that should we see the economy stall, if it hasn't already, there will not be an additional dose of performance-enhancing drugs (QE) to strengthen it or the markets. The last dose was administered intravenously on a constant drip, rather than a temporary prescription.
In a signal that the modest improvement in job creation is stalling, claims for unemployment benefits rose a more than expected 28,000 this week, hitting a four-month high, and have now risen for three consecutive weeks. The services industry, accounting for more than two-thirds of US economic growth, expanded in March at the slowest rate in seven months, as measured by the Institute for Supply Management's (ISM) non-manufacturing index. The employment sub-index realized its largest decline in four years. The ISM manufacturing index also disappointed earlier in the week with the new order sub-index plunging.
The deterioration is not confined to the real economy. The winds of change are blowing in the financial markets again as well, but most investors are too inebriated from chugging the liquidity overflowing from the Fed's chalice of QE to see it. One harbinger of particular note, the Russell 2000 index (NYSEARCA:IWM), which has significantly out-performed the broad market since the lift-off last November, is now beginning to deteriorate relative to the S&P 500 (NYSEARCA:SPY).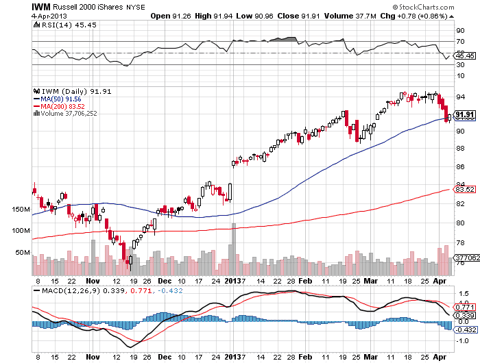 The Dow Jones Transportation Index, led by airlines, has started to underperform the broad market, falling below its 50-day moving average for the first time this year.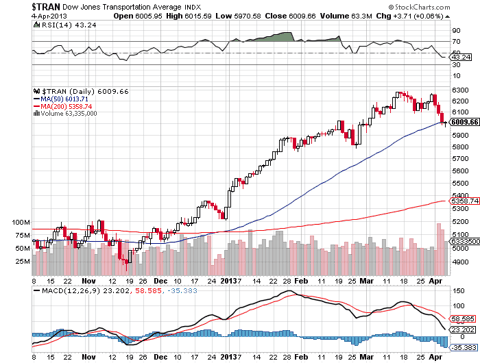 As has the NYSE Financial Index, also showing weakness relative to the broad market.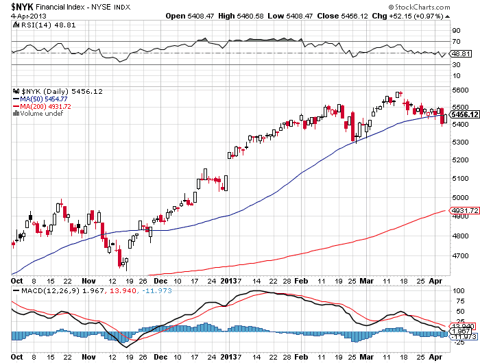 And confirming what I see as the early stages of risk aversion, the yield on the 10-year Treasury, which peaked just above 2% earlier this year, has fallen back down to 1.78%.
I expect to see continued deterioration in the economic fundamentals accompanied by a stock market correction. A correction in the near term is the consensus call, and a relatively easy one considering the upward move we have seen in stock prices over the past six months. What would be different this year from the previous three is that these adverse events would be happening in the face of QE, as opposed to resulting from the end of one of the prior programs. This would test the will of those who believe QE is strengthening market fundamentals, as defined by sustainable economic and job growth, rather than merely fueling asset price inflation. It might also question the resolve of those looking to "buy the dip."
Disclosure: I have no positions in any stocks mentioned, and no plans to initiate any positions within the next 72 hours. I wrote this article myself, and it expresses my own opinions. I am not receiving compensation for it (other than from Seeking Alpha). I have no business relationship with any company whose stock is mentioned in this article.
Additional disclosure: Lawrence Fuller is the Managing Director of Fuller Asset Management, a Registered Investment Adviser. This post is for informational purposes only. There are risks involved with investing including loss of principal. Clients of Fuller Asset Management may hold positions in the securities mentioned in this article. Lawrence Fuller makes no explicit or implicit guarantee with respect to performance or the outcome of any investment or projections made by him or Fuller Asset Management. There is no guarantee that the goals of the strategies discussed by will be met. Information or opinions expressed may change without notice, and should not be considered recommendations to buy or sell any particular security.