Today's monthly employment report from the BLS was pretty disappointing ("dismal" according to Art Cashin on CNBC) -- the economy added only 88,000 payroll jobs in March, which was far below the consensus expectations of an increase closer to 200,000 jobs. The unemployment rate fell to 7.6%, the lowest rate since December 2008, but it was mostly due to people leaving the work force. The labor force participation fell to 63.3%, the lowest since 1979.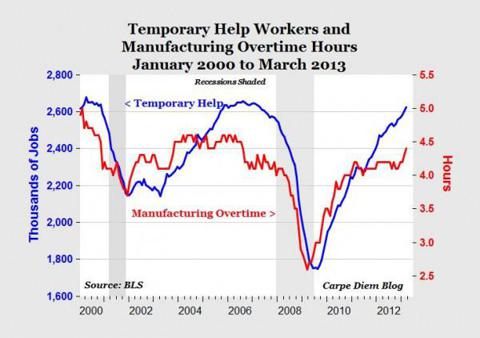 Click to enlarge
Despite the overall gloomy jobs picture in March, there were actually a few bright spots:
1. Temporary help employment increased by 20,300 jobs in March, following a 23,400 increase in February, bringing the total number of temporary jobs last month to 2.624 million. That's the highest level of temporary and contract employment since April 2007, almost six year ago in the pre-recession period (see blue line in the chart above). As a leading indicator of overall U.S. labor market demand, the ongoing positive trend in temporary hiring is a sign that the labor market is showing some gradual signs of improvement, and suggests an increased pace of broader-based hiring for workers going forward in 2013. It's also likely that many employees who initially get hired on a temporary or contract basis will be offered employment on a full-time, permanent basis as the economy continues to improve.
2. Overtime hours for the manufacturing sector, at an average of 4.4 hours per week, reached a six-and-a-half-year high in March, the highest level of manufacturing overtime hours since July 2006 (see red line in chart above). The chart above shows that both temporary employment and manufacturing overtime hours are back to their pre-recession levels, and back to levels that are historically consistent with economic expansions. The increase in these two employment variables to pre-recession highs might indicate that U.S. firms are expanding output by using temporary workers in many industries, and by adding overtime hours in the manufacturing sector.
3. Construction employment in March increased by 18,000 jobs, bringing the six-month increase in construction jobs to 169,000. That's the highest six-month increase in construction jobs since May 2006, almost seven years ago. For residential construction contractors, there was a 67,600 job increase from October 2012 to March 2013, which is the highest six-month increase since March 2006, exactly seven years ago. The increased hiring for construction workers reflects the housing rebound that took hold last year, and which is starting to gain momentum this year. Along with an increased demand for construction workers, the increased demand for lumber for new residential construction projects brought framing lumber prices last week to their highest level since 2004. Housing is definitely coming back strong, and the ongoing rebound will help bring back jobs and make a significant contribution to overall economic growth this year.
For some interesting contrarian views about today's "dismal" jobs report, read this Business Insider article "Actually, This Was A GREAT Jobs Report." Here are some key points:
The important leading sub-indices (professional/business services, construction) were strong.
In the key demographic groups, unemployment dropped massively, suggesting that a lot of what people are worried about is just based on aging demographics, not anything cyclical.
As for the mass exit from the workforce, it finally appears that people have the confidence to retire.