Teva Pharmaceutical Industries Ltd. (NYSE:TEVA) is the world's largest generic pharmaceutical manufacturer with operations in 60 countries. Teva's outlook remains bright from the long-term perspective; however, investors need to be aware of the short-term pressures faced by TEVA.
Management Update
Strong Return for Shareholders
In 2012, Teva's board increased its quarterly dividend by 15%, and the company had repurchased about $0.5 billion of stock in Q4 for a total of around $1.2B in 2012. Over $2 billion (58% of free cash flow) was returned to shareholders in 2012 through dividends and share repurchases.
Management Strategy
The management continues to emphasize on profitability and sustainable profitable growth by leveraging an aggressive business development strategy to build a robust pipeline and expand the company's core franchises.
Growth Driver
Copaxone continues to lead the market in sales and market share with $4 billion in annual sales of approximately $1.1 billion for Q4. Despite the potential approval and launch of the competitive product in the multiple sclerosis space, the management expects Copaxone to maintain its market leadership position. However, investors need to be aware that Copaxone will lose patent protection in 2015. More competitions are expected from other MS drugs, such as like Novartis (NYSE:NVS)'s approved Gilenya and Biogen Idec (NASDAQ:BIIB)'s BG-12, which is currently under review.
U.S. Generic sales increased $424 million, year-over-year, supported by the launch of 23 Generic products in 2012. The company is expected to launch a similar number of products in 2013. On the other hand, oncology revenues increased by $592 million from 2011 to $860 million for 2012. The total prescription for ProAir and QVAR also had strong growth in 2012. In addition, OTC business is a key growth driver riding the global demographics trend.
Analysts Estimates and Calls
Analysts, on average, are estimating an EPS of $1.11 with revenue of $4.86B for the current quarter ending in March, 2013. For 2013, analysts are projecting an EPS of $5.07 with revenue of $20.20B, which is 0.60% lower than 2012. However, for 2014, analysts are projecting an EPS of $5.48, which is 2.20% higher than 2013.
Analysts currently have a mean target price of $44.88 for TEVA. However, on March 18, 2013, Wells Fargo downgraded TEVA from outperform to market perform and lowered their valuation range from $45-$48 to $43-$45. The downgrade was a part of the firm's broader downgrade of the drug sector rating to market weight from overweight. The firm reported that TEVA's turnaround plan has evolved slower than expected, and the potential approval of BG-12 could put further pressure on TEVA's P/E multiple.
Fundamentally, TEVA will be compared to its peers in the industry of drug manufacturers for specialty and generic drugs, including Mylan Inc. (NASDAQ:MYL).
| | | | |
| --- | --- | --- | --- |
| | Teva Pharmaceutical | Mylan | Industry Average |
| Market Cap | $33.74B | $11.33B | N/A |
| Revenue Growth (3 year average) | 13.5 | 10.1 | 14.8 |
| Operating margin, %, ttm | 10.8% | 16.3% | 14.7 |
| Net margin, %, ttm | 9.7% | 9.4% | 11.1 |
| ROE, ttm | 8.7% | 18.8% | 11.8 |
| Debt/Equity | 0.5 | 1.8 | 0.6 |
| P/E | 17.7 | 18.8 | 105.3 |
| P/B | 1.5 | 3.4 | 3.1 |
Source: Morningstar
Teva's revenue growth, margins, and ROE had all declined as compared to last analysis in late October, 2012. TEVA's numbers are all currently lagging industry averages. By comparing to Mylan, TEVA is not standing out either.
Technically, the MACD (12, 26, 9) indicator is showing a bearish trend. The momentum indicator, RSI (14), is indicating a slightly bearish lean at 48.23. TEVA is approaching its 200-day MA of $39.23 and is still above its 50-day MA of $38.74, as seen from the chart below.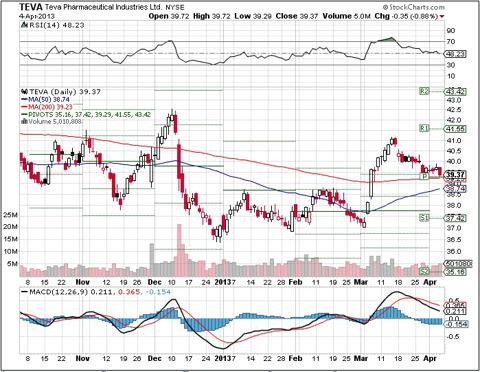 Source: StockCharts.com
Bottom Line
Although the long-term trend for TEVA remains favorable with the increasing aging population and demand for generic drugs, the analyst's near-term concerns are valid and the short-term pressure on TEVA is justified. For long-term investors, it is crucial TEVA can hold above its short-term major supporting levels in the near term before establishing the long-term position. Investors should also keep an eye on Copaxone's sales and the progress on BIIB's BG-12 approval.
Note: Investors and traders are recommended to do their own due diligence and research before making any trading/investing decisions.
Disclosure: I am long TEVA. I wrote this article myself, and it expresses my own opinions. I am not receiving compensation for it (other than from Seeking Alpha). I have no business relationship with any company whose stock is mentioned in this article.