The U.S. has seen increasing cost of healthcare services in the past. The cost per family has seen a CAGR of 7.35% over the last five years. As the new so-called Obamacare act comes into effect in early 2014, an expected 30 million more Americans will gain access to insurance. With such a huge influx of patients into the system, the costs are likely to see a rapid increase in the future.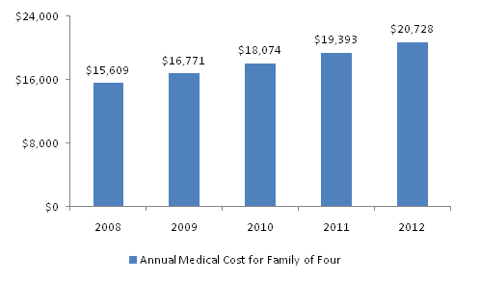 Source: Milliman Medical Index
Apart from this increase in demand, an acute shortage of physicians will also push the cost of healthcare higher. The percentage of U.S. medical school graduates choosing residency spots in family medicine has declined by 54% since 1997. Due to this, the current physician shortage stands at around 10,000 and this gap is growing, with an expected shortage to reach at around 30,000 by the end of 2015. Such shortages of physicians not only increase the cost of medical care but also increase the time it takes for a patient to get treatment started. According to recent surveys, average days to appointment for family practice stands at just over 20 days for the U.S., and with huge expected shortages in primary care physicians, this time lag is likely to shoot up.
All these circumstances present a great opportunity for retail clinics. Open seven days a week with a shorter treatment time and a 40% to 80% lower cost of various treatments, these clinics would likely see an increase in demand. As these clinics expand their services and as more and more medical insurers include retail clinic services into their coverage, the future of this business seems to very bright.
Walgreen's Take Care Clinic
Walgreen Corporation (WAG) recently announced that it will expand the scope of services in its 340 in-store clinics to include chronic diseases such as hypertension, diabetes, high cholesterol and asthma. The company said that the more comprehensive care at 340 of its Take Care Clinics will help bridge the gap caused by a physician shortage, an aging population and the growing prevalence of those diseases.
A similar step was also taken by the leading retail clinic, MinuteClinic, in 2010. The CVS Caremark owned subsidiary is the largest retail clinic company with 625 MinuteClinics in 25 states offering similar services, as now started by Walgreen's Take Care Clinics.
What will be the benefit of adding these services to its clinics to Walgreen and is it rational to think that such services will significantly help the company financially? In order to answer these questions, we would have to take the case of CVS Caremark's MinuteClinic and the general healthcare environment in the U.S. and then interpret what this move equates to.
MinuteClinic
The company has been providing medical care since 2000 and has provided treatment to more than 14 million patients as stated by its management. MinuteClinic is the leading provider of retail healthcare and provides services in 26 states. Around 80% of the company's patients are now covered by insurance, a trend likely to continue in the future.
In April 2010, MinuteClinic announced that it will start offering new health condition Monitoring services for patients with diabetes, high cholesterol, high blood pressure and asthma. Ever since it started this service, the company has seen rapid growth in non-acute services. Non-acute patient visits has experienced a CAGR of 41% since 2010, when this service was started and now accounts for 16% of the services provided by the company. MinuteClinic expects non-acute care to account for 25% of all MinuteClinic visits by 2015.
What this provides to the company is slowing seasonality in its business and a greater growth potential. Thus, expanding services along with expansion of its network has provided a great boost in revenues and earnings for the company. This is evident by the fact that CVS Caremark's growth in revenues has been the highest in 2011 and 2012, which is corresponding to higher growth in non-acute services rendered by the company.
What is Expected of Take Care
As shown at the start of the article, the healthcare cost is rapidly increasing, with the current national health expenditure tracking at almost 18% of US GDP. This is expected to inflate further reaching at around 20% of the total GDP by the end of the decade. Stagnant economic growth makes healthcare facilities unaffordable for more and more people each year. Since many Take Care Clinics are in "med deserts" - communities that are medically underserved, with few if any convenient choices for patients to seek alternatives to physician or hospital emergency care, it results in a higher proportion of the local population visiting Take Care Clinics.
The crisis of access and affordability of healthcare is likely to worsen in the future. The silver tsunami, as it is termed, will see 10,000 baby boomers turn 65 years old each day for the next 20 years. Around 30% of the U.S. population is clinically obese, this percentage is expected to increase to 50% by 2030. With such a widespread problem of obesity, the number of patients diagnosed with diabetes is expected to increase to 75 million. These factors along with the new Patient Protection and Affordable Care Act, the demand for healthcare is likely to increase substantially in the coming years. This coupled with an expected acute shortage of physicians; healthcare costs are likely to become unaffordable for a greater proportion of the population.
Sad, but these are the vital growth opportunities for Walgreen's Take Care Clinics. I would expect the company to see a growth in revenues, lowering seasonality and improved earnings for the company, just as was experienced by MinuteClinic. However, the magnitude of the impact would be smaller than that faced by CVS due to its lower network of clinics. Nonetheless, I would recommend buying Walgreen as a greater influx of patients would not only increase revenues for the company's clinics, but would also mean a greater rate of drug sales for the company.
Disclosure: I have no positions in any stocks mentioned, and no plans to initiate any positions within the next 72 hours. I wrote this article myself, and it expresses my own opinions. I am not receiving compensation for it (other than from Seeking Alpha). I have no business relationship with any company whose stock is mentioned in this article.