By Clint Harritt, Managing Partner, Zinnia Funds
More than 100 years ago, Jon Stuart, Chairman of Quaker Oats Company (maker of breakfast cereals), made an astute comment that still holds true today, "If this business were split up, I would give you the land and bricks and mortar, and I would take the brands and trademarks, and I would fare better than you," he said. What he meant is that the Quaker Oats brand name was worth more than any other component of the business. While this might seem hard to imagine, the same holds true for many other companies and their brands.
By taking advantage of cheap stocks with nationally recognizable brands, you can achieve annual returns better than Warren Buffett without doing the long and painful research on corporate balance sheets and cash flow statements. Buffet, himself, had annual returns similar to this strategy in his early days when he was investing smaller amounts of capital. This theory is so simple that you don't even need math skills, let alone investing experience. Anyone can do this with a few hours of simple research.
The secret to not only beating the markets, but beating the markets by a wide margin, is quite simple: When the market is going down, buy a basket of brand name companies priced less than $5 a share. The long-term portfolio does very well.
Numerous investors have used this technique over the years. For example, John Templeton, who was called the "greatest global stock picker of the century" by Money magazine, is most famous for his investments during the Great Depression. In 1939, with Hitler's Germany ravaging Europe, John Templeton bought $100 of every stock trading below $1 on the New York and American stock exchanges. Templeton's trade got him a junk pile of some 104 companies, 34 of which were bankrupt, for a total investment of roughly $10,400. Four years later, when the U.S. economy was doing well thanks to World War II, he sold these stocks for more than $40,000.
Despite stories like this, people are reluctant to buy stocks when the market is going down, but that's exactly the best time to buy or as Warren Buffett puts it, "when others are fearful." Peter Lynch, the famous Magellan fund manager at Fidelity Investments who has written multiple books for investors on beating Wall Street, said, "I've found that when the market is going down, and you buy funds wisely, at some point in the future you will be happy. You won't get there by reading 'Now is the time to buy.'"
Additionally, focusing your purchase on companies with recognizable brand names increases your odds of doing well over the long term. So, what's a nationally known brand name? Ask anyone to name a company that makes ketchup, and the majority of people will immediately say Heinz. The Heinz name is "branded" in the minds of consumers all over the country. That's one of the reasons Buffett recently made a purchase in the company. It's the idea of "intangible value," which means a brand name has a monetary value that is not reflected in the current stock price.
You may be thinking stories from the Great Depression are all well and good, but today's market is different. Despite that, this strategy still works.
Let's take a look at how brand names did from March 9, 2009 to March 19, 2013 in comparison to the Russell 2000 Index. Here are the guidelines each company had to meet:
A brand name that is instantly recognizable to at least 65 percent of the general population over the age of 18. You can quickly determine this by using a list of brand name stocks and taking surveys of your friends and family. First, scroll through a list of every publicly traded company (with a free tool like the Google Finance stock screener), and pick out every possible name that might be a brand name.
The brand must be a nationwide brand, not a local one. Many consumers in an area could recognize a local restaurant chain, but the brand must be known nationally.
The brand doesn't have to be the company name; it could be the name of a product. For example, Select Comfort owns the Sleep Number bed, which more than 65 percent of the population would have recognized in 2009, due to the popularity of the product. The same is true for Las Vegas Sands; the corporate name is not recognizable, but the majority of population recognizes The Venetian and The Palazzo casinos in Las Vegas.
Stock price must be less than $5 per share.
Our analysis is from March 9, 2009, which was the most recent and best example, for when the stock market was going down (bear market), and investors had an opportunity to buy each of these brand names for under $5 a share. Here is the list of companies that met the criteria on that date:
1-800-FLOWERS.COM, Inc. (NASDAQ:FLWS)
Delta Air Lines, Inc. (NYSE:DAL)
La-Z-Boy Incorporated (NYSE:LZB)
Perry Ellis International, Inc. (NASDAQ:PERY)
Sprint Nextel Corporation (NYSE:S)
American Apparel Inc. (APP)
Denny's Corporation
(NASDAQ:DENN)
Las Vegas Sands Corp. (NYSE:LVS)
Pier 1 Imports, Inc. (NYSE:PIR)
The Goodyear Tire & Rubber Company (NYSE:GT)
American Greetings Corporation (NYSE:AM-OLD)
Dillard's, Inc. (NYSE:DDS)
LoJack Corporation (NASDAQ:LOJN)
Quiksilver, Inc. (NYSE:ZQK)
The New York Times Company (NYSE:NYT)
Bank of America Corporation (NYSE:BAC)
E TRADE Financial Corporation
(NASDAQ:ETFC)
Martha Stewart Living Omnimedia, Inc. (NYSE:MSO)
Revlon Inc. (NYSE:REV)
The Pep Boys - Manny, Moe & Jack (NYSE:PBY)
Big 5 Sporting Goods Corporation
(NASDAQ:BGFV)
Finish Line Inc. (NASDAQ:FINL)
Motorola Solutions Inc. (NYSE:MSI)
Rite Aid Corporation (NYSE:RAD)
The Wendy's Company (NYSE:WEN)
Borders
Ford Motor Company (NYSE:F)
Movado Group, Inc (NYSE:MOV)
Ruby Tuesday, Inc. (NYSE:RT)
The Wet Seal, Inc. (NASDAQ:WTSL)
Build-A-Bear Workshop, Inc. (NYSE:BBW)
Hertz Global Holdings, Inc. (NYSE:HTZ)
Nortel
Select Comfort Corp. (NASDAQ:SCSS)
US Airways Group, Inc. (LCC)
Chico's FAS, Inc. (NYSE:CHS)
IMAX Corporation (NYSE:IMAX)
Office Depot Inc. (NYSE:ODP)
Sirius XM Radio Inc. (NASDAQ:SIRI)
Virgin Media Inc. (NASDAQ:VMED)
Citigroup Inc. (NYSE:C)
JetBlue Airways Corporation (NASDAQ:JBLU)
OfficeMax Inc. (NYSE:OMX)
Sport Chalet, Inc. (NASDAQ:SPCHA)
Xerox Corporation (NYSE:XRX)
Crocs, Inc. (NASDAQ:CROX)
Krispy Kreme Doughnuts (KKD)
Pacific Sunwear of California, Inc. (NASDAQ:PSUN)
This strategy means buying EVERY single brand name stock, even if it seems like the company is going bankrupt, such as if the stock is trading at 15 cents a share. Some of those 15 cent or 25 cent investments become the biggest winners.
So, taking a theoretical portfolio value of $50,000 and splitting the investment between all the brand names on that day, gives us a $1,040 allocation to each of 48 companies, for a total of $49,863 invested. This back test strategy has been adjusted for reverse splits. What we are doing here is buying all these companies on one day - March 9, 2009.
The strategy does not mean waiting for a brand name to fall below $5, and then buying it. It means following what Peter Lynch said - waiting for the market to drop drastically, and then buying the whole basket of stocks all at one time.
Here are the results:
| | |
| --- | --- |
| Total Return | 1,067 percent |
| Annual Rate of Return | 83.9 percent |
| Starting Portfolio Value | $49,863.00 |
| Ending Portfolio Value | $574,373.00 |
| Bankruptcies | 2 |
The two companies that were counted as a 100 percent loss of capital are Borders and Nortel, but even with those losses, you can see the portfolio did extremely well.
Here is a chart showing the 1,067 percent total return of Brand Names vs. the 184 percent return of the Russell 2000 index of small cap stocks: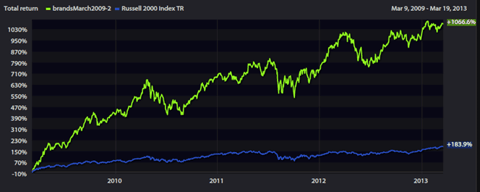 Not bad, right? Using this strategy, even a $5,000 investment would have turned into $57,000 in four years. With trading costs you would have needed about $5,500 in capital to start with.
There are a few caveats to using this strategy. The first is that it's impossible to buy exactly on the correct day of the market lows. However, in going back and assuming that you bought into this strategy, but were a month early, two months early, or even six months early from the lows, you will find that you would still soundly beat the markets with this simple strategy. The returns are still between 200 and 400 percent, if you'd bought too early, soundly beating the Russell 2000 index each time.
Another caveat is that you would need to be extremely patient, holding onto the stocks and suffering through draw downs, sometimes up to 50 percent of your portfolio value.
If you were dollar cost averaging multiple times over a period of months before, and during the crash, your returns would also be exceptional.
The last caveat is the sad reality of the economy during a bear market. A recession, itself, is what prevents the majority of people from being able to invest. After all, their savings are usually at an all-time low, investments are at an all-time low, and there is a dearth of jobs. The very nature of the economy begets the ideal time as also the hardest time to invest.
The way we can get around that is through the "Elephant Gun" approach presented by Warren Buffett. "If you want to shoot rare, fast moving elephants, you should always carry a loaded gun," he said. The loaded elephant gun that Buffett often talks about is a reserve of cash - in his case, a very large reserve of cash; in our case, quite small.
But regardless of size, a portfolio can be constructed so that an "elephant gun" is loaded with cash ready to deploy in new investments at opportune times. The time to fire that gun rarely arrives; that time is only in periods of dire circumstances, such as when the stock market plunges to decade lows. In other words, it could be years before the elephant gun will be used, but when it is, the elephant is in its prime.
So save some cash, wait for the crash, then load up.
Disclosure: I have no positions in any stocks mentioned, and no plans to initiate any positions within the next 72 hours. I wrote this article myself, and it expresses my own opinions. I am not receiving compensation for it (other than from Seeking Alpha). I have no business relationship with any company whose stock is mentioned in this article.