Today's (Friday April 5, 2012) jobs report showed only 88,000 new jobs were created in March 2013. This is the second-lowest number of monthly new jobs created in the past year. The stock market is down today on the news but this should be good for the DOW stocks with the highest-yield going forward.
New Jobs by Month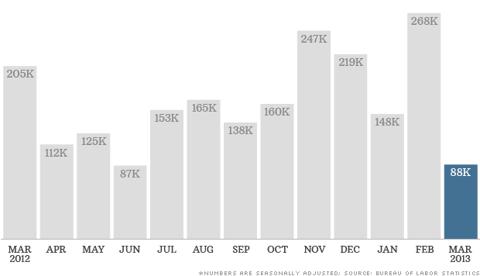 Chart courtesy of money.cnn.com
The job news gets worse as the BLS reported the civilian labor force declined by 496,000 over the month, and the labor force participation rate decreased by 0.2 percentage point to 63.3 percent as many workers became discouraged and gave up looking for jobs.
With the stock market recently making new all-time highs and the last few months showing much better jobs growth, there was talk that the Fed might end QE4 soon. Today's terrible jobs report should put an end to this discussion of an end to QE for at least another month.
With the 10-year U.S. Treasury note paying only 1.68% and the 30-year U.S. Treasury bond only paying 2.85% (From U.S. Treasury Rates at a Glance) investors should continue to seek higher yield in the relative safety of the large DOW stocks.
The top-five yielding DOW stocks pay 3.53% or higher
This table shows all 30 DOW stocks ranked by yield.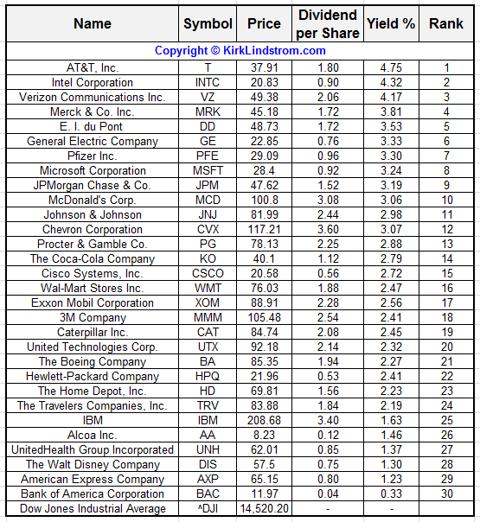 The most amazing statistic is only six of the 30 DOW stocks; IBM, AA, UNK, DIS, AXP and BAC have a current trailing twelve month yield below that of the 10-year U.S. Treasury note.
If you wish to avoid individual stock risk, then you can buy all 30 DOW stocks by buying DIA, the SPDR Dow Jones Industrial Average ETF where you get an average yield of 2.29%, well above the 10-year U.S. Treasury note.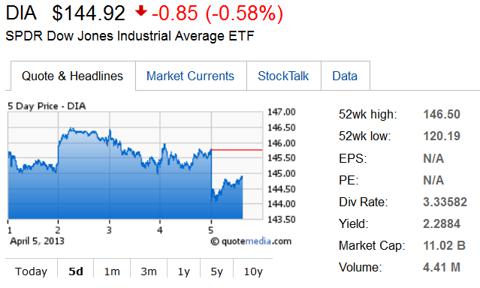 The highest-yielding DOW stock I own is Intel. Intel is higher than when I recommended it last year here in my Seeking Alpha article "Why Intel Is A Great Buy" but I still like the stock for the same reasons I wrote about.
In January of this year I also recommended HPQ in my Seeking Alpha article "Toni Sacconaghi Expects Dow Dog Hewlett-Packard To Nearly Double" but now HPQ is up nearly 50%, about half way to that double predicted by Sacconaghi. At the time I wrote that article, HPQ had a yield of 3.33%. I bought shares when it was under $15 with an even higher yield. I will probably add if HPQ has a major correction.
I also own and recommend GE and PFE in my newsletter "explore portfolio."
Disclosure: I am long INTC, GE, PFE, MSFT, HPQ, IBM. I wrote this article myself, and it expresses my own opinions. I am not receiving compensation for it (other than from Seeking Alpha). I have no business relationship with any company whose stock is mentioned in this article.