VIX - Market Sentiment:
Well that sure was fun. Friday S&P futures were getting crushed down 20 handles after the absolutely terrible employment number weighed on markets. Markets opened lower across the board with heavy selling pressure. At one point not a single stock in my watch list was green. This is something I have not seen in a very long time. Yesterday in the sonar report (here) I highlighted a 20M+ trade in the Gold ETF (NYSEARCA:GLD), which was looking to play a volatility move in the name. Sure enough today even though it moved higher against the 155 straddle volatility increased, actually helping offset the losses of this position. Frequent readers of my sonar reports or those who follow me and my trades on Twitter know I follow the NYMO like a hawk. It is important to note the NYMO continues to be below -80, which is the level where I would look for a significant oversold bounce.
The spot CBOE Volatility Index (VIX) and futures rocketed higher in early trading as futures continued to sell off. Volatility ETF (NYSEARCA:VXX) and 2x ETF (NYSEARCA:UVXY) ripped higher before failing to hold gains as the market recovered throughout the day. Interesting here was the early tells in VXX saw heavy put buying showing increased commitment to the "Sell Volatility" trade I have highlighted so many times before. Overall VXX actually saw calls overall net sold to the tune of 772K and puts overall bought to the tune of 2M again showing increased commitment from the short volatility traders. I continue to believe this is a crowed trade and when volatility spikes higher during a large sell off many shorts will be trapped looking for cover as they are more than likely hedged off of each other. Amazingly futures actually went out pretty much flat on the day.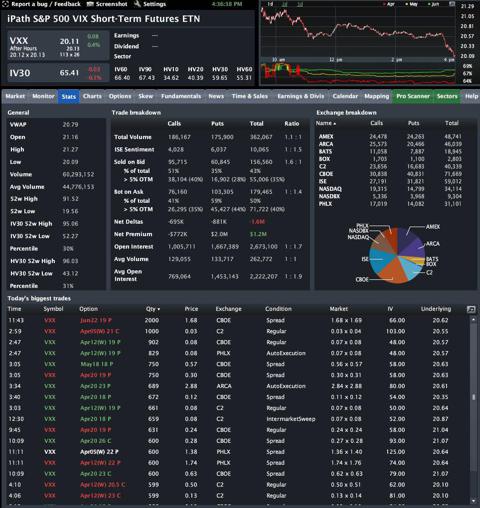 Statistics and Screenshot Provided By LiveVol
VIX futures are listed below.
Yesterday
· April VIX futures 14.25
· May VIX futures 15.51
· June VIX Futures 16.47
Today
· April VIX futures 14.30
· May VIX futures 15.50
· June VIX Futures 16.50
Options Paper:
Teradyne (NYSE:TER) has been a name hitting my screen of late and today a large bullish trader stepped in buying the July 15-16 call spread 20K times. Because there were already 20K in the July 16 strike calls in open interest we do need to check Monday to ensure it was an opening position. Regardless someone put up 1.2M to buy the July call spread today, which will expand, to 2M if TER is above 16 on July expiration. Typically I do not report on moves like this but following some recent options as puts were overall sold in the name keep this one on your radar. Option activity was 20x average daily volume with calls outnumbering puts 95 to 1 on the day.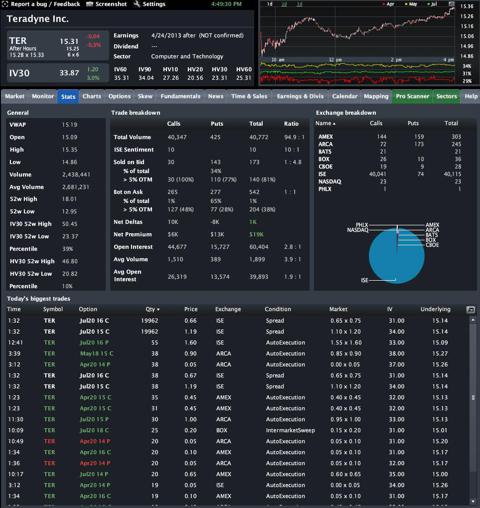 Statistics and Screenshot Provided By LiveVol
Lorillard (NYSE:LO) is not a name, which typically shows up on the sonar report, but one block trade had me interested today. Specifically the May 37.5-35 put spread, which went off 12.5K times and cost the trader 450K in net premium to make a bearish bet on this name. Interesting in my opinion as this would require a more than 10% sell off to hit the first leg, possibly playing the "Sell In May And Go Away" game. Regardless this trade was actually attempted and busted twice before actually being executed as they could not get the fill the trader was looking for. I will have to confirm via open interest on Monday but today option activity in LO was more than 6x average daily volume with puts outnumbering calls 56 to 1.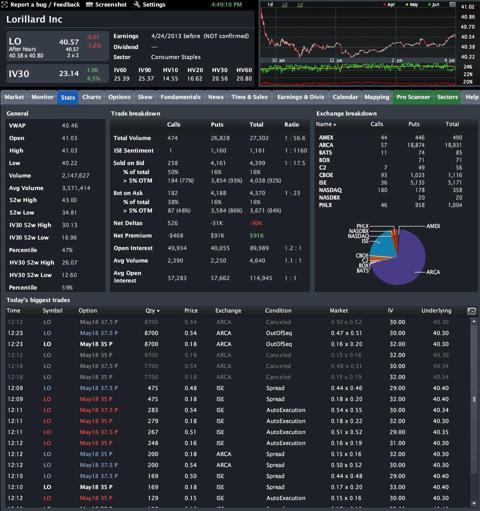 Statistics and Screenshot Provided By LiveVol
Popular ETFs and equity names with bullish / bearish paper:
Bullish Option Flows - ISE and % OTM calls bought on offer
Applied Micro (NASDAQ:AMCC) 95% - Bulls just won't give up on this name buying another 2K OTM calls
Suncor Energy (NYSE:SU) 89% - Energy has been slapped of late so the 19K OTM calls are interesting
International Gaming (NYSE:IGT) 81% - Heavy OTM call buying continues adding another 12K today
Bearish Option Flows - ISE and % OTM puts bought on offer
Community Health (NYSE:CYH) 98% - 3K OTM puts bought
Smith & Wesson (SWHC) 94% - 2.1K OTM puts bought
MBIA Inc. (NYSE:MBI) 78% - 5.2K OTM puts bought
As always happy trading and stay hedged.
Remember equity insurance always looks expensive until you need it!
Disclosure: I am long AGNC, BA, BAX, CBB, CIM, CONE, DNDN, DRYS, HEK, IOC, LNG, NQ, TLM, and I am short ASH, EMR, LULU
Trades Today: Sold SPY hedges (Exited all SDS calls), Closed JCP long, Closed NBR long
Disclaimer: The opinions in this document are for informational and educational purposes only and should not be construed as a recommendation to buy or sell the stocks mentioned or to solicit transactions or clients. Past performance of the companies discussed may not continue and the companies may not achieve the earnings growth as predicted. The information in this document is believed to be accurate, but under no circumstances should a person act upon the information contained within. I do not recommend that anyone act upon any investment information without first consulting an investment professional as to the suitability of such investments for his or her specific situation.
Disclosure: I have no positions in any stocks mentioned, and no plans to initiate any positions within the next 72 hours. I wrote this article myself, and it expresses my own opinions. I am not receiving compensation for it (other than from Seeking Alpha). I have no business relationship with any company whose stock is mentioned in this article.