By Matthew Bradbard
After seven consecutive losing days silver has found its footing, trading positive by 1.77% as of this post. Now the catalyst may be a disappointing jobs number but to me if we can get follow through into next week silver may deserve some of your speculative dollars. This is but a small victory though the fact that sentiment is so bearish leads me to be believe we might even experience a short covering rally next week on a trade above $28/ounce in May futures.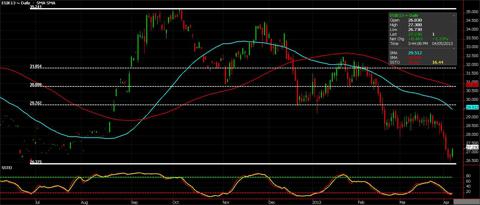 Click to enlarge
After basing out for five weeks this last leg dragged silver to within 40 cents of one year lows and prices are off their highs in 2012 nearly 23%. I see much more upside than downside and as a trader we must weigh not only our profit potential but also our risk. At current levels I would cut loses on a trade below $26.25 or $1 under current trade and on the upside a 38.2% retracement is $2.50 from the current trade ... 2.5:1 risk/reward dynamic.
Generally speaking when the ship is leaning so hard one way I prefer to speculate in the opposite direction. The sentiment in metals has been increasingly bearish of late and therefore I want to bet against the crowd. Trading metals is not for the faint of heart and my suggestion is to wade into the trade and build a position over time.
There are several bullish strategies that can be implemented depending on your account size and risk tolerance:
1.) 1.) Long mini -silver futures (1000 ounce contract - $10 per penny).
2.) 2.) Long standard - silver futures (5000 ounce contract - $50 per penny) … one could sell out of the money calls 1:1 as a hedge.
3.) 3.) Back ratio spreads - A recent position put on for clients in July silver options was short (1) July $27 call and long (3) July $29 calls.
I believe we can trade back to the 50 day MA (the red line) in the chart above in the coming months ... trade accordingly.
Risk Disclaimer: The opinions contained herein are for general information only and not tailored to any specific investor's needs or investment goals. Any opinions expressed in this article are as of the date indicated. Trading futures, options, and Forex involves substantial risk of loss and is not suitable for all investors. Past performance is not necessarily indicative of future results.
Disclosure: I have no positions in any stocks mentioned, and no plans to initiate any positions within the next 72 hours. I wrote this article myself, and it expresses my own opinions. I am not receiving compensation for it. I have no business relationship with any company whose stock is mentioned in this article.