The Bank of Japan has introduced the expected "massive" quantitative and qualitative easing program. "Quantitative" means increase of quantities of JGBs bought, "qualitative" the purchase of more ETFs, REIT and the loan support program.
The bank is going to buy longer-term Government bonds (NYSEARCA:JGBS) so that the average maturity on its portfolio is doubled. The BoJ seems to be sure there is no risk of excessive inflation that could weaken its portfolio and no sell-off of JGBs, despite some contrary signs.
Even if many think that the market had long enough anticipated the Bank of Japan action, the USD/JPY (NYSEARCA:FXY) rose again by 3.2% to levels around 96.30.
Comparing the "Asset Purchase Program" with the "Quantitative and Qualitative Easing"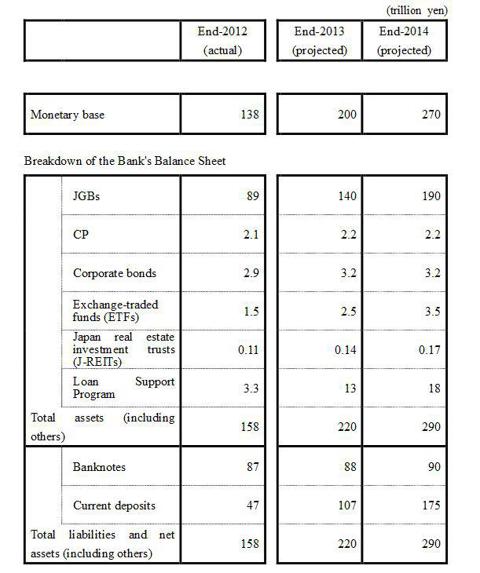 Click to enlarge
Source Bank of Japan
Against the old "asset purchase program" this means the following: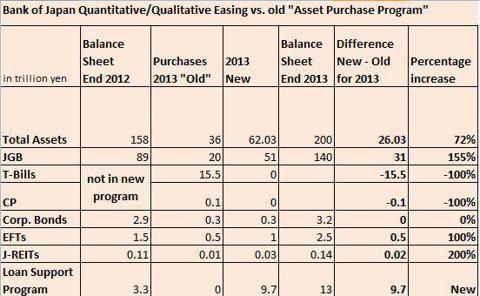 New program versus old asset purchase program Source BoJ
The shorter term (Japanese) T-Bills and commercial papers are removed. Against what Abe announced in January the bank will not purchase foreign assets. The qualitative aspect comes very short, if one compares the upcoming ETF or J-REIT positions with the JGB holdings.
Given that wages fell by 0.7% last year - mostly due to weaker sales and weaker bonuses - and real estate prices did not pick up yet, the weaker yen has affected the real economy mostly through more expensive imports. Still imports take a small share in Japan; it is a relatively "closed economy."
For us, it is just another verbal intervention that won't have an effect if the US and the global economy weakens. If, however, the global economy and in particular the US economy improves, then the yen weakening will be successful, including the effect of the upcoming VAT hike, inflation could really increase.
If Japanese companies are able to raise margins and sales thanks to the weaker yen and consequently wages and GDP improve, but the global economy stutters, then the yen might rise again. As the latest ISM order figures show, the U.S. seems to be negatively affected by the stronger dollar. Our last article on Seeking Alpha helps to understand why the yen fell so much but might not fall much further. We recommend Axel Merk's historical perspective on the newest monetary easing.
One final word: Markets would laugh at the SNB when it replaced euro purchases with purchases of Swiss government bonds. Due to the Swiss asset price boom, continuing immigration and population increase, inflation dangers for Switzerland are still far higher than for Japan.
Disclosure: I have no positions in any stocks mentioned, and no plans to initiate any positions within the next 72 hours. I wrote this article myself, and it expresses my own opinions. I am not receiving compensation for it. I have no business relationship with any company whose stock is mentioned in this article.