On February 28th 2013, The Gap Inc. (NYSE:GPS) released its 4th quarter earnings report, which can be found here. In this article, I will be taking a look at the five most recent fiscal years for GPS. At several points in this article, I will be using Abercrombie & Fitch Co. (NYSE:ANF), Guess? Inc. (NYSE:GES) and The TJX Companies, Inc. (NYSE:TJX) for comparison.
In FY2012, GPS has seen a huge increase in earnings per share. The 4th quarter earnings report states:
"The company reported earnings per share for the 53 weeks ended February 2, 2013 increased 49 percent to $2.33 on a diluted basis, compared with $1.56 for the 52 weeks ended January 28, 2012."
An EPS increase of 49% is nothing short of amazing. The graph below shows EPS over the past 5 years. I have also included the 2013 EPS which is expected to be between $2.52 and $2.60.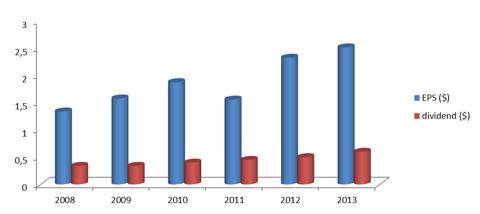 You'll notice I've also included the dividends in this graph. The dividend for 2013 was recently announced to be $0.60. The payout ratio for 2012 was a low 21.5%, leaving plenty of room for increases. For the 2013 payout ratio, I have assumed the EPS to be $2.52, which is at the low end of GPS's guidance.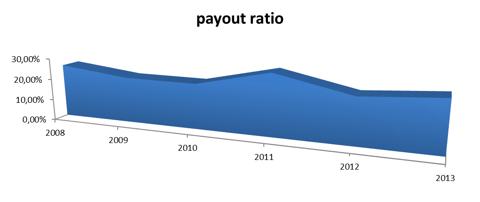 Unfortunately, GPS's low payout ratio also leads to a low dividend yield (1.6%). However, this is still well above the industry average of 1.1%. An increase in EPS and payout ratio could very well lead to very respectable dividend yields.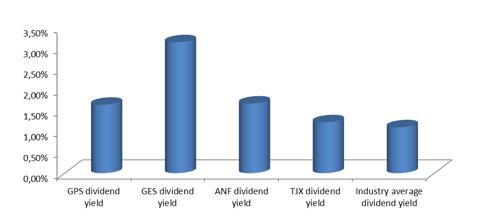 Going further through the earnings report we read:
"The company returned about $1.3 billion in cash to shareholders through share repurchases and dividends for the full year."
I always like companies that buy back their own shares, because a reduction in the number of shares means each share represents a bigger 'slice of the pie'. GPS has seen its number of shares go down from 719 million in 2008 to only 488 million in 2012. The next graph compares the change in the number of shares for GPS and its competitors. None of the competitors can even come close to GPS's share repurchases.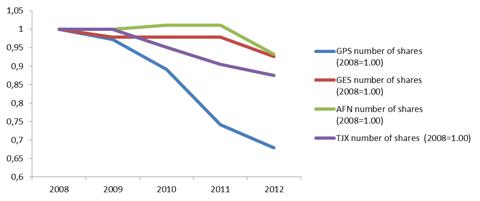 Looking at GPS's valuation, we can see the current price to earnings ratio of 15.7 is quite a bit above the 5-year average, which is at 12.6. However, with the industry average at 19.0, GPS doesn't seem all that expensive. TJX, for example, is trading at a far higher multiple (18.6).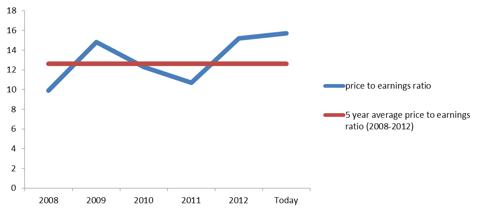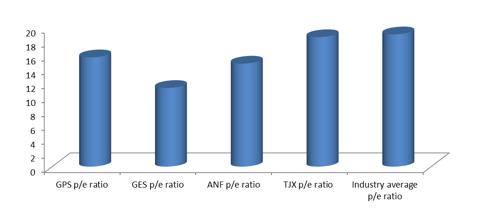 Conclusion
While a dividend yield of 1.6% isn't all that great, the dividend has been growing at a double digit rate. Less than a quarter of EPS is paid out as dividend, so there's plenty of room for the dividend to increase, especially with the EPS growth that's expected for 2013. With share buybacks decreasing the number of shares, reinvesting the dividends will give investors a quickly growing share in the company's profit. At a price to earnings ratio of only 15.7, GPS seems undervalued.
Disclosure: I have no positions in any stocks mentioned, and no plans to initiate any positions within the next 72 hours. I wrote this article myself, and it expresses my own opinions. I am not receiving compensation for it (other than from Seeking Alpha). I have no business relationship with any company whose stock is mentioned in this article.