The move in the soybeans:corn price ratio since March 31st continues to favor bean acres at corn's expense. Consider the chart below, which illustrates this ratio since the USDA's planting intentions report on March 31st: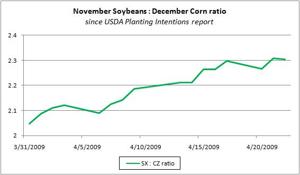 This ratio provides clues to anticipating the marginal demand for fertilizer in the near term. For 2009 let's assume a trendline yield of 156 bushels/acre for corn and 42 bushels/acre for soybeans. Using the 4/21/09 closing prices for the SX and CZ contracts, we see that the projected marginal revenue for growing corn has decreased 7.4% while marginal revenue for soybeans has increased 4.4% since March 31st.
Given that corn acres typically consume roughly 5.6 times more fertilizer than soybeans (measured by pounds/acre, combined nitrogen + phosphate + potash), it is rather unlikely that growers will choose to grow the more costly corn while its revenue potential is steadily eroding.
Add this to the growing list of hurdles for fertilizer consumption (overstocked inventories, high retail prices relative to softer grain prices, potential weather delays to planting in key growing areas) and you have a rather cloudy outlook for fertilizer consumption in the coming months.
Disclosure: No positions