I recently ran a stock screener on finviz.com with only four criteria, and the search results per screen were:
Utilities = 123 stocks
Utilities + dividend yield over 4.0% = 38 stocks
Utilities + dividend yield over 4.0% + Return on Equity over 5.0% = 27 stocks
Utilities + dividend yield over 4.0% + ROE over 5.0% + debt to equity under 0.80 = 3 stocks
The screening criteria should be self-evident - the goal is to find utility companies with above average current yield and above average return on invested capital. In addition, the screen will include companies with less than average debt loads. Managers of these companies should be providing investors with higher than average current income, conservatively managed balance sheets, and high returns on total corporate capital deployed. Some believe long-term earnings potential cannot exceed a firm's ability to generate a consistent return based on all the capital at their disposal. A high ROIC should translate into higher earnings and earnings per share growth over time.
However, it is important to research all the results as sometimes very recent events may skew the numbers, and hence the screen will provide some "False Positives".
The three companies that passed this filter were Atlantic Power (NYSE:AT), Public Service Enterprise (NYSE:PEG), and PAA Natural Gas Storage, LP (NYSE:PNG).
Atlantic Power is one such false positive. Recently, AT has fallen on hard times due to its merchant power exposure to the current depressed electric power market. After indications that all was right with the world over the past year, management finally fessed up to the negative impact of low natural gas pricing has had on the power markets and the unpredictability of recently rolled over power purchase agreements that snowballed into the distressed sale of natural gas power generating facilities in Florida. In addition, although management implied the dividend was safe, the company announced a dividend cut of about 43%. The share price collapsed from around $15 as last year's high to a current price of $5. Needless to say, Atlantic Power will be no longer generating either their indicated yield or ROIC. Atlantic Power is deleted off the list immediately.
This leaves two utilities - Public Services Enterprises and PAA Natural Gas Storage. These two firms are interesting companies with different utility exposure. PEG is a regulated electric utility servicing about 70% of the population of New Jersey. PNG is a drop-down MLP funded and majority owned by Plains All American (NYSE:PAA) that focuses on developing gas storage facilities mainly in the southeast and whose utility customer based is growing as the sector turn more to natural gas for power generation. This article will focus on Public Service Enterprises and PNG will be the topic of a different article..
Public Service Enterprise Group Inc. is a diversified energy holding company that is among the nation's leading wholesale energy producers and one of the most reliable electric and gas utilities, winning industry awards for reliability four out of five years from 2004 to 2009. PEG's three main subsidiaries are PSEG Power, Public Service Electric & Gas, and PSEG Energy.
PEG has an interesting history dating back to 1903 when it was founded by the amalgamation of over 400 gas, electric and transportation companies in New Jersey. From their website:
Transportation was a major component of Public Service's early offerings, and at its inception, included ferry and trolley services, as well as elevators for transporting horse carts up the Palisades. In 1916, Public Service provided more than 451 million passenger trips on its trolleys alone. In 1928, Public Service Railway Company and Public Service Transportation Company merged to form Public Service Coordinated Transport, which dominated trolley, and, later, bus travel in New Jersey. Concerns about the concentration of economic power resulted in federal and state actions requiring the breakup of utilities. In 1934, Public Service engineers designed the first diesel-electric bus, and in 1937 went on to operate the first diesel-electric bus fleet (of 27 vehicles) in the world. In 1943, Public Service once again became a stand-alone company, and was renamed Public Service Electric and Gas Company (PSE&G) in 1948. The Company's involvement in transportation ended in 1980, when PSE&G sold its transportation system to the State of New Jersey.
In early 2005, Exelon (NYSE:EXC) proposed merging with PEG to create what would have been the largest electric utility at the time. The regulators in NJ had not turned down a merger proposal since the early 1980s and at the time, the proposal was announced industry experts thought it was going to be consummated. The merger was approved by the Federal agencies along with the PUC of New York, Pennsylvania and Connecticut.
However, fierce opposition from consumer groups along with severe reservations from New Jersey regulators torpedoed the merger and after 19 months of wrangling, EXC and PEG threw in the towel.
Since the failed merger, PEG has strived to improve its balance sheet and to cut overhead expenses. Their success in this endeavor shows up in its low long-term debt to equity ratio of 0.62 and its substantial 5-yr average ROE of 14.8%. These compare with utility peer averages of 0.79 and 7.7%, respectively. PEG management has far outshines with a 5-yr return on invested capital of 9.13% vs its peers ROIC of 4.30%.
This is very important for investors to understand. For every dollar of capital deployed over the past 5-years, PEG management has generated more than twice as much profit than its average peers have. This should be music to most current investor's ears and should gain the attention of non-shareholders looking to add exposure in the utility business.
In addition, PEG has a low payout ratio of 56% is also under industry average with many of its peers bumping 75% and higher payout ratios. PEG has paid a dividend every year for the past 109 years, and average 5-yr dividend growth is about 3.9%. In Feb 2013, the dividend was raised again about 2.9% and stands at a current $1.44 a share. Based on a share price of $34.55, the current yield is 4.1%, a bit lower than its 5-yr average yield of 4.5%.
However, not all is coming up roses at PEG. Like most all merchant power producers, PEG is suffering from low electricity prices. The growth in its regulated business has not offset the decline in merchant power profits, and earnings per share have declined from $3.09 in 2009 to an anticipated $2.25 to $2.50 this year. Earnings per share from their power segment have declined from $2.34 in 2009 to about $1.12 anticipated this year. Below is a graphic from their latest investor presentation showing this shift in earnings: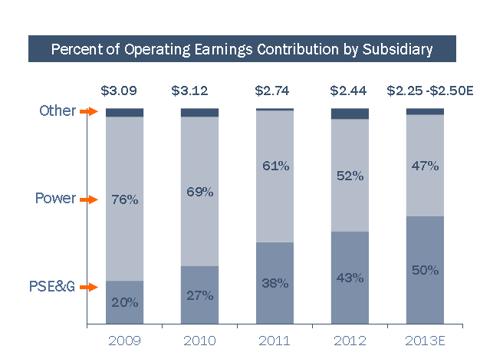 Click to enlarge
PEG is quickly moving into the higher profitability of federally regulated electricity transmission business. By 2015, rate-based assets in the transmission area will by about $5 billion, up from $2.5 billion last year. This compares to a state regulated asset base of $12.6 billion in 2015 vs $9.0 billion today. Keep in mind that federally regulated assets have historically generated about 14% allowable returns while states have been approving about 10%.
According to the 2008 S&P Credit assessment of utility regulatory environments by state, PEG service area of New Jersey, PA and CT fall in the "Credit Supportive", or average, category while NY falls win the "Less Credit Supportive" or below average category. The move into more transmission investments will result in a higher return than state asset investments, and should benefit shareholders with higher profits over time.
Below is a map showing SP& Credit's assessment by state: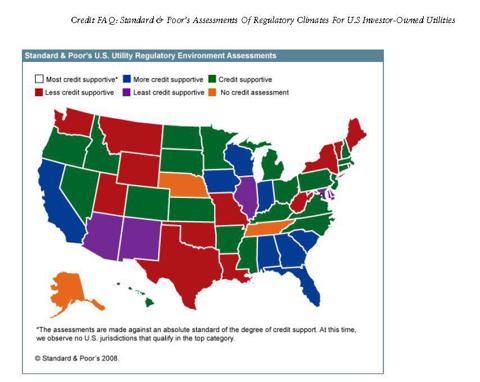 Click to enlarge
Overall, PEG has become a leaner more efficient operator. PEG nuclear and natural gas profile of its power generation assets will become more profitable as electricity pricing improves as anticipated in 2014-2015. The company's load profile is more diverse than some of its peers, with about 43% of total power capacity being base-loaded. The ramp-up of investments in alternative power generation should put the firm in better light with state regulators. On the negative, rising interest rates may temper further share price growth without substantial dividend increases and power prices have not yet shown signs of strengthening after a precipitous decline of about 50% since 2008. In 2008, PJM West electricity pricing was $69.85/MWh and in 2012 pricing was $33.88.
More information can be found it the latest investor presentation found here.
Investors looking for a mixture of merchant power and regulated electrical and gas utility should review PEG. With an eps growth rate projected at 5% to 6% and a 4.1% current yield, patient investors should be well rewarded. However, buying at its average 5-yr yield, or about $32 a share, may be possible in a general market decline.
Author's Note: Please review important disclaimer in author's profile.
Disclosure: I am long EXC. I wrote this article myself, and it expresses my own opinions. I am not receiving compensation for it (other than from Seeking Alpha). I have no business relationship with any company whose stock is mentioned in this article.