Master Limited Partnerships ("MLPs") are hot. The Alerian index surged in Q1, rising 18% in price with a 19.7% total return, beating both the S&P 500's 10.61% total return and the Barclays Aggregate Bond Market index decline of 0.12%. I can't think of a better structure for these times - high dividends (actually distributions) tied to the powerful trend of infrastructure build-out in the oil & gas industries. With that said, I sense that there are several potential roadblocks ahead and that many investors may be chasing yield.
I published my interview of Malcom Day in September, and this long-time expert and institutional investor shared some wise advice about not focusing just on the yield but rather on the growth in distributions too. He forecast 10-12% long-term returns for the sector based on yield and growth in distributions, so the price run-up, which has resulted in a 23% total return in Alerian index over the past year, highlights that the prices may be ahead of the fundamentals.
More recently, I have been following some of the discussion provoked by the articles of fellow Seeking Alpha contributor, MLP Trader, who first began contributing in 2008. Last month, he called for "the coming MLP Meltdown". The article likened the recently announced acquisition of Berry Petroleum (BRY) by Linn Energy (LINE) (using Linn Co (LNCO) stock) to the events that toppled the Canadian Royalty trusts several years ago. While I don't have an opinion regarding possible changes in tax laws or even the potential for the structure to become prohibited, one of the more interesting aspects of the article was the mention of some awfully strange MLPs, like a cemetery and a refinery.
While I was familiar with some odd applications of the tax law, I decided to dig in and research some of these wacky MLPs. If you are investing in the popular ETN JPMorgan Alerian MLP Index (NYSEARCA:AMJ), you likely have little exposure to these. Here is a breakdown of the index according to Alerian (as of 3/31):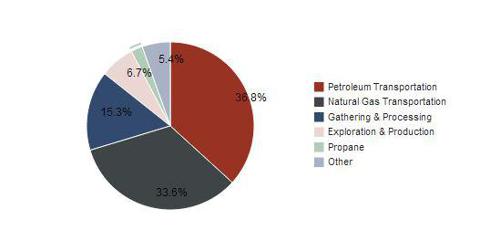 As you can probably see, the vast majority of these 50 names in terms of market cap are tied to Oil & Gas infrastructure, which sums to almost 86% of the total. The balance includes E&P production (6.7%), Propane (2.2%) and Other (5.4%). By the way, Alerian offers a really neat MLP screener, which allows the user to sort by symbol, name, yield, distribution amount, market cap, IPO date and consecutive distribution increases. A nice feature is that a click of the symbol leads to a lot more information as well as the website, really helping speed up one's research efforts. It also includes a sector label. Here are the ones it uses:
Coal (5)
E&P (15)
Gathering & Processing (15)
Natural Gas Transportation (13)
Petroleum Transportation (20)
Propane (5)
Shipping (5)
Other (20)
It is this last sector that I want to explore more closely. It includes several other sub-sectors, including coke (1), compression (3), diversified midstream (1), which I would pull out actually, frac sand (1), heating oil distribution (1), LNG (1), nitrogen (3), offshore drilling (1), petrochemicals (1), refining (4), and wholesale distribution (3).
One of the points MLP Trader raised was that this pushing of the envelope is what brings risk to the whole sector. It's worth noting of the 19 (excluding the one I mentioned), 10 have had their IPO within the last year (3 in 2013).
I don't mean to denigrate a non-traditional MLP by calling it "strange". Still, these investments are pushing the envelope and may mess it up for any future MLPs. They could also draw the wrath of revenue-hungry Congress to change the law retroactively. The Wall Street Journal raised some concern earlier this year as several IPOs hit the market:
Strong demand for MLPs has prompted issuers to "test the limits and push into areas that are not traditional," said Jason Lioon, principal at Diversified Trust in Atlanta, a $4.5 billion investment-management firm that counts MLPs among its investments. "Investors can't just buy an MLP and assume that they're getting the same thing that they've gotten in the past."
On the other hand, some of these non-traditional MLPs could provide an opportunity given their "off-the-run" nature. With this in mind, I wanted to briefly share some descriptive information on five of the strangest MLPs.
StoneMor Partners (NASDAQ:STON)
STON, which went public in 2004, is so odd that it isn't even included in the Alerian list. I am just kidding about that, as the Alerian Index (and the list) includes only energy MLPs. This one was actually the inspiration for the article, as I was researching the funeral home industry and noticed this odd-ball, the only publicly-traded MLP of the four companies of which I am aware. The 10-K describes the formation in 2004 to purchase Cornerstone Family Services, which was founded in 1999 by some of the members of the management team and a private equity firm. STON operated 276 cemeteries in 27 states and Puerto Rico as of 12/31/12, of which it owns 258, and 86 funeral homes.
I confess to not fully understanding how this structure qualifies as an MLP. It's worth noting a risk-factor disclosed in the 10-K:
The IRS is currently auditing our federal income tax return for the year ended December 31, 2010. The scope of this federal income tax audit includes an audit of our qualifying income. In order to be treated as a partnership for federal income tax purposes, at least 90% of our gross income must be qualifying income. An IRS formal notice of commencement of the audit will be provided to unitholders if the audit is not concluded on or before March 30, 2013. IRS procedures require that we forward the notice no later than April 29, 2013 to specific unitholders (generally unitholders with less than a 1% profits interest in us) that held units during our taxable year ended December 31, 2010 , and the IRS will provide notice to all other unitholders that held units during our taxable year ended December 31, 2010.
SunCoke Energy Partners (NYSE:SXCP)
SXCP is a recent IPO (at $19 in January) following a spin-out of SunCoke Energy (NYSE:SXC) from Sunoco in early 2011. Describing itself as "the largest independent producer of high-quality metallurgical coke in the Americas" on its website, SXC, the sponsor, operates five plants that allow its steelmaking customers to outsource in exchange for long-term take-or-pay agreements with a coke fee and an energy fee. SXCP has a 65% interest in two of the five plants, serving ArcelorMittal (NYSE:MT) and AK Steel (NYSE:AKS), which represented 28% and 69% of 2012 sales, respectively. So, not only is its focus a little non-traditional, it also has exceptionally concentrated asset and customer risk.
Northern Tier Energy (NYSE:NTI)
NTI has a lot of asset risk as well, as its principal asset is a single refinery in Minnesota. Despite a sharp correction, NTI has done quite well since its July IPO at $14, up 90%. The company describes the MLP as consisting of the refinery (including a 17% interest in a pipeline operated by Enbridge), storage and transportation assets, and a retail business that consists of 166 convenience stores (SuperAmerica) and an additional 68 franchised stores and SuperMom's Bakery. A recent presentation suggests that the company "makes its money on the crack spread", which suggests a high volatility of cash flows. NTI is benefiting from plentiful supply of crude oil from North Dakota and Western Canada. Slide 17 illustrates this point as it shows steady throughput but soaring EBITDA.
Seadrill Partners (NYSE:SDLP)
SDLP is also a recent IPO (at $22 in October), formed by Seadrill (NYSE:SDRL). The prospectus indicates that the drilling rigs are under contracts with the majors and have an average remaining term of 4.1 years as of 9/30/12. The initial assets included two semi-submersibles, a drillship and a tender rig, all built between 2008 and 2011. Anyone familiar with SDRL is likely familiar with its extreme complexity, and SDLP just adds to it.
Hi-Crush Partners (NYSE:HCLP)
HCLP is an IPO that priced at $17 last August and traded below $15 in Q4 after its first earnings call in November when it disclosed a contract loss from Baker Hughes (NYSE:BHI) just six months after the frac sand supply agreement had been signed. HCLP filed a lawsuit that remains pending. The stock has subsequently recovered, filling the gap from $20. The company gets its "Northern White" sand from a facility it constructed in Wyeville, Wisconsin in 2011 and can deliver 1.6mm tons a year of frac sand. It also has an interest in a facility in Eau Claire County that it acquired in January that began operation last year. Like some of the other MLPs mentioned, there is clearly asset concentration and likely volatility in cash flows as well.
Conclusion
I don't think that there is anything necessarily inherently wrong with the MLP structure or a company that chooses to use it, but I do wonder if investors might chase yield and ultimately fail to properly price in the risk. It's worth noting a recent ETN offering that focuses on just the midstream names, the Barclays ETN+ Select MLP (NYSEARCA:ATMP), which just launched last month. Based on an index designed by Atlantic Trust, I think that this excerpt from an article by IndexUniverse, quoting Atlantic Trust managing director Adam Karpf, reveals an interesting aspect:
"MLPs have been a very successful asset class over the past 10 years, and with the success of MLPs, the asset class has attracted some nontraditional assets such as coal, propane, refining assets," Karpf, whose firm is behind the index benchmarking ATMP, said. "We think investors buy MLPs with the objective to get exposure to midstream infrastructure businesses like pipelines and processing assets."

"By removing some of the lower quality nontraditional assets and focusing on midstream assets, the index provides access to higher quality, stronger growth MLPs that also carry low risk compared to other assets," he added. "You can't paint all MLPs with the same brush. There are differences in quality levels between the subsectors."
AMJ doesn't have too much exposure to these off-the-run MLPs, but I think the case can be made that the best MLPs over the long term are likely in the Oil & Gas Infrastructure sector and not in the 14% that lies outside of this area. It could be that it makes sense to move into ATMP when the liquidity gets better. Another conclusion is that investors should be very careful with these non-traditional MLPs. I am not suggesting that they are inherently bad, but many of them do seem riskier and may not fare as well in an environment that isn't as favorable as the current one is for the MLP sector.
Disclosure: I have no positions in any stocks mentioned, and no plans to initiate any positions within the next 72 hours. I wrote this article myself, and it expresses my own opinions. I am not receiving compensation for it (other than from Seeking Alpha). I have no business relationship with any company whose stock is mentioned in this article.