Actionable Items:
Highest Positive Spread: Cornerstone Total Return Fund (NYSEMKT:CRF)
Focus Stock: Eaton Vance Tax-Advantaged Global Dividend Opportunities Fund (NYSE:ETO)
Last Week's Focus Stock: Source Capital (NYSE:SOR)
Eqcomograhic Investment Landscape Analysis: We have landscaped the investment analysis for the upcoming year.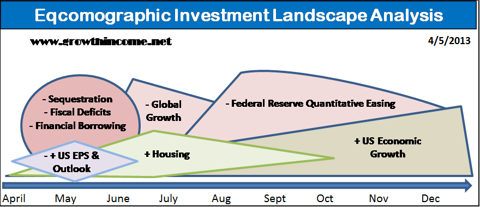 The highlights are for housing to get "under way" and for U.S. economic growth to post a 2% to 3% rate. While unemployment will decrease modestly, there are a number of items such as sequestration and the Federal Reserve's quantitative easing funds. The U.S. earnings may likely disappoint and the global growth rates might be modest.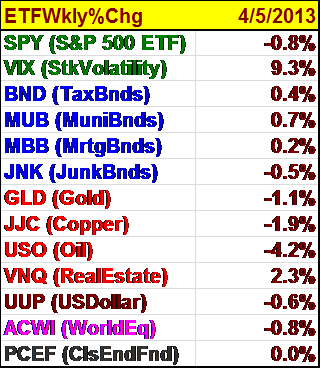 The Analysis is Where to Put your Money: The "bond bears" have it wrong. The Bank of Japan ("BOJ") has flooded the markets with excess reserves and Friday morning's unemployment numbers failed to keep equity markets on "point". The 10 year treasury market rose to its highest point of the year.
Dividend/Yield: The S&P 500's dividend to equity yields ("Div/EqYld") is 27.4%. It may increase to 31.6% in 2013. However, it is not near the 47.8% average it was during 1942 to 2013 period. An accumulation of equity yields (not bond yields masquerading as equity yields) may be an appropriate elections.
However, if the bond rates collapse, the sheer likelihood is to "drive equities from the markets". You may want to invest part of your funds in cash or short-term U.S. treasury money markets funds.
The ETFs: The ETF sectors are arranged year-to-date (YTD) in order as of 4/5/13. Health Care, Consumer and Mid-Cap were leaders. Natural Resources, Pacific/Asia and Commodities were laggards.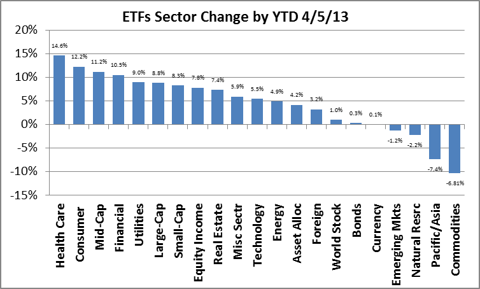 Commodities (adjacent chart) and gold (NYSEARCA:GLD), copper (NYSEARCA:JJC) and U.S. Oil (NYSEARCA:USO) (in the chart above) were down -1.1%, -1.9% and -4.2%, respectively. I'm not seeing a robust economic recovery.
CEF Weekly Fund Type Performance: This week saw price rises for SingleStMuniFnds (+0.6%), HiYldBndFnds (+0.6%) and NatlMuniBndFnds (+0.5%). The laggards were WrldEqFnds (-1.9%), ConvtSecFnds (-1.2%) and GenEqFnds (-1.2%). Most of the CEFs prices were down below their NAVs. With interest rates declining, most PrcNAVSprds declined: WrldIncFnds (-1.3%), InvGrdBndFnds (-0.9%) and LoanPartFnds (-0.7%).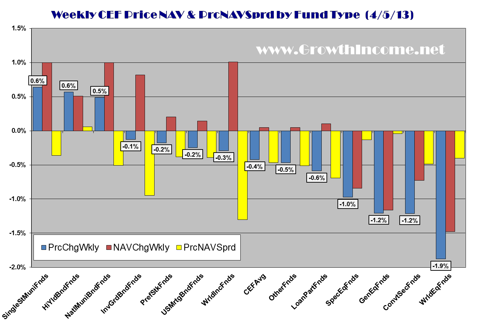 Highest Spread and Stock for the Week: Cornerstone Total Return Fund was ahead by a price increase of +2.4% and NAV per share decrease of -0.6%. The PrcNAVSprd was +3.0%. (A positive number may mean a future decline in share price). The annual monthly distributions are 16.9% which are all return-of-capital ("ROC"); therefore, eating into the NAV. Total premium is 24.9%. The total assets are $51.8 million and the management fees are 1.98%.
The 2/8/13 distributions are for 3 months: April, May and June. Based on a monthly distribution, the yield per month is close to $1.0 million. From an annual rate, the distributions are costing you $12.0 million (total assets $51.8 million). From 3/31/10, the share price was $10.35 per share while the steep current slide is to $6.47 per share.
Probably get ready for some "rights offering".
Lowest Spread and Focus Stock for the Week: Eaton Vance Tax-Advantaged Global Dividend Opportunities Fund's share price declined -3.4% for the week with a negative -0.5% from its NAV per share. Its PrcNAVSprd decline was -2.9%. ETO's discount is 6.5%, which is below its 52 weekly average. Its annualized monthly yield is 7.27%. The monthly distribution has increased $0.135 per share for a 15.7% increase from December 2012. The average undistributed net investment income (UNII) is $0.0893.
The net assets are $466.4 million and are leveraged 26.1%. The annual expense is 1.8%-- which is a little too high.
Focus Stock & High Price for Last Week: Last week's "Focus Stock" was Source Capital, which was down 1.2% for the week-ending in 4/5/13. With interest rates heading down, the Managed Duration Investment Grade Municipal Fund (NYSE:MZF) was off by 1.1% (Highest Positive Spread).
Disclosure: I have no positions in any stocks mentioned, and no plans to initiate any positions within the next 72 hours. I wrote this article myself, and it expresses my own opinions. I am not receiving compensation for it. I have no business relationship with any company whose stock is mentioned in this article.