In a previous article posted on August 29, 2013 related to Netflix (NASDAQ:NFLX) it was proposed that Netflix should get more content or perish. Netflix has apparently gotten on the "content acquisition" bandwagon, as the company has been busy acquiring new content. In December of last year, the company announced a multi-year premium pay TV deal where Netflix provides Disney's (NYSE:DIS) theatrically released feature films to its customers. The deal includes content from new Disney, Walt Disney Animation Studios, Pixar Animation Studios, Marvel Studios and Disneynature.
Additionally, the company announced it is premiering its fourth season of "Arrested Development" on May 26, 2013 with all fifteen episodes available for instant viewing by its customers.
In October of last year, the company announced the availability of its series "House of Cards" which was made available to the Netflix's customers on February 1, 2013.
In addition to adding new content, Netflix has also been expanding internationally with launches in Finland, Sweden, Denmark and Norway. Reed Hastings, Co-Founder and CEO, indicated in the company's Q4 2012 earnings call held on January 23, 2013 that the company will not need additional financing should international expansion be further increased in 2013 or in early 2014.
Mr. Reed further indicated the company is not planning on increasing the price for its streaming plan offering which is currently set at a price point of $7.99. While adding new content has increased associated costs, the amount revenue received is increasing at a faster rate than the associated costs. Mr. Reed noted the company has not needed to substantially increase marketing, as its satisfied customers are marketing Netflix to their friends.
In the previous article, a married put stock option position was offered as a way to invest in Netflix and take advantage of a price increase, but be protected from any significant drops in the company's stock price. By using a protective put option, a married put position takes advantage of an increasing stock price, but does not participate in large price drops. Following the company reporting stellar results in January of this year, Netflix's stock price took a large upward jump as shown below: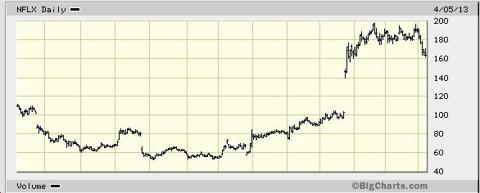 At the peak price in February, the married put position mentioned in the previous article had a profit of around 170%. The profit was experienced while never having more than 8% of the investment at risk. Even if the price of the stock dropped to zero, the maximum loss that could have resulted was 8%. Netflix currently has around 27 million domestic subscribers and with 100 million households in the U.S., Netflix could easily and quickly double its subscribers and revenue. With Netflix potential and its reasonable Price-to-Sales ratio of 3, a further investment in Netflix is worthy of consideration. Since Netflix's future is still a little hazy, another married put position is considered for the company in order to protect against a large downdraft in stock price. A married put position may be entered by purchasing a put position against a long position in the stock. The expiration month for the put option is typically selected several months out in the future in order to reduce the "per-day" cost of the insurance.
Using PowerOptions, a number of married put positions were found for Netflix as shown below: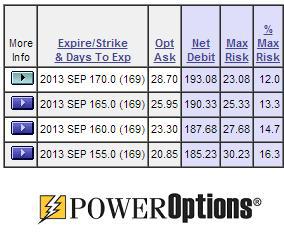 The married put position using the 2013 Sep 170 put option looks attractive with a maximum potential loss of 12%. So, no matter what the stock price does, the maximum loss which can be sustained is 12%. The details for entering the Netflix married put position are shown below:
Netflix Married Put Position:
Buy NFLX stock (existing or purchased)
Buy 2013 Sep 170 Put at $28.70
A profit/loss graph for one contract of the Netflix married put position is shown below: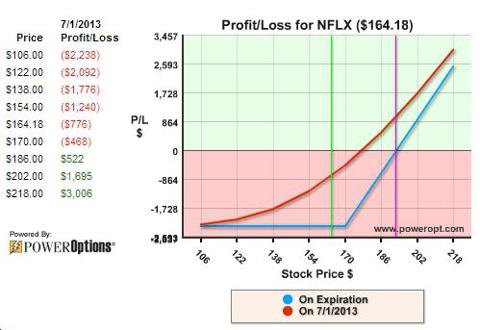 For an increasing stock price, the value of the married put position also increases. For a stock price below the $170 strike price of the put option, the value of the married put remains unchanged. And, if the price of the stock increases to above the $170 strike price of the put option, then income methods can be applied in order to receive income and reduce risk as taught by RadioActiveTrading.com.
Disclosure: I have no positions in any stocks mentioned, and no plans to initiate any positions within the next 72 hours. I wrote this article myself, and it expresses my own opinions. I am not receiving compensation for it (other than from Seeking Alpha). I have no business relationship with any company whose stock is mentioned in this article.