Fairfax Financial (FFH) is a Canadian insurance company. The CEO is Prem Watsa, who many compare to Warren Buffett.
Prior to 2008, Prem Watsa was nervous about the state of the economy. As a result, FFH invested in credit default swaps. FFH was able to buy credit default swaps for approximately $270 million and sell them for over $2 billion. Nice trade!
FFH also shorted equity indices to hedge its equity positions. Once again, the company made huge money on these shorts.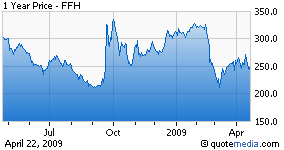 At the end of 2008, FFH was no longer hedged, and therefore is long both stocks and bonds. With its huge investment gains, FFH invested $4 billion in tax-exempt bonds (at dirt cheap prices). Most of these bonds are insured by Berkshire Hathaway (NYSE:BRK.A).
The company has a book value of around $280 per share (based on 12/31/2008 values). Yet the stock (as of 4/22/09) trades for under $240.
I have yet to find a CEO or a company that performed better in 2008. I am really not sure why FFH trades at its current level. Nevertheless, I believe this a great opportunity to purchase the shares.
Keep in mind that FFH is increasing its float, and increasing its investment portfolio. Prem Watsa and his investment team is making all the right moves. If you believe you are buying management when you purchase a stock, please take a look at this investment.
Disclosure: I own shares in FFH.