Amgen (NASDAQ:AMGN) is among the hottest large-cap biotech stocks of this year. The stock has been following an upward trend since last April. Most recently, it rallied past the previous 52-week highs. After this run, the stock even surpassed the 1-year target estimates of many analysts. While it still looks cheap based on forward P/E ratio, there are growing concerns among the investors. Traders are becoming more apprehensive about a looming correction. I think a modest correction is possible. However, the company can be a good long-term investment. Here, I look at the company's financial profile and its business prospects to prove my point.
Stock Performance at a Glance
Amgen and its close peer Gilead (NASDAQ:GILD) have followed similar trends this year. The price charts of both companies show that the bullish momentum started from the mid year of 2012. As companies followed a steady upward trend, a sharp correction is less likely to happen. Should the prices enter the correction stage the decrease will be gradual, as well.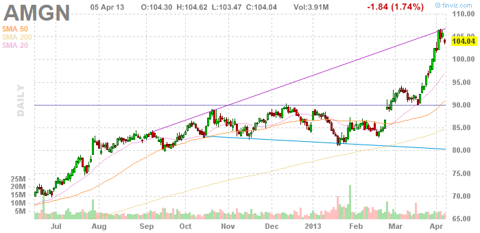 While a minor correction towards $90 is a likely event, I expect the stock to end the year with double-digit gains. My prediction is based on the company's financial and sales performances, and its future business prospects.
Products and Sales Drivers
At present, Amgen has 10 products in its arsenal. Among the top earners are Enbrel, Aranesp, Epogen, Neulasta, Neupogen, Prolia, and Xgeva. The major sales driver is its blockbuster product, Enbrel. This is followed by Neulasta and Aranesp.
Enbrel is a tumor necrosis factor blocker used to treat rheumatoid arthritis, psoriatic arthritis, plaque psoriasis, and ankylosing spondylitis. In the fourth quarter of 2012, sales of Enbrel amounted to $1.16 billion, up by 22.75% compared to the year-ago quarter.
The second driver of Amgen's product sales is Neulasta. This is a leukocyte growth factor prescribed to patients with febrile neutropenia manifestations. This is also used in patients with non-myeloid malignancies receiving myelosuppressive anti-cancer drugs. Neulasta is administered in order to reduce the incidences of infection.
In the last quarter of 2012, Neulasta posted sales of $994 million. This is a bit lower versus the $998 million sales it generated in the same quarter a year before. Neulasta is normally combined with Neupogen that contributed $312 million in sales. Together, both drugs posted $1.32 billion in revenues.
Aranesp is the third sales driver with $489 million fourth quarter sales. This is down by 9.1% compared to the year-ago quarter sales. Aranesp is an erythropoiesis-stimulating agent, or ESA. This is prescribed to patients suffering from anemia caused by chronic kidney disease [CKD].
Toe-to-toe with Aranesp is Epogen with 4th quarter sales amounting to $479 million. Just like Aranesp, the product saw negative growth of 1.44%. Epogen is also indicated for anemia due to CKD. Aside from that, this is further indicated to patients suffering from anemia due to chemotherapy, and due to Zidovudine. Zidovudine is usually administered to HIV-infected patients.
All together, the 4th quarter sales of Amgen totaled $4.337 billion. This is 11% higher than the year-ago sales of $3.907 billion. For the full year, Amgen was able to generate $16.639 billion in sales. This is up by 9% from the previous year sales of $15.295 billion.
A strong sales performance is reflective of the company's efficient management and effective marketing strategies. It also shows that there is demand for its products. Some Amgen's products are positioned to a billion dollar market.
Pipeline Products
It is important for companies to have robust product sales performance. But the product candidates in its pipeline are important for the future. Investors are also particularly interested in pipeline products, since they have great influence on price fluctuations.
Amgen has many drug candidates in its pipeline under different stages of clinical studies. Under Phase I study, there are 20 different drug candidates. Under Phase II there are about 13. For Phase III trials, there are about 14 ongoing studies.
On March 19, AMGN announced the results of Phase 3 Talimogene Laherparepvec trial in Melanoma. The encouraging results were probably one of the triggers of its most recent rally towards the $100-price level.
Financial Profile
Apart from having an impressive full year performance, Amgen is financially stable. It has a market capitalization of $76.57 billion with a Price/Equity ratio of 18.57. For the past two years, AMGN consistently gave out dividends. Its annualized dividends in 2011 and 2012 are $0.92 and $1.55, respectively.
Amgen saw growth in 2012 EPS over the previous year. It ended the first quarter with an EPS of $1.48. This is 23.33% higher than the year-ago quarter EPS of $1.2. The company generated EPS of $1.61 in the second quarter.
The third quarter has experienced a growth of 178% from $0.51 to $1.42. However, the fourth quarter EPS slid back to $1.01 versus the $1.08 year-ago EPS. Annually, the EPS in 2012 totaled $5.52. This is higher by 36.63% compared to the 2011 EPS of $4.04.
My Take
Thanks to its strong financial position and attractive market outlook, it's easy to predict the consensus of the analyst firms. The majority of the analysts recommend either Buy or Hold. However, at the current valuation the stock is a bit on the pricey side of the market. Analysts have a mean target of $97.
Nevertheless, Amgen has several strong revenue generating products. The company is busy marketing its existing products, while at the same time, innovating and inventing more. These are sufficient reasons to support its current market run. While a modest pull-back below $100 is a likely event, the stock might maintain its rally towards the year-end.
Disclosure: I have no positions in any stocks mentioned, and no plans to initiate any positions within the next 72 hours.
Business relationship disclosure: Efsinvestment is a team of analysts. This article was written by one of our equity analysts. We did not receive compensation for this article (other than from Seeking Alpha), and we have no business relationship with any company whose stock is mentioned in this article.