Introduction to 'Home', Android & iOS
For years now, Google's (NASDAQ:GOOG) Android has been the one serious competitor to Apple's (NASDAQ:AAPL) iPhone. The ad revenue and the open source feel to things have made the Android OS different enough, yet similar enough to iOS for it to retain the same feel, to successfully dip into Apple's market share, and to find independent success.
Basing its software on Android's OS, Facebook's (NASDAQ:FB) 'Home' launch event is shaping up to be one of the biggest points for the company thus far since its inception. It has been month after month of speculation behind whether or not Facebook was going to release an OS or a phone of its own. Now, it looks as if the company is going for the best of both worlds.
If you're not familiar with it, the 'Home' application basically transforms an Android phone into a Facebook phone upon launching the 'Home' app. Techcrunch reports about 'Home':
Facebook today announced a new app called Facebook Home that replaces your standard Android's homescreen with an immersive Facebook experience featuring full-screen photos, status updates, and notifications. Facebook also announced a special version of Home will come pre-installed on the new HTC First phone on AT&T.

Home will launch on April 12th in the U.S., and will be available to users of Android Jelly Bean and Ice Cream Sandwich, but not Gingerbread. The international rollout will come later. It won't require a forked or modified version of Android, though that's what the HTC First runs. Facebook will try to make Home available on tablets within a few months, and it's supposed to be a great experience there. Every month, Facebook will release a Home update to add new features and make it accessible to new devices.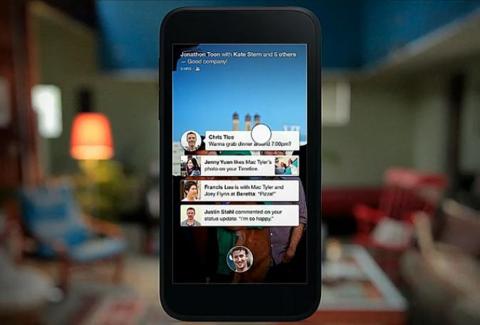 So, in essence, what Facebook has just done is potentially turn every phone running the Android OS into one running the new Facebook app/OS. Facebook is pulling "the ole switcheroo" on Google. Normally, this wouldn't be a big deal, as long as Google continues to get Android on phones before they leave the distributor, so why does it matter?
It matters because of ad revenue; one of the biggest revenue producers for the two respective companies. By commanding the visual space of the phones its used on (essentially the 'Home' interface could seemingly almost eliminate the need for using Android itself), Facebook's app starts to cannibalize off of the visual space that would be used for Google ads.
Analyst Trip Chowdhry notes:
"What Facebook has said is 'I am your entry into your mobile life, I as a Facebook will tell you what apps to launch, and not only that, I will simplify your life," Chowdhry said.

Facebook is in an excellent position right now because it is the only player in the social phone space right now, Chowdhry said. And because the social giant has a critical mass of one billion users, there will not be another competitor who can touch Facebook in social phones, he said.
Why This is Make or Break for Google
Right now, the competition has never been stiffer between Android and Apple's iOS.
Google now must create some type of homeostasis between Facebook and the Android OS. Mark Zuckerberg has alluded that he would be extremely upset if Google changed its licensing rules as a reaction to Facebook's software. Google has yet to make a comment in regards to this potential loss of ad revenue for the company.
Zuckerberg, seen below with tactfully done, yet comically placed dollar signs for eyeballs, pitched this to Google as a potential great idea: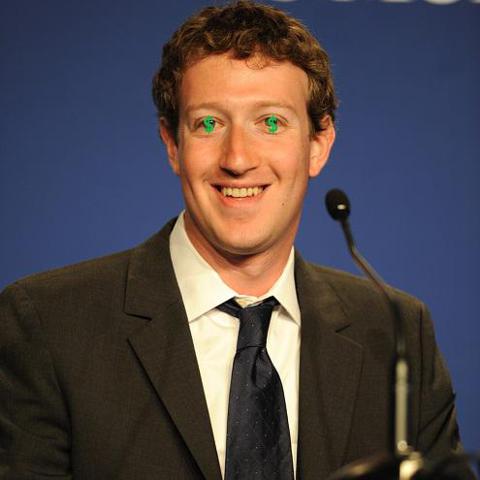 Zuckerberg, though, said at the press event Thursday that he thinks Facebook Home is actually a good thing for Google because it will drive developers to want to create more apps for Android.

"I think this is actually really good for Android. From what I've seen, most developers put most of their time into iOS, even though there are more Androids out there," Zuckerberg said.

But Chowdhry said that Zuckerberg was basically backing Google into a corner when he made those comments about Home being good for Android.

Zuckerberg was warning Google that it better not change the rules of the game in regards to the licensing of their operating system or else it would hurt their credibility, Chowdhry said.

"Basically, he was sending a message to Google saying 'Hey guys, this is open and you better keep it open.' So this is something that Facebook used to its advantage," Chowdhry said.
Although this investor in no way sees how Facebook Home as a reason for more Android developers, what I do see is Facebook and Google joining hands against Apple. This could potentially be the only way to bring the giant that is Apple iOS to its knees.
Now, if Google & Facebook can come to some sort of agreement on sharing advertising revenue, they could potentially be getting the best of both worlds, as shown by my patent pending archaic diagram below, graciously brought to you by the artist savvy folks at Microsoft Paint: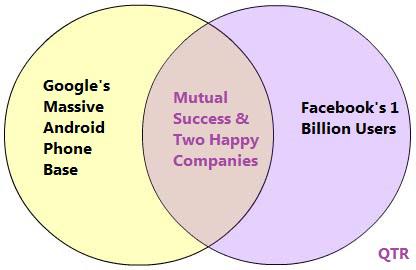 The key is going to be in these two companies playing nice with each other and coming to the realization that making a dent in Apple's market share even further is possible, but they're going to have to make a truce and go forward from there.
If Google goes some other "wild card" route and rejects what Facebook is trying to do here, you're going to have a giant mess. It'll be back to Facebook vs. Google vs. Apple again, and you're more than likely going to get a Facebook OS phone that will go head-to-head with Android (if it's not already being developed).
How to Trade This
Arguably, in my opinion, this could be the first move that Facebook's made since going public that has the potential to bring the once heinous market cap valuation of its IPO back to glory. What we're talking about here, from an investor's standpoint, is a potential massive gain in advertising revenue - potentially for both companies.
Dipping into Google's ad revenue, although not the best possible way to do it, is certainly a way to do it. Not only that, it's a cheeky move that Facebook is exploiting Google's own "open source" attitude to make this move. The fact that Google doesn't have to approve apps that run on its OS the same way as Apple does, makes this a potential earth-shattering move for Facebook. The company is doing three things that should be sexy to potential buyers of Facebook stock, all at once:
Leveraging its 1 billion users

Being the first "social media" OS (ground Apple is trying to get into by integrating everything on iOS -- but it is not there yet)

Increasing its ad revenue while simultaneously decreasing Google's ad revenue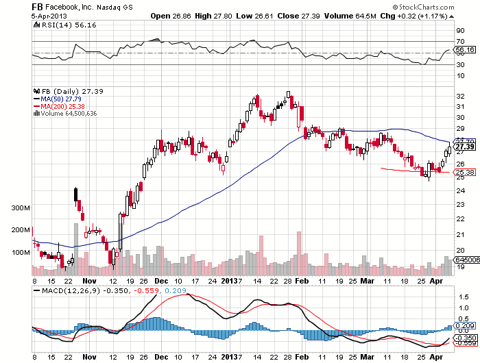 After an unceremonious post-IPO run, Facebook stock is looking arguably the strongest it has in a while this past quarter, even popping its head above the $30 mark again. On the heels of this strength, this investor believes that if 'Home' is launched successfully without causing a war with Google, we could be looking at a sustained push above the $30's and potentially new highs for Facebook stock. As with anything new and potentially groundbreaking, though, execution and keeping Google semi-appeased are going to be key.
I am considering Facebook in-the-money LEAP calls, but haven't executed a trade yet. I am waiting to see if Google is agitated from this or if the company chooses to embrace it. A potential hay-maker from Google's camp (changing the licensing rules to disallow apps like this) could spell major trouble for Facebook longs.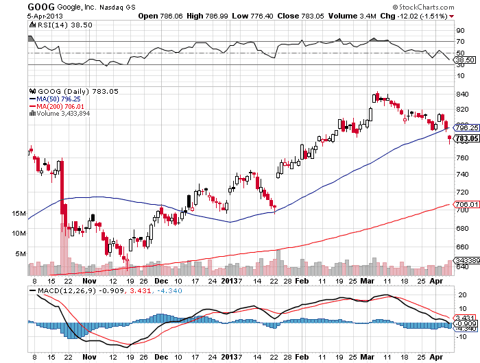 Google has also been on a pullback over the last month, shedding its highs near $840 to correct into the mid $780 range. Should Google team up with Facebook to execute this correctly, this 8% haircut over the last month could make for bargain prices for investors looking to go long. This investor loves the same kind of in-the-money LEAP calls for Google as well, leveraging options to pick up a bit more of what is an expensive stock on paper to trade.
It'll certainly be an interesting launch to watch, come April 12th. Though I have taken no positions as of yet, I'll be paying close attention to how Google responds and look forward to analyzing it and how to potentially trade it going forward. As always, I wish all investors the best of luck.
Disclosure: I have no positions in any stocks mentioned, but may initiate a long position in FB, GOOG over the next 72 hours. I wrote this article myself, and it expresses my own opinions. I am not receiving compensation for it (other than from Seeking Alpha). I have no business relationship with any company whose stock is mentioned in this article.