Urban Outfitter's Inc. (NASDAQ:URBN) operates several retail chains that primarily sell women's apparel and accessories. Anthropologie (174 stores) targets the thirties through forties demographic, while Urban Outfitter's (130 stores) attracts teens and twenty somethings. Free People (75 stores that target twenty somethings) has both retail outlets and wholesale clients. Terrain (currently 2 locations) is an interesting hybrid idea that combines gardening, a restaurant and items for the home.
BHLDN is an on-line store for brides that recently opened two stores in Chicago and Houston. Each of the chains have their own on-line site that makes shopping a pleasure. In addition Anthropologie and Free People offer catalogues for direct consumer purchases. All their brick and mortar stores are well designed and beautiful. That is rare in today's world of box stores and rack outlets. The stores are a refreshing place to browse in and makes shopping a delightful experience but can they compete with Costco (NASDAQ:COST) and other big box retailers in the long run?
The experience of Apple (NASDAQ:AAPL) with its elegant high end technology stores that have become tourist attractions in New York City, China and Japan might give some insight to Urban Outfitters, Inc.'s future. The Apple Stores created by Steve Jobs were called a miserable failure and bad idea at the time by the financial press. Who would shop at a high end technology store when they could buy cheap PC's at Gateway's strip mall outlets? Technology customers did not care about the aesthetics of the store. That was the prevailing wisdom in 2001. Today Gateway is gone and so are its stores. Apple Stores are considered one of Steve Job's best ideas. Apple sells over $6050 per square foot and is the undisputed king of retail outlets. This is more than double Tiffany (NYSE:TIF) who sell jewelry at a rate of $3017 per square foot.
The Anthropologie stores have an aesthetic all their own and are reminiscent of Steve Job's best retail work. Colors and fragrances dazzle the senses when one walks in the front door. Clothing, furniture, sundries and shoes are on display like leaves on a maple tree in Autumn. Unquestionably upscale shoppers will buy clothes, shoes, furniture and other items at the Anthropologie stores. Apple has shown that this model is successful. In fact, since 6 of the top 9 retail stores cater to upscale women, Urban Outfitter's strategy makes sense. In the long run, the extra cost of prime locations and inviting displays pays for itself. Apple and others have shown that this approach works.
Recent reports suggest Anthropologie is selling goods at a rate of over $700 per square foot. Reports that sales may reach $900 per SF in the near future should viewed with caution. The store has maintained a sales rate in the $700-750 range for several years and expansion of sales should be incremental. New locations will add to the top line.
Sales per SF are only one measure of a store's success. Clearly not all women want to shop at rack stores and big box outlets. Lululemon Athletica (NASDAQ:LULU) has soared to the top of retailers by creating lovely stores that sell a limited range of items associated with women's fitness. Anthropologie offers a wider choice in clothes and accessories to a similar market.
There is room for a company willing to go the extra mile to make buying a dress or table a memorable experience. You can't confuse Anthropologie's stores with Nordstrom (NYSE:JWN), Neiman Marcus (NMGA) or Coach (NYSE:COH). The website of Anthropologie is visually beautiful and inviting. The store is constantly changing its displays, the website is always fresh. They understand the demographic of upscale women shoppers they are after and make shopping for clothes, accessories and even furniture a fun experience. Their sister stores Urban Outfitters (which also feature clothes for men/boys) do the same for a younger crowd. Jobs was a fanatic for both beauty and detail and you can see the same love of both in the Anthropologie displays. Not just clothes but furniture of one of a kind pieces made from railroad ties or drift wood abound throughout the stores. Urban Outfitters scales down the price but not the design. Clearly these two stores-- which seem to be popping up ever where, with new stores in Palm Desert and Walnut Creek California to mention a few-- are on the cutting edge of a difficult competitive market.
As consumers shift shopping from stores to on-line sites, Anthropologie's strategy of complimenting inviting stores with an equally enticing web-site is forward looking. People love to try clothes on and test out furniture in person, but they will not hesitate to buy another color, size or similar item on-line when needed. Both Urban Outfitters and Anthropologie are appealing to their markets both on-line and in brick and mortar stores.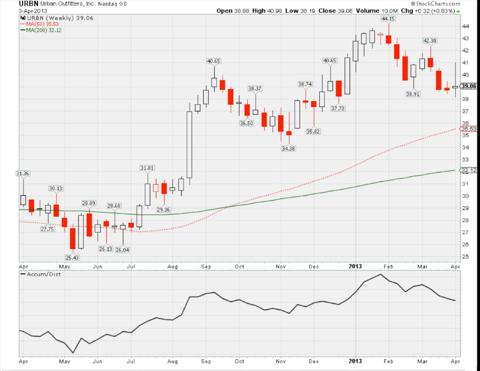 The stock was at 25 less that a year ago. It peaked at 44 and has drifted down to 38. The stock jumped up from 31 to 37 last August after good earnings. URBN bears watching and could be a great long term buy. But with the sequester currently threatening to derail the economy, even upscale stores should be viewed with caution. On the plus side the company has just announced strong first quarter sales in an SEC form.
The strength of the Anthropologie brand is growing and that is hard to value. Try an experiment: take a woman to Anthropologie and watch her reactions to the candles, furniture, jewelry, soap and most importantly the clothes. In the heat of the summer in Palm Desert, only the Apple store and the Anthropologie store had people inside during the hot afternoons.
Free People is present on-line and at a limited number of locations. If you live near one of the stores it is worth your time to investigate the site before investing. BHLDN-- the above mentioned on-line site for brides-- is a natural tie in to women's clothing. Terrain has just two locations, but brings gardening (landscaping) into the company line and has restaurants and private events at both locations. These ideas are relatively new to the retail world and their local success may translate nationally, which could make the stock really pop. Apple has shown that developing beautiful stores is a winning strategy. Urban Outfitter's Inc. hopes to follow Apple to the top of the retail world. Barclay's agrees and has placed a $50 price target on the stock.
Disclosure: I am long AAPL. I wrote this article myself, and it expresses my own opinions. I am not receiving compensation for it (other than from Seeking Alpha). I have no business relationship with any company whose stock is mentioned in this article.