Introduction:
In our last article about Windstream (NASDAQ:WIN), we concluded that, "Waiting to see how the second half develops may be the prudent path before allocating new or additional cash toward this investment." The stock was trading at $9.41. Now that the second half is complete, here is an update.
Management seems to have gone out of their way in an effort to reassure investors the dividend will not be reduced. Jeff Gardner - Chief Executive Officer, made this comment on the Q4 conference call:
let me reiterate that it is our expectation to maintain our current dividend practice.
This could be interpreted as a strong statement assuring investors the dividend is safe although expectations usually change as future events unfold for better or worse. Windstream's dividend yield exceeds 12% at the time of this writing. The market is sending a clear message; the dividend is not sustainable. Although the message is clear, is it possible the market has it wrong?
We'll discuss the following in an attempt to answer the question.
Revenue stability
FCF (Free cash flow) and the growing dividend payout
Debt
Industry comparisons
Insider activity
Conclusion
Financial data used for this article can be found here.
Revenue Stability
One problem the wireline industry faces is declining revenues. We'll look at the pro forma service revenue (includes NuVox, Iowa Telecom, Hosted Solutions, Q-Comm and PAETEC) and measure management's performance using a "best fit" regression analysis. The curve reflects management's efforts going forward based on performance over the last 3 years: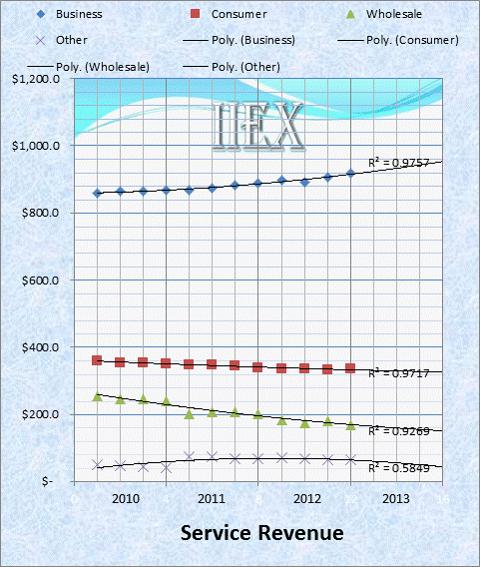 Business represents 61% of service revenue and is growing, offsetting declines in other segments. Data and integrated services grew by $35 million or 10% due to growth in IP, next-generation data, and data center services. Investments in the business channel include the recent opening of the 65,000 square foot McLean data center.
Consumer quarterly revenue could stabilize in a range from $320-$325m and possibly grow at some point due to broadband growth. Broadband growth was 4.1% in 2012, up $18m.
Business and broadband revenues represent 70% of total revenue.
The overall 2013 trend represents a change from 2012 in the range of 0% to -1%. Management's 2013 forecast is a range from 1% to -3%. Revenue is stable and poses no threat to the dividend.
FCF and The Growing Dividend Payout:
Windstream has taken a similar road as Frontier Communications (NYSE:FTR) when it comes to calculating FCF as both companies were working through acquisitions. What we mean by this is both companies make adjustments to FCF, calling it "Adjusted Free Cash Flow", which as you may guess is higher than actual FCF. Adjusted FCF can give the investor a false sense of security as to the safety of the dividend. In FTR's case, the adjusted FCF was well above the dividend payout, then what appeared to come out of nowhere the dividend was slashed. Measuring the dividend against the traditional measure of FCF defined as net cash provided from operations less capex provides an accurate view for FCF. Both metrics are plotted below to highlight the difference: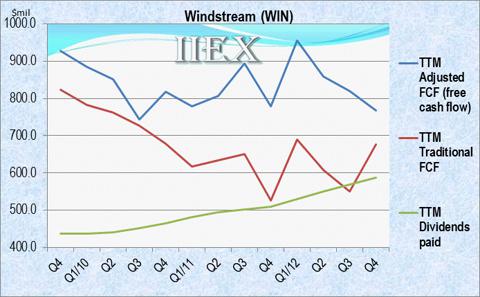 The FCF and adjusted FCF payout ratios are 87% and 77% with corresponding dollar amounts of $676m and $768m respectively. FCF will increase in 2013 to approximately $830m based on lower capex, merger and integration expense and cash interest offset in part by a reversal in cash taxes. Management is forecasting a midpoint of adjusted FCF of $914m. The 2013 FCF payout ratios are 71% and 65% for FCF and adjusted FCF, respectively; high but moving in the right direction so why the high yield?
There are a few concerns. One is the rising dividend payout. Based on Q4, the annual dividend payout is $590m and will grow a few million by the end of 2013, exceeding $600m in a few years. One source of additional shares is to fund the pension. During 2011, WIN contributed 10.8m shares to the pension plan to meet 2011 and expected 2012 obligations. Stock contributions allow the company to preserve cash and manage overall net debt leverage. The pension trust sold all 10.8m shares for approximately $133.5 million ($12.36/share). The expected 2013 contribution is approximately $21.0 million. The contribution is expected to be stock. This converts to approximately 2.5m shares at a recent price of $8.33.
The larger concern involves future cash tax requirements as evidenced on the Q4 conference call:
Tony Thomas - Chief Financial Officer: Looking beyond 2013, we expect stable adjusted OIBDA results, combined with further reductions in capital spending and cash interest, which will position us to deliver solid and sustainable free cash flow, even with the expectation that cash taxes may increase…. Cash tax payments should be between $37 million and $42 million, which include a benefit of 50% accelerated depreciation for capital investments and other tax saving initiatives.

Scott Goldman - Goldman Sachs: But it also looks as though cash taxes would increase from roughly $40 million this year to what could be a couple of hundred million more than that next year.

Batya Levi - UBS: So just looking out into '14, can you help us with your expectation for cash taxes? … with the other tax benefits you received this year, will they reverse next year? Do you think $250 million in cash taxes is sort of a ballpark to use for '14?

Tony Thomas - Chief Financial Officer: We're not going to provide specific guidance as it relates to 2014. We have several initiatives underway to help minimize cash taxes in 2014, and that remains one of our principal focuses this year early in 2013, is to address that 2014 cash tax bill.
Goldman Sachs and UBS share the concern 2014 cash taxes could be several hundred million more than 2013 and the CFO either cannot or will not address specifics. Frontier Communications can serve as a case study. FTR's 2012 cash taxes were $5m. Now that their integration of the Verizon properties is behind them, they have forecast cash taxes as high as $150m in 2013.
The market hates uncertainty and this issue is a real concern. 2014 cash taxes are going up, just how high is the question.
Debt:
Deleveraging the balance sheet is a priority given debt approaching $9 billion.

When the Fed (Federal Reserve) eventually decides to pull back on its quantitative easing, interest rates will go north. The only question is when. WIN may find its cash interest (expected to be $608m in 2013) start to rise due to less favorable terms when refinancing its debt.
Management has committed to reduce net leverage from 3.7x adjusted OIBDA to a range of 3.2x to 3.4x. Given the high FCF payout ratio and tax uncertainty, this could take years.
Industry Comparisons:
The following comparisons for dividend payers reflect some of the market concerns resulting in a high yield.
| | | | | | |
| --- | --- | --- | --- | --- | --- |
| Company | FCF/ share -ttm | FCF payout ratio | Leverage ratio* | Dividend | Yield |
| Windstream | $1.16 | 86.4% | 3.96 | $1.00 | 12.1% |
| Frontier Communications | $0.76 | 52.9% | 3.48 | $0.40 | 9.7% |
| CenturyLink (NYSE:CTL) | $5.06 | 42.7% | 2.81 | $2.16 | 6.0% |
| AT&T (NYSE:T) | $3.39 | 53.2% | 2.03 | $1.80 | 4.7% |
| Verizon Communications (NYSE:VZ) | $3.97 | 51.8% | 1.67 | $2.06 | 4.2% |
*2012 leverage ratio unadjusted.
What stands out is WIN and FTR are highly leveraged. Also WIN's payout ratio is high compared to others using 2012 or our 2013 estimate of 71% noted earlier. Both WIN and FTR have told investors their leverage goals are 3.3 and 2.5 respectively based on adjustments. FTR's payout ratio is more in line with others due to dividend reductions and will stay in this range for years, but they face another challenge; stabilizing revenue discussed here.
WIN's challenge is providing additional visibility on cash taxes after 2013, dilution and a time frame for deleveraging the balance sheet.
Insider Activity:
Insiders may sell stock for reasons having nothing to do with future results. For instance, insiders may sell their stocks in an attempt to better diversify their holdings and because of personal liquidity needs. Insider buying is much easier to understand. To quote Peter Lynch:
Insiders might sell their shares for any number of reasons, but they buy them for only one: they think the price will rise.
A single buy carries little meaning in this writer's opinion, but if insiders are trading as a group, it deserves a closer look. We define a group trade is several insiders trading over the same monthly time period. Looking at WIN's recent history reveal several group buys and no group sells: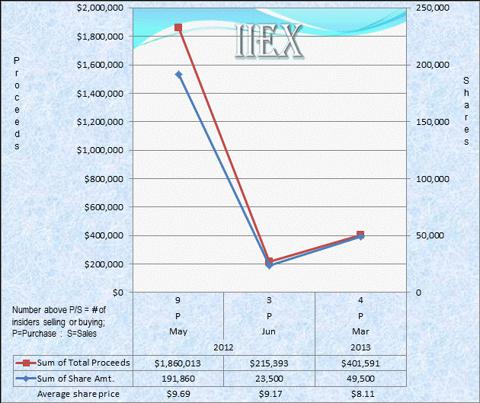 WIN's website lists 23 executives and board members and 9 have been buyers over the period shown including both the CEO and CFO.
Conclusion:
Below is a brief summary of the "Pros and Cons" followed by "What if".
Pros:
Stable revenue.
Group insider buying showing support for both dividend and price.
Lower FCF payout ratio in 2013.
Cons:
No visibility on cash taxes after 2013.
FCF payout ratio not in line with the debt load.
Expanding share count.
Highly leveraged balance sheet.
What if the dividend was reduced? Would the yield still be attractive or would the market punish the stock? We have two case studies we can apply to this hypothetical; FTR and CTL. FTR yields 9.7% but their revenue is not as stable as WIN. CTL yields 6% but their leverage ratio is stronger than WIN. It's not unreasonable to project WIN's yield would fall somewhere in this range:

So is it time to buy into the high yield? That would depend on each individual's financial situation and tolerance for risk. I've been tracking WIN since the last article but have not been a buyer as of yet although the risk reward is getting attractive as the stock moves lower. Those with a high risk tolerance may find it attractive at the recent price of $8.33. CTL, T and VZ may also be worth a look as alternative investments.
Disclosure: I am long FTR. I wrote this article myself, and it expresses my own opinions. I am not receiving compensation for it (other than from Seeking Alpha). I have no business relationship with any company whose stock is mentioned in this article.