The question every investor must ask himself every day is what to buy or sell in order to achieve maximum appreciation or yield looking forward. But since past performance is no guarantee of future returns, we cannot count on the past as a guide for the future.
Investors who have made good money in Apple over the past five years have done so out of pure luck. The random chain of events that might occur are just too unpredictable for our investment thesis to play out exactly as we hoped for over a five year time frame.
However, if we shorten our analysis time frame, then predicting the chain of events -- that might yield us better appreciation -- becomes a bit easier.
So these are my nine reason why I think BlackBerry (NASDAQ:BBRY) will outperform Apple (NASDAQ:AAPL) over the next twelve months.
Reason Νο. 1
BlackBerry is a turnaround situation play. This means that it is coming from very depressed levels. And if we assume BlackBerry has indeed turned around, then the profits to be had will be above average if the company makes it. Apple on the other hand is fully priced, although I will agree with most people it is trading at a discount.
Reason Νo. 2
The average mean target price for Apple according to analysts on Yahoo is $614. That means that if you buy Apple at current levels, and analysts have it right, you will probably end up making 45% over the next twelve month period. That's not bad.
Currently many analysts have a price target for BlackBerry's stock that is at par with Apple's potential return. Morgan Stanley for example has a target of $22 per share. That is a 50% return from today's levels. However please remember my article back in January - please consider:Research In Motion - Possible $56 Stock Price In 12 Months?
In that article I mentioned that Jefferies & Co.'s Peter Misek thinks there is a 30% chance that BlackBerry might be worth $56 a share in 12 months. Granted this is a best case scenario, but given that the latest quarterly numbers for BlackBerry were better than expected, I imagine the possibilities for such an outcome are probably a little better today.
As proof that BlackBerry's chances are getting better, the company's latest quarterly report shows gross margins of 40%. I imagine those margins might go up and reach Apple like levels, when the transition to BB10 is fully completed.
Reason Νo. 3
BlackBerry has a very long pipeline of products coming out over the next several months, that will not only add to sales, but will also solidify BlackBerry in the smartphone space once again. Among others is the long awaited Q10 and four lower priced models, specifically targeted for emerging markets. In addition there is also a new BB10 Playbook in the works.
Apple on the other hand does not have much going on. An update to the iPhone 5 (probably iPhone 6) is anticipated to be welcomed with a yawn. There are not many anticipated surprises over the next period to be expected by Apple.
Reason Νo4
BlackBerry has received a host of upgrades over the past several months with analysts raising the price target for BlackBerry's stock. Apple on the other hand has received only downgrades and analysts have been lowering the price target for Apple's stock. This signifies a trend.
Reason Νo. 5
Apple currently has a market cap of about $400 billion while BlackBerry has a market cap of about $7.5 billion. It's a lot easier for BlackBerry to reach a market cap of $22 billion -- a 200% return from current prices -- than for Apple to reach a market cap of $1.3 trillion.
Reason Νo. 6
When you have nothing -- AKA a very low market share, as is the current case for BlackBerry -- then you have nothing to lose. When you are on top of the world, as Apple is, then you have everything to lose. The chances of Apple yielding market share to BlackBerry are much higher that that of BlackBerry yielding market share to Apple.
Reason Νo. 7
Apple is a cheap stock (I think). It is very hard to find many high quality stocks that trade at Apple's multiples. BlackBerry on the other hand does not look so cheap. But that's only because it's a turnaround situation play, and by definition, such stocks do not have much earnings. We can not currently value BlackBerry on an earnings multiple like Apple, we have to use other metrics.
In BlackBerry's current situation I prefer to use price/sales as a guide. Even though this metric does not tell us anything about BlackBerry's profitability, it does give us some sense of where BlackBerry's stock might go, assuming profits increase when the transition to BB10 is competed. As such, Apple's current price/sales ratio is 2.44, while BlackBerry's price/sales ratio is 0,70. Assuming BlackBerry in the future trades at the same multiple, that's a full 200% possible gain from today's prices.
Reason Νo. 8
Finally, the oldest rule on Wall Street says let your profits ride, but cut your losses short. While there is no guarantee that BlackBerry will continue to outperform Apple, the rule also says stay put until you get evidence to the contrary.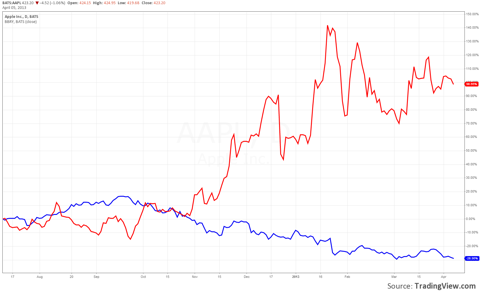 Disclosure: I have no positions in any stocks mentioned, and no plans to initiate any positions within the next 72 hours. I wrote this article myself, and it expresses my own opinions. I am not receiving compensation for it (other than from Seeking Alpha). I have no business relationship with any company whose stock is mentioned in this article.