The largest strike in the fast food restaurant history has been organized by its workers including McDonald's (NYSE:MCD), KFC and Burger King Worldwide (BKW). Workers are paid between $10,000 and $18,000 per year, which is below the poverty line for a family of 4. There has been much political debate recently among Congress regarding the minimum wage standards. President Obama has passionately discussed raising the minimum wage to a "living wage" in his state of the union address. The poverty line is currently $23,000 for a family of 4. New York has just passed a budget that will ensure the minimum wage increases to $9 per hour by the end of 2015. This is all thanks to an additional $45 million annual tax increase of course.
Although the workers efforts are unlikely to prevail in raising their pay to $15 an hour (double the minimum wage), bad publicity can cause uncertainty among the investing community. Some experts believe that raising wages would be a burden for the franchisees, many of which are run by small business owners. With an economy that has been plagued with high unemployment rates, the demand for mostly any job is extremely high. If these workers walk away from their jobs, they will likely be replaced easily with the large applicant pool of potential employees."Any additional labor cost can negatively impact a restaurant's ability to hire or maintain jobs," said Scott DeFife, executive vice president of policy and government affairs at the National Restaurant Association. McDonald's has been known to hire teenagers, as their bills remain much lower than adults.
Conflicts among workers and their employees are never beneficial for companies and cause fear in the eyes of investors. As witnessed in recent and current economic times, fears of uncertainty in Europe and unknown bailouts have caused the markets to lose tremendous value in the short term, only to gain it back and then some. Investors may view this as an uncertain event that could potentially wreak havoc as protests nationwide could spread further.
Which stock should an investor consider buying given the macro events? Let us further analyze which dominant fast food restaurant stock is more attractive in terms of valuation. With a potential pull back, it is important to allocate funds as efficiently as possible.
As illustrated in the table below MCD has the lowest P/E ratio among its peers and Burger King has the highest. Although the share price of Burger King is lower, its stock is relatively 3 times more expensive in terms of valuation than McDonald's. Starbucks (NASDAQ:SBUX) has a P/E ratio of over 30, while Chipotle Mexican Grill (NYSE:CMP) has a P/E ratio of over 35. When comparing P/E ratios, it is important to analyze the industry average P/E ratio along with the valuation of its of major competitors.
| | | |
| --- | --- | --- |
| Company | Price | P/E Ratio |
| McDonald's | $100.63 | 18.77 |
| Starbucks | $58.11 | 31.26 |
| Burger King | $18.78 | 56.9 |
| Chipotle Mexican Grill | $323.16 | 36.93 |
Burger King is traded at a higher multiple, and thus is expected by investors to expand and grow at a faster rate. There are over 33,000 McDonald's worldwide spread out over 118 countries. In contrast, Burger King has 12,200 stores located in 76 countries. Growth forecasts for McDonald's is estimated to be almost 8% in 2013 and nearly 10% in 2014 as indicated in the chart below.
Forecast P/E Growth Rates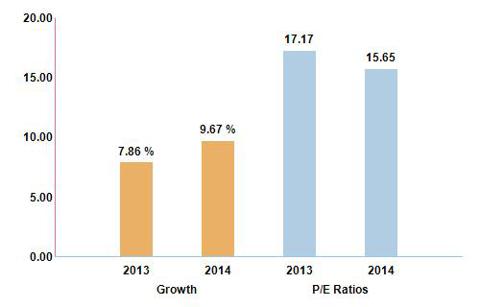 Burger King is expected to have growth of nearly double that of McDonald's, which is reasonable since expansion usually occurs at much higher rates in the beginning and then begins to level off. Theoretically, if McDonald's were to take over the entire world, the growth rate would fall to GDP growth rates which average under 5 percent.
Forecast Earnings Growth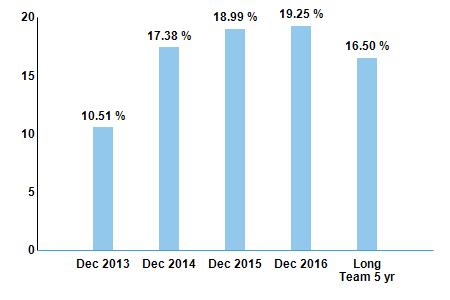 MCD is currently the cheaper stock in terms of valuation measures with its P/E ratio combined with its estimated growth rates. MCD currently has a 3 percent dividend and provides more of a safety net than BKW's dividend yield of 1 percent.
I suggest closely monitoring the news and stock prices of these two major fast food giants. A few percent decline in MCD could present a good entry point for a value investor. Expect a drop in Mcdonald's and Burger King as tension among these fast food kings and their employees brew. A buying opportunity will most likely present itself in the weeks to come, and the drop will ultimately depend on the degree of negative publicity.
Disclosure: I am long MCD. I wrote this article myself, and it expresses my own opinions. I am not receiving compensation for it (other than from Seeking Alpha). I have no business relationship with any company whose stock is mentioned in this article.