Zynga's (NASDAQ:ZNGA) shares got a shot of adrenaline on 3rd April, with its shares increasing 12% to $3.45 as it debuted its first real-money gambling website in the UK. This 12% increase seems like a lot of relief when compared to its 70% decline from its IPO price of $10. Its share price has been on a roller coaster ride with the company failing to maintain its momentum in its operational performance. Poor operational performance is generally blamed on everyone's favorite - general economic environment - but not in this case. In my opinion, Zynga faces a basic problem - lack of a competitive advantage or lack of economic moat, as Warren Buffett would have said.
Everyone knows that Zynga grew to prominence as the major online gaming company on the Facebook (NASDAQ:FB) platform. However, in December 2012, the companies announced changes in their arrangement and as of 31st March 2013, Zynga will not be required to display Facebook ads or use Facebook credits on Zynga.com games, as it used to. Although shares slipped downwards after this news, some considered it as an opportunity for Zynga as it would have lesser dependence on Facebook. The agreement seemed like a post-nup, wherein they were changing their terms but not ending the relationship. It's important to note that Zynga earned 90% of its revenue from Facebook.
Downfall
The first hit to Zynga was its $183 million purchase of OMGPOP, the maker of the hit game Draw Something. The game, similar to Pictionary, went viral and sold over $250,000 per day. However, almost immediately after the purchase, the popularity stopped growing and eventually fell off.
Further, the company had to face a strong blow when users began abandoning its red-hot games like CityVille and moved towards spending more time on their mobile phones instead of desktop computers, which was its most lucrative platform.
Zynga has been facing criticism with respect to plagiarism. Its own Vice President of general management and former Chief Executive of OMGPOP Dan Porter stated publicly that Zynga copied games from other developers. Later Dan Porter had to apologize on the official blog of Zynga, but he has been bumped off the company as he resigned yesterday. Some of the clear rip-offs include Electronic Arts' Sim Social, which became The Ville and David Maestri's Mob Wars, which became Mafia Wars. Further, Zynga continues to face challenges as its Chief Game Designer Brian Reynolds, who led the development of titles including CityVille 2, resigned in January 2013 and gave no public explanation.
Future
The company has been continuously developing new games and recently launched its online money game.
My current favorite and its latest arrival is What's the Phrase, similar to the Wheel of Fortune and is the eighth most popular free app on iOS devices. However, unlike its previous games it has not been able to top the charts, but then it has been only a month since it launched the game.
Yesterday, in partnership with bwin.party, it launched its long awaited real-money online gambling business in the UK. Investors are hoping that Zynga can use its 300 million strong gamer base to take advantage of the vast lucrative global online gambling market that, according to H2 Gambling Capital, could be worth over $40 billion by 2015. Although real-money online gaming is illegal in most states in the US, Zynga has mentioned that it plans to launch games in smaller, regulated markets e.g. it has filed the necessary paperwork required before filing for a gaming license with the Nevada Gaming Control Board.
Operational performance
Although the company's revenue has increased ten times since 2009, it has flattened out in the recent years. In 4Q12, it reported an EPS of $0.01 and flat revenues of $311.2 million. However, this was better than analyst expectations of a loss of $0.03 a share and revenue decline of 2%. Further, its bookings, which is an important metric denoting the sales of virtual goods sold, declined 15% versus 4Q11 but increased 2% versus 3Q12. In an attempt to reduce costs, it has reduced headcount, closed stores and retired almost 13 underperforming titles.
Competition
Zynga's key competitors are Activision Blizzard (NASDAQ:ATVI) and Electronic Arts (NASDAQ:EA).
Video game publisher Activision Blizzard posted better than expected 4Q12 results. It posted revenue of $2.6 billion and EPS of $0.78, above its guidance of $2.4 billion and EPS of $0.70, respectively, and analyst expectations of $2.44 billion and $0.72, respectively. Its sales were driven by Call of Duty and Skylanders franchises, which were the number 1 and number 3 best-selling franchises in 2012. It also expects a strong FY13, with revenue of $4.2 billion and EPS of $0.80.
On the other hand, Electronic Arts, the second largest US maker of video games announced that its CEO John Riccitiello would be stepping down as it expects its fourth quarter results to fall short of analyst expectations. This is mainly due to lower response to its new games. The company's several new titles like Medal of Honor and Stars Wars have failed to meet expectations. Furthermore, many users could not play its latest version of the popular SimCity, because its computers were overwhelmed. The company continues to be weighed down by its older and existing consoles, which continue to be a drag on its bottom line.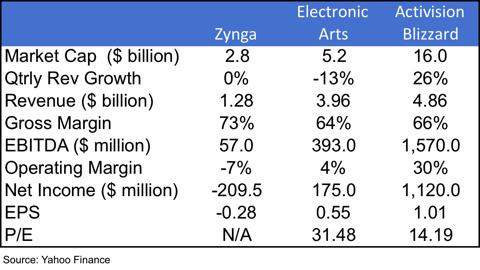 Conclusion
As mentioned at the beginning of my article, Zynga lacks any economic moat and there are much better and larger companies with a better performance, as seen above. Zynga has a strong balance sheet with $1 billion in cash, but at the same time it needs to bring that zing to its income statement in order keep its balance sheet intact.
Disclosure: I have no positions in any stocks mentioned, and no plans to initiate any positions within the next 72 hours. I wrote this article myself, and it expresses my own opinions. I am not receiving compensation for it (other than from Seeking Alpha). I have no business relationship with any company whose stock is mentioned in this article.