Cisco Systems, Inc. (NASDAQ:CSCO) shares have been in an uptrend for the past few months, but with multiple signs indicating that this stock could be ripe for a pullback, it is time for investors to consider taking profits. In mid-2012, Cisco shares were just around $15 and it now trades near $22. That's a gain of nearly 50%, in less than a year and this is a very significant move for a large cap stock like Cisco. Here are a few recent issues to consider that could be signaling a drop for Cisco shares when earnings are released:
1) A couple of bellwether companies in the tech sector recently reported financial results that were disappointing, and those stocks fell sharply. For example, Oracle (NASDAQ:ORCL) recently missed analyst expectations and that took the stock down from about $36, to just around $31. That is a drop of roughly 20%, and if Cisco dropped by a similar amount, it would be trading for about $18.
F5 Networks (NASDAQ:FFIV) recently warned that it was seeing a slowdown in North America and other regions that caused it to cut its forecast for the quarter to $350.2 million in revenue and $1.06 to $1.07 per share in net profit. This is down significantly from a previous forecast of $370 million to $380 million, and a net profit of $1.21 to $1.24. This news caused F5 shares to decline by about 20%. In the warning, F5 said that orders from telecom companies and from government agencies were slowing. That's a real concern for Cisco since F5 is in the networking business. With the March budget sequester causing Federal agencies to cut spending, it will not be surprising for companies to issue weak guidance for the coming quarters. Government spending is key for many tech companies including Cisco, so it is possible it will also be impacted.
2) The chart below shows the uptrend that Cisco has enjoyed over the past several months. However, it also shows that the uptrend appears broken now. The blue line shows the bottom range for the recent uptrend and the stock has recently broken below that level. The light brown line shows the 200-day moving average which is $18.78 per share and that is where this stock could be heading next. In a market or company-specific pullback, it would not be surprising for Cisco to find support at this level.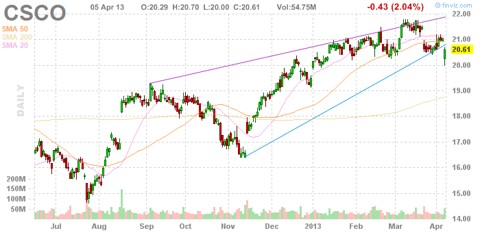 3. Analysts are turning bearish and one recent downgrade of Cisco shares now seems vindicated by the warning from F5 Networks. On March 21, analysts at FBR Capital downgraded Cisco shares from market perform to underperform. The price target was lowered from $22 to $17 per share, due to concerns that routers and switchers were seeing reduced demand.
Let's face it, both the stock market and Cisco have had a strong run. Both could be due for a correction. With signs of IT spending weakness from tech companies like Oracle, and F5 Networks, it might be safe to assume that Cisco will also report disappointing earnings or weak guidance. That could take the shares back to the next support level at just below $19, or perhaps even to the $17 level suggested by the analysts at FBR Capital.
Here are some key points for CSCO:
Current share price: $20.59
The 52 week range is $14.96 to $21.98
Earnings estimates for 2013: $1.99 per share
Earnings estimates for 2014: $2.11 per share
Annual dividend: 56 cents per share which yields 2.7%
Data is sourced from Yahoo Finance. No guarantees or representations are made. Hawkinvest is not a registered investment advisor and does not provide specific investment advice. The information is for informational purposes only. You should always consult a financial
advisor.
Disclosure: I have no positions in any stocks mentioned, and no plans to initiate any positions within the next 72 hours. I wrote this article myself, and it expresses my own opinions. I am not receiving compensation for it (other than from Seeking Alpha). I have no business relationship with any company whose stock is mentioned in this article.