With the looming budget cuts in Washington, you may think that everyone has turned bearish on the aerospace and defense industries. But it appears that traders on Twitter think the pessimism is unwarranted, and that the sector may have some more upside.
Data Mining Tweets for Trading Ideas
Much has been written about the predictive potential of using Twitter feeds for trading ideas. Some have even gone as far as to suggest that real-time tweets could eventually replace traditional sell-side research. But the sad reality is that there is a lot of noise on Twitter, especially from financial media outlets that cram several tickers into a single tweet, in the hopes of driving traffic back to their sites.
To combat these noisy signals, we've built a system that ignores tweets with more than 5 "$" tags in them. (FYI: This is the tagging convention used on Twitter to categorize tweets about specific companies)
In addition, we've also identified a list of Twitter spammers--automated bots that send out pre-scheduled messages--and discarded their tweets from our analysis. After filtering out the noisy tweets from the real ones, we then grouped tweets by company tag, analyzed the sentiment for each tweet with a proprietary algorithm, and then grouped company sentiments by industry.
Visualizing Sentiment Trends by Industry
After analyzing thousands of tweets since the start of April, we visualized the most recent data with a 2-D chart. Positive sentiment is plotted on the vertical axis, and negative sentiment plotted on the horizontal axis. In other words, industries with overwhelmingly positive sentiment would be clustered on the top left of the chart, while industries with overwhelmingly negative sentiment would be clustered towards the bottom right.
After starting with 100+ industries, we screened for those that have seen rising levels of optimism over the last couple of days. The results can be found here. (Note: The charting tool won't work with Internet Explorer. Please use Chrome / FireFox / Safari instead) To our surprise, Aerospace and Defense industries turned out to have some of the most optimistic tweets.
Aerospace Industry: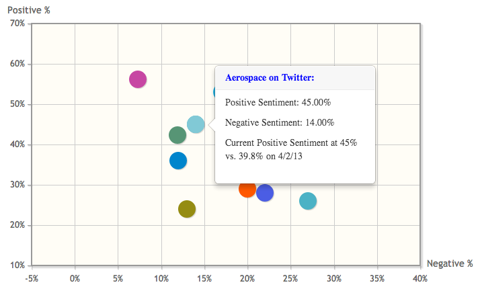 Defense Industry: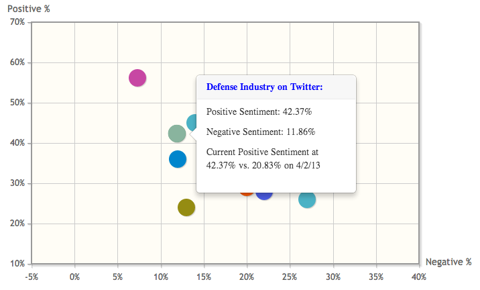 Supplementing Twitter Sentiment With Financial Media Sentiment
Of course, using Twitter sentiment in isolation doesn't provide a complete picture of an industry's outlook. The sample size of tweets is too small, and the time horizon of our study is limited. So, to supplement our analysis, we also used the same sentiment algorithms on about 500K recent news headlines from traditional financial media outlets like Reuters, Bloomberg, CNBC, Marketwatch etc. These headlines were collected since the start of 2013, providing us with a much bigger sample size of sentiment. It turns out that financial media has also turned relatively optimistic on the outlook of the industry.
The top 10 aerospace and defense stocks, in terms of positive sentiment in financial media:
Conclusion:
There may be near-term risks for the industry, but it doesn't look like investors are too concerned about the downside of budget cuts. Matthew Crews of Smith Patrick Financial Advisors, in a SeekingAlpha post published in the middle of March, wrote:
If the global economic growth engine can accelerate out of the bottom set last summer - one should expect continued outperformance in the mid-cycle industries such as industrials.

Valuations indicate that there could be upside if outlooks improve although the only groups showing attractive valuations are defense-related names such as Lockheed Martin.
Even defense industry insiders are snapping up shares of their own companies. Just look at Northrop Grumman director Thomas Schoewe, who bought almost $100K worth of stock towards the end of 2012, and has already profited nicely from the stock's recent rally. All in all, attractive valuations, combined with solid dividends, appear to be fueling optimism for the industry.
But what are your thoughts? Is this extreme optimism a contrarian signal? Let us know in the comment section below.
Disclosure: I have no positions in any stocks mentioned, and no plans to initiate any positions within the next 72 hours. I wrote this article myself, and it expresses my own opinions. I am not receiving compensation for it (other than from Seeking Alpha). I have no business relationship with any company whose stock is mentioned in this article.