Alcatel-Lucent (ALU) is one of the leading global telecommunication equipment firms in the world. Headquartered in Paris, France, Alcatel Lucent formed as a result of the merger between Alcatel and Lucent Technologies, which took place in 2006.
Alcatel, itself, has undergone several transformations. The merger of Alcatel and Lucent which was completed in November 30th 2006, was a critical decision for both companies. Before the merger, both companies were facing serious competition from their competitors. The merger was aimed at creating synergies and reducing overhead costs. However, due to the intense competition in the market, Alcatel-Lucent could not deliver promising reports. As a result of investor's loss of confidence, the stock has lost almost 90% of its market cap in the last 5 years. Alcatel Lucent is still going through the reorganization process, but the time is running out. The management needs to move fast as the company keeps burning cash.
About Company
Alcatel Lucent is currently under the stewardship of Chief Executive Officer Michel Combes and the Chairman Phillipe Camus. The company is known as a technological conglomerate. It provides telecommunication solutions that enable customers to deliver voice, data and video services. It also offers networks segment design services. As a high tech company, Alcatel also produces and sells microwave wireless transmission and optical networking equipment.
Past Moves
The company has pursued growth in the market place in several ways. However, it used to grow aggressively through mergers and acquisitions in the last decade.
In 2006, Alcatel Lucent invested in Nortel's UMTS radio access business
In 2007, Alcatel Lucent made several purchases in Canada. It acquired Metro WDM, an enterprise networking services provider, Tamblin, an IPTV software company, and Thompson Advisory Group.
In 2008, Alcatel Lucent purchased Motive, a management software service provider for broadband and mobile data services.
In 2009, Alcatel Lucent acquired Velocix, a leading firm in content delivery network business.
In 2010, Alcatel Lucent invested in web 2.0 API repository programmable web and openPlug firm which offers cross platform mobile software development systems.
Financial Performance
The financial performance of Alcatel Lucent is not promising. The company has a market cap of about $3.2 billion. At the time of the merger between Alcatel and Lucent, the combined entity had a market cap of more than $30 billion. The stock has lost almost 90% of its market value in the last 5 years. Enterprise value is even less than the market capitalization. Once we adjust the current market cap for net debt, minority interest, and preferred shares we are left with an enterprise value of less than $3 billion.
The total revenue of Alcatel Lucent has been on a decline path. In 2010, the gross revenue was $21 billion, which reduced to $19.897 billion in 2011; a reduction of 5.27%. It experienced a further decline to $18 billion in the last year. This is partially due to the effect of Euro-wide recessions between 2010 and 2011. According to Alcatel Lucent's CEO, Ben Verwaayen, the uncertain and challenging environment explains the decline in revenue of 2011. He also noted that a savings of additional 200 Million Euros in fixed cost and also 300 Million in variable costs. While the CEO claims that the company will continue with strengthening its portfolio, I think Alcatel Lucent should dispose of unprofitable segments as soon as possible.
Figure: Income Statement 2010-12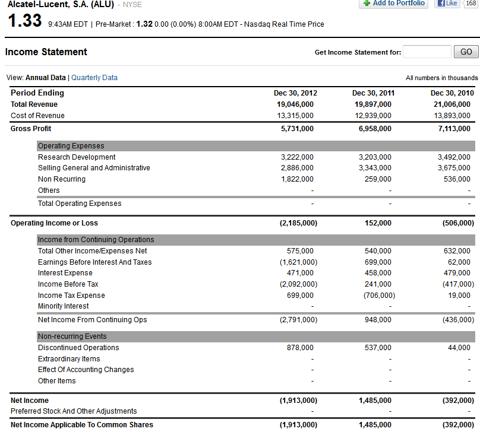 Similar to the income statement, the balance sheet below paints a gloomy picture. Alcatel Lucent's asset base is depleting. The company's short term liabilities are covered by short-term assets. But the reduction in liquid assets is alarming. Its cash and cash equivalents were slashed by more than $2 billion in the last 3 years. Also, the company has more than $12 billion in long-term liabilities, which are not backed up by any tangible assets at the moment. Surely, its intangible assets might be worth billions of dollars, but they may not be enough to be able to pay the gigantic debt load.
Figure : Balance Sheets 2010-12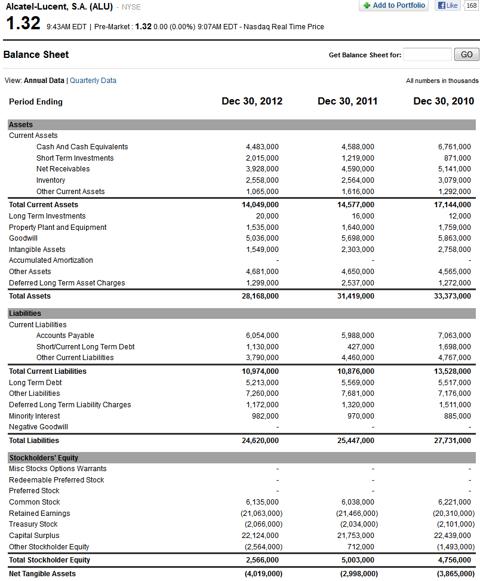 The cash flow below suggests a relatively better picture than the income statement or the balance sheet. While Alcatel Lucent reported negative cash flow in the last year, this amount is substantially lower than the 2011 cash flow of -$1.9 billion. Given its debt load, it might approach to equity issuance in future to provide itself with better liquidity.
Figure : Cash Flow Statement 2010-12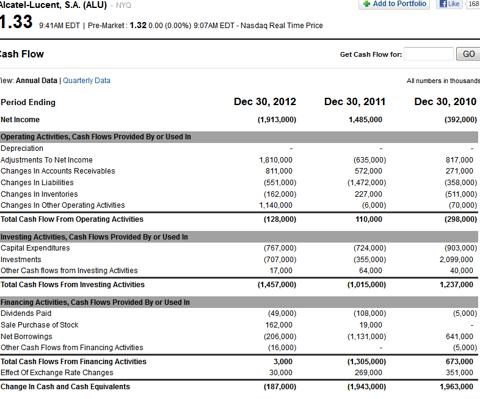 The Future of Alcatel Lucent
Alcatel's future plans are in line with the services and products it offers. The market for networking and communication technologies for governments, service providers and enterprises is what Alcatel Lucent interests are.
In order to compete better in the future, Alcatel Lucent declared that it will eliminate 5000 tasks or nearly 6.6% of its global work force to reduce the costs and strengthen its profits. According to the CEO, Mr. Verwaayen, this is because the demand for network equipment' is weakening and the competition is going up, especially due to low cost providers. According to an analyst at Handelsbanken in Stockholm, Alcatel Lucent's market in North America is declining, because of the weak demand in the U.S. Alcatel Lucent's CEO also conceded that because of the weak performance in North America, the company will reconsider its commitment to such markets and where necessary dispose its presence. Going forward, Alcatel Lucent will create a new business line to manage over 44,000 telecommunication patents with the view to innovate ways of bringing in more business. Apparently the company is approaching its patent portfolio to generate some extra cash using non-traditional methods.
Market observers say that the problem of Alcatel Lucent is a three pillars issue; high cost, old technology of CDMA and over reliance on North American market which is not sustainable. Michael Noll suggests that in order to survive in the market place, the company needs to adopt two strategies: It can either innovate new technologies or transform itself into to a low cost provider. The fear is that many low cost providers are coming up, and this may dampen the business of Alcatel Lucent in the future. The company can also try to lead in innovation and also turn to low cost services to recover the lost ground. Another remote suggestion for the future is for Alcatel to divorce its American Lucent partner. Instead of sinking together, separate paths might lead to different successes for the partners.
Disclosure: I have no positions in any stocks mentioned, and no plans to initiate any positions within the next 72 hours.
Business relationship disclosure: Efsinvestment is a team of analysts. This article was written by one of our equity analysts. We did not receive compensation for this article (other than from Seeking Alpha), and we have no business relationship with any company whose stock is mentioned in this article.