Whether you are new to dividend investing or you are a seasoned pro, it's likely that your main goal is to build a long-term portfolio that generates consistent income over time with as little volatility as possible. That said, over the next few weeks we will continue publishing our 10-part series which should help you build your own 6% DIY Dividend Portfolio for 2013.
In part 1, we highlighted the investment plan and strategy for the portfolio and parts 2-10 will highlight each sector in the S&P 500, including high-rated stocks within each sector that you should consider for your portfolio. Below is a schedule of the entire series. Please make sure to "follow" us so that you will be notified when each new article is published.
As we highlighted in Part 1, just because a stock has a high Parsimony composite rating, it doesn't necessarily mean that you should run out and purchase it that day. We believe that patiently waiting for a low-risk entry point for a given stock will drastically improve your long-term investment results. We call these entry points our "Buy Zones" and they are points at which long-term dividend investors should feel comfortable starting to build a position in the respective stocks. We focus on four key levels of support when determining a "Buy Zone":
Technical - Support from short and long-term trend lines (i.e, 10-week and 40-week moving average).
Volatility - Target correction levels based on historical volatility and maximum draw down.
Valuation - Support levels based on historical valuation multiple.
Yield - Support levels based on forward dividend yield.
We then average the low end and the high end of these key support levels to determine our target "Buy Zone."
It should be noted that this is how we determine our "Buy Zones," but there are no right or wrong answers here. We encourage investors to think hard about the key levels of support for their own stocks. What is the valuation level that you would feel comfortable buying a certain stock? What yield level makes sense for you? Also, you may want to add different parameters that fit your investment style better. The key takeaway here is that you establish a consistent process for determining a "Buy Zone."
Sample "Buy Zones"
As highlighted in Part 9a of the series, stocks in the Materials sector do not currently rate very well in our system. There are 57 Materials stocks in our universe and only one has a Parsimony rating over 90 and only five have a rating over 80. In fact, the top 5 holdings in the Materials Select Sector SPDR (NYSEARCA:XLB) all have a Parsimony rating under 70 (three of which have ratings under 50!): Monsanto (NYSE:MON) (61); E. I. du Pont de Nemours (NYSE:DD) (36); Dow Chemical (NYSE:DOW) (6); Freeport-McMoRan (NYSE:FCX) (6); and Praxair Inc. (NYSE:PX) (58).
That said, the table below highlights the top-rated stocks in the sector (with dividend yields over 2.0%).

As a follow up to Part 9a, below are our target "Buy Zones" for each of these top-rated Materials stocks.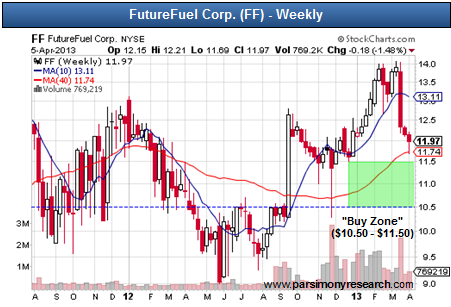 FutureFuel (NYSE:FF) manufactures diversified chemicals, biofuels, and biobased specialty chemicals in the U.S. The stock actually has a very low beta (0.59) for a Materials stock. The company had a weak 4th quarter as mandated biodiesel usage requirements for 2012 were largely met early in the quarter. In addition, there is ongoing concern over the stability of the $1.00 federal blenders tax credit. The stock has sold off accordingly in the past few weeks and its 3.7% dividend yield is starting to look attractive.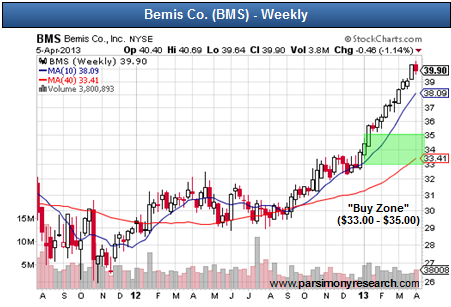 Bemis (NYSE:BMS) is one of the few Dividend Aristocrats in the Materials sector and dividend investors have certainly pushed the stock higher in 2013. That said, we would definitely wait for a pullback before pulling the trigger on this one. We are targeting at least a 15% correction from current levels, which would push the company's dividend yield back above the 3.0% threshold.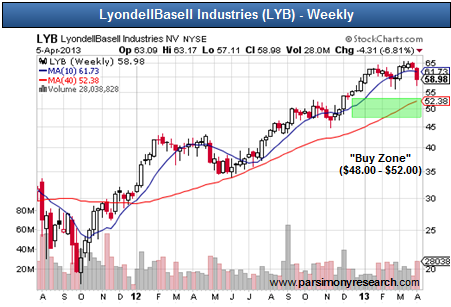 LyondellBasell (NYSE:LYB) is up over 200% since its October 2011 low and the stock is in a strong uptrend. That said, the stock has a very high beta (2.22) and we would like to see the stock pull back a bit before starting a position. We would also like to see at least a 3.0% dividend yield for LYB. It's definitely a stock that we'll keep on our watch list.
Summary
Building a DIY Dividend Portfolio is a marathon, not a sprint. Don't put pressure on yourself to have a fully diversified portfolio overnight. The various sectors will offer good buying opportunities at different times - you just need to recognize them when they are there.
Disclosure: I have no positions in any stocks mentioned, and no plans to initiate any positions within the next 72 hours. I wrote this article myself, and it expresses my own opinions. I am not receiving compensation for it (other than from Seeking Alpha). I have no business relationship with any company whose stock is mentioned in this article.