For the past year or so there has been a new fad among Wall Street analysts. I am talking about the new slogan every analyst uses when talking about Intel (NASDAQ:INTC) or Microsoft (NASDAQ:MSFT): "The PC is dead."
With this slogan analysts essentially say that the global decline in PC and laptop sales is a secular change, the end of an era and the start of something new. Unfortunately for them and their clients they only got a part of this right.
Yes the PC as we've known it in the '90s and the '00s will cease to exist. But it's not dying - it is evolving through the widespread use of touchscreens and the fundamental shift to more intuitive and user friendly designs across programs and devices.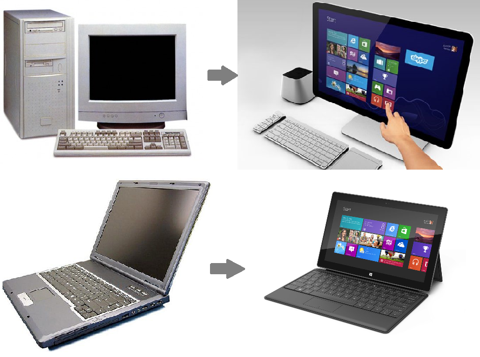 There are some things though that haven't and won't change any time soon. New programs and applications will keep requiring more processing power than their predecessors, albeit at a battery-efficient way. People all over the world will use portable computers like laptops and tablets more and more as their main computers and as a result they will need their PCs to handle a wide variety of tasks.
Moreover, there's a billion people who still don't use a PC, laptop or tablet but are going to within a few years. This is apparent from the low internet penetration rates across India and China and the commitment of their governments to increase internet use up to 90% of their population.
Contrary to what many investors and analysts believe, these two powerful trends that are sweeping the PC world are a great boon to its two leading companies, Intel and Microsoft.
Microsoft, with the release of its Windows 8 operating system, has brought the functionality of a desktop PC to tablets. This new across-the-board (desktops, laptops, tablets, phones) platform is exactly what people in poorer countries and people with tight budgets in richer ones need. The majority of consumers across the globe are more likely to prefer the more economic solution of using one computer for everything than buying multiple devices for different uses. And the only company that has the ability and the technology to power up these computers is Intel.
Intel is the world's best and biggest chip-maker. It has managed over the years to create two massive durable competitive advantages against its peers. The first one is the fact that it is the low-cost producer in its industry mainly because of massive economies of scale. The second one is that it has found a way (the tic-toc process) to create a sustainable technological lead.
The only problem Intel faced so far was the fact that it didn't have a battery-friendly product suitable for tablet PCs. However, this changed as of this month when Intel began shipping its "Haswell" chips that are targeted specifically to ultrabooks and hybrid laptops that need tablet-like battery performance. Haswell marks the beginning of a new line of chips from Intel that will be powerful and battery efficient as well.
Fortunately for investors both these companies are currently mispriced by the market. With both companies trading around 10 times their estimated 2013 earnings the market is essentially pricing them for zero future growth.
This is a great gift to long-term investors who want to buy high-quality, dividend-paying (MSFT's yield is 3% and INTC's 4%) companies and they want to benefit from their future growth for free.
Disclosure: I am long INTC, MSFT. I wrote this article myself, and it expresses my own opinions. I am not receiving compensation for it (other than from Seeking Alpha). I have no business relationship with any company whose stock is mentioned in this article.