Regular readers will be familiar with the chart below, showing the historical relationship between China's manufacturing Purchasing Managers' Index (PMI) and real GDP growth. (The Hong Kong PMI is used as a proxy for the Chinese PMI prior to 2004.)
I have just updated the chart for the PMI that rebounded to 52.4% in March 2009 (up from 49.0% the previous month) and the decline in annual GDP growth to 6.1% in the first quarter, down from 6.8% in the fourth quarter of 2008.
Although the GDP data release was disappointing, China's improving PMI seems to indicate that the country might have seen the worst of the growth statistics.
Click to enlarge: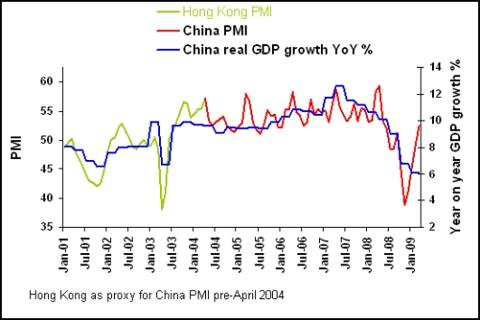 Source: Plexus Asset Management (based on data from I-Net Bridge)
My take on the outlook for the Chinese economy is shared by a report just received from BCA Research, stating that a broad range of macro indicators suggest that the economy may have begun to rebound.
"The export sector remains the weakest link in the economy but the government-sponsored infrastructure construction boom has been quickly gaining momentum, partially offsetting collapsing external demand. Credit expansion, fiscal expenditure and capital spending have all accelerated strongly, and industrial production has also stabilized. Importantly, consumer spending has remained reasonably buoyant, rising at a more than 15% annual rate in real terms during the past quarter," said the report.
BCA's model estimate (see graph below) points in the same direction as the PMI, leading them to conclude that "although there is still no 'all-clear' sign, the Chinese economy may have reached an important bottom and should gradually recover throughout the remainder of this year."