Goldman Sachs (NYSE:GS) has filed a preliminary registration statement to list shares in Liberty Harbor Capital, a small business development company (BDC) that lends to middle-market companies without the increasing constraints of commercial banks. On April 1, 2013, it converted to a Delaware corporation named Goldman Sachs BDC, Inc.
BDCs lend to small and mid-sized businesses, with limited financial leverage and required to distribute 90% of their profits to shareholders while paying little to no corporate tax. They operate in a market that is underserved by banks and their non-bank structure gives them flexibility to invest in multiple levels of a company's capital structure. Despite all the focus on investor yields BDCs seem to go unnoticed, in part due to the relatively small industry market cap of around $25 billion, but currently providing dividend yields averaging 9% or more.
Goldman will compete with other BDCs such as Prospect Capital (NASDAQ:PSEC), American Capital (NASDAQ:ACAS), Apollo Investment (NASDAQ:AINV), Ares Capital (NASDAQ:ARCC), Fifth Street Finance (NYSE:FSC), BlackRock Kelso Capital (NASDAQ:BKCC), and Solar Capital (NASDAQ:SLRC), all of which are over $1 billion in market cap with the exception of BKCC. My latest article -- "Prospect Capital: Is It Better Than American Capital?" -- includes a chart ranking 25 of the top BDCs.
Liberty Harbor commenced operations on November 15, 2012, using seed capital contributions from Goldman Sachs Group. As of Feb. 28, 2013, it had invested approximately $73 million in eight companies with 91% in secured debt (31% in first lien debt and 60% in second lien debt) and 9% in unsecured debt. The chart below shows the current industry breakdown with average diversification.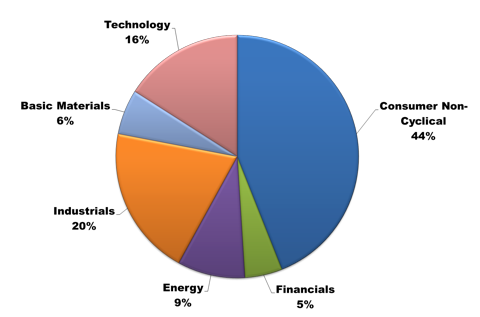 There are multiple benefits to becoming a BDC including the ability to tap public markets for equity capital as well as issue debt for a lower cost of capital. However, as a BDC its use of leverage is limited to a debt to equity of 1.0. Goldman said it will also apply to the Small Business Administration to form an SBIC and borrow from the federal government at lower rates.
So far Goldman has not specified an amount for the initial offering, with many competitors actively raising capital of approximately $4 billion total in 2012, including PSEC, ARCC and SLRC. For more information about BDCs, how I evaluate them, and my BDC investment philosophy, please see this article.
Disclosure: I have no positions in any stocks mentioned, and no plans to initiate any positions within the next 72 hours. I wrote this article myself, and it expresses my own opinions. I am not receiving compensation for it (other than from Seeking Alpha). I have no business relationship with any company whose stock is mentioned in this article.