Real Estate Investment Trusts, REITs, typically invest in tangible assets such as property and buildings, and they have records of growth. The biggest and best known REITs own apartments, malls and business properties.
The Dow Jones Equity REIT Index increased more than popular stock averages until the start of 2007. Then the index nosedived from a high above 360 to a low of 85 in early 2009. The recession was tough on REITs even though they had been preparing, and many had to cut dividends. Since then the index rebounded during the stock market recovery, rising back to 292 (a high since late 2007).
However REITs are primarily thought of as yield securities. Attractive yields, above 5%, are still available from REITs that are less well-known and specialize in niche markets. In addition, a portion of their dividends are not taxed as ordinary income. Yearly tax status statements of prior year dividends are published every January.
Below are 4 examples of REITs offering high yields: EPR Properties (NYSE:EPR), Senior Housing Properties Trust (NYSE:SNH), Omega Healthcare (NYSE:OHI) and Sunshine Communities (NYSE:SUI):
| | | | |
| --- | --- | --- | --- |
| | Price | Dividend | Yield |
| EPR | $52.50 | $3.16 | 6.0% |
| Senior Housing | $27.21 | $1.56 | 5.7% |
| Omega Healthcare Investors | $31.80 | $1.80 | 5.7% |
| Sunshine | $48.06 | $2.52 | 5.2% |
(1) EPR Properties invests in entertainment with 124 properties (mostly megaplex theaters), recreation with 17 properties (ski parks and ski complexes) and education with 41 public charter schools. The dividend was cut 4 years ago, but subsequent increases brought the annual dividend to a record $3.16 in Q1 of this year. The stock at $52.50 yields 6.0% and last year 62% was taxable. Longer term, the dividend was $1.60 in 1998 and the stock almost doubled in the last 10 years.
EPR Properties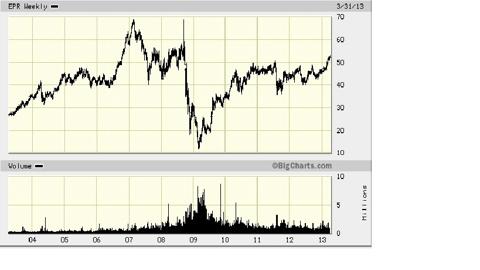 (2) Senior Housing Properties owns independent living and assisted living communities, continuing care retirement communities, nursing homes and related properties throughout the US. It has 392 properties in 40 states and DC. Most properties are triple net leased (each tenant pays rent and also is responsible to pay all operating costs, taxes, insurance and maintenance costs). The stock at $27.21 yields 5.7%, last year 63% of the dividend was taxable. The annual dividend was raised 4¢ in Q1 2013 and SNH has been raising the annual dividends (typically 4¢) since 2003. The stock has doubled in the last 10 years.
Senior Housing Properties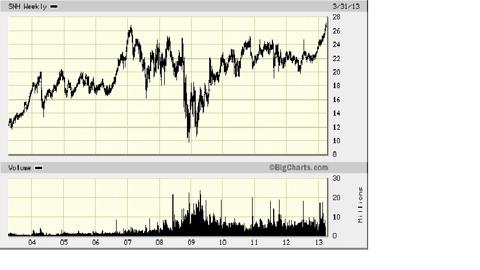 (3) Omega Healthcare Investors provides financing and capital to the long-term healthcare industry with a focus on skilled nursing facilities. The company owns or holds mortgages on 476 skilled nursing facilities, assisted living facilities and other specialty hospitals located in 33 states and operated by 46 third-party healthcare operating companies. The stock at $31.80 yields 5.7% and last year 52% of the dividend was taxable. The annual dividend was raised 4¢ in February to $1.80 and is 16¢ above the Q1 2012 annual dividend. OHI resumed quarterly dividends in 2004 when it paid 72¢. The stock rose sharply in the last 10 years.
Omega Healthcare Investors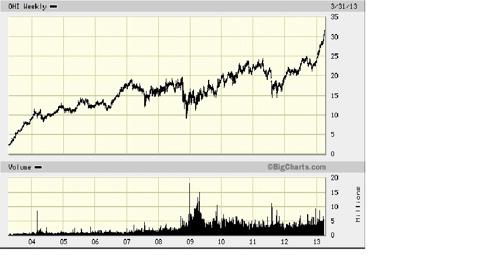 (4) Sun Communities owns and operates 183 manufactured housing and recreational vehicle communities in 24 states, concentrated in the Midwest and Southeast with 67,000 developed sites. At $48.06 the stock yields 5.2%. The quarterly dividend has been flat at 63¢ since 2005 (including during the recession in 2009 when other REITs cut dividends). Last year, almost half of the dividend was taxable (up from 20-25% in prior years). The stock rose 25% in the last 10 years.
Sun Communities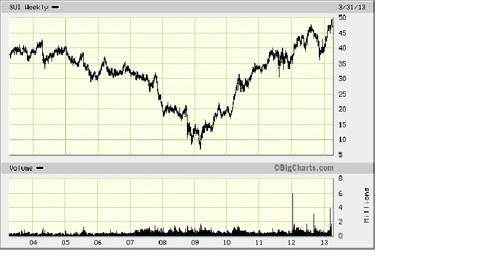 High yields in a low yield environment with higher after tax yields are attracting investors. These stocks are up over 10% YTD. Investors are still attracted because of their competitive yields. For those with longer time horizons, reinvesting dividends can make a substantial contribution towards increasing future dividend income.
In the US, the size of an investor's portfolio is typically measured by wealth (i.e. assets). But in the 19th century, English novels referred to wealth in different terms. £5,000 was considered a lot of money. It referred to yearly income, not the size of a portfolio. That thinking can be applied today.
High and growing current income can bring larger income during retirement, the ultimate goal for investing. With costs rising and retirees living longer, financial needs have become greater to enjoy retirement and fund larger expenses in later years. Stocks go up and down. Since 2000 many highly regarded companies have had mediocre to unsatisfactory records of stock performance. However when stocks pull back, a stream of dependable and growing dividends feels good because they provide higher income when needed in later life.
eprkc.com
snhreit.com
omegahealthcare.com
suncommunities.com
Disclosure: I am long EPR. I wrote this article myself, and it expresses my own opinions. I am not receiving compensation for it (other than from Seeking Alpha). I have no business relationship with any company whose stock is mentioned in this article.