Regular readers of this column know that I believe that the majority of the gains of the year have been achieved and we are overdue for a correction. I also think the usual defensive sectors like Healthcare, Utilities and Consumer Staples have been overbid and are selling at premiums to the overall market and at the top end of historical ranges. I think yield investors would be better served to deploy funds to non-traditional income sectors like Technology. This sector has gone from providing 6% of the dividends in the S&P in 2007 to around 14% currently. One of my favorite boring, technology income plays here is Intel (NASDAQ:INTC).
8 reasons INTC provides value to income investors at $21 a share:
Analysts are too pessimistic about the company's earnings prospects. Intel has beat earnings estimates for twelve straight quarters on the bottom line.
Intel has a 4.3% dividend yield. The company has raised its dividend payouts at better than a 13% annual clip over the past five years. It is also due for another dividend hike based on historical precedent.
The stock is selling at the very bottom of its five-year valuation range based on P/B, P/E, P/S and P/CF.
For a 4% plus yielder, INTC is cheap at under 10x trailing earnings.
Revenues were basically flat in 2012 but sales are expected to improve some 5% in FY2013. The stock sports a five-year projected PEG of under 1 (.90).
Credit Suisse has an "Outperform" rating and a $28 a share price target on the shares.
The company has an A+ rated balance sheet and no net debt on its balance sheet (over $5B in net cash on the books).
The stock has long-term technical support at just under the current price level (See chart).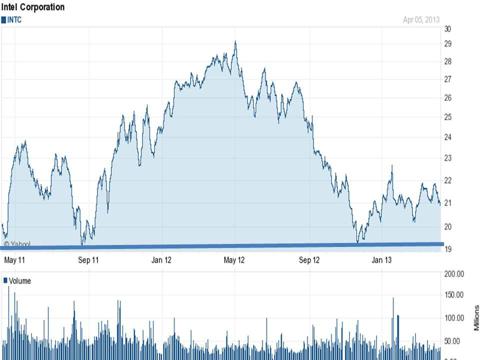 Click to enlarge
Disclosure: I am long INTC. I wrote this article myself, and it expresses my own opinions. I am not receiving compensation for it (other than from Seeking Alpha). I have no business relationship with any company whose stock is mentioned in this article.